A Brilliant Track Record of Know-Nothing Investing
Mar 31, 2017
In the Issue

» Our View on Impact of BS-III ban on Auto Stocks
» Look out for Apurva's First SCOREFAST Recommendation
» Market Roundup
» And More...
Bob Litwin is an extraordinary tennis player. He has several championships under his belt including Wimbledon. But might be even better known for his biography. It may surprise you that renowned fund manager Joel Greenblatt wrote the foreword for the book.
Turns out, Greenblatt had been learning tennis from Litwin for almost two decades. Not to become an ace tennis player. But to put himself through the discipline of sticking to a technique day in and day out. Losing to Litwin on most days of the week was Greenblatt's way of testing his nerves.
Did all that training pay off? It certainly did. Greenblatt is hugely influenced by what he calls the Grahamian 'know nothing' investing. And he recognised that Graham's techniques needed tenacity and discipline more than anything else.
Greenblatt authored a seminal piece in The Journal of Portfolio Management in 1981, arguing the only way the small investor can beat the market is by looking for undervalued stocks. And as most seasoned investors do, he did a good deal of back testing to prove his point. He used Graham's traditional net-nets formula to screen for bargain stocks. After this, using both Graham's net current asset value and the PE ratio, Greenblatt tested four different portfolios. He needed discipline not only to buy the stocks but also to sell them after a 100% gain or a total of two years in the portfolio, whichever came first.
The ten-year test period (April 1968 to April 1978) was characterised by extreme volatility. But the results were stunning. The returns of each of the four portfolios were a multiple of the benchmark index:
Portfolio 1 returned 20.0% per year.
Portfolio 2 returned 27.1% per year.
Portfolio 3 returned 32.2% per year.
Portfolio 4 returned 42.2% per year.
Inspired by the study, Greenblatt founded hedge fund Gotham Capital. The fund returned an average 40% per year from 1985 to 2006. Gotham's stellar performance came primarily from value investing and maintaining an extremely concentrated portfolio.
It's been decades since Greenblatt back tested and successfully implemented Benjamin Graham's 'know nothing' technique. But surprisingly, very few value investors have tried to replicate his brilliant track record.
It was 2015 when my colleague Rahul Shah decided to back test the technique on Indian stocks. Not on blue chips, but on the smallest of stocks. Stocks most investors avoid like the plague. And the results were brilliant.
The decades-old technique has worked beautifully for the subscribers of Rahul's Greenblatt-Grahamian-style stock recommendation service, Microcap Millionaires. It is beating the benchmark index by a factor of 3:1. We think even Greenblatt himself would be impressed that, while the Sensex is up 42% since February 2014, Microcap Millionaires is up 144%.
02:15

Chart of the Day

Two-wheeler manufacturers are yet to fully recover from the notebandi induced sales slowdown. However, their woes seem to be far from over as most of them are staring at the possibility of booking losses on old inventory. This has been the fallout after the recent Supreme Court ban on the sale and registration of BS-III compliant vehicles from 1st April 2017.

As per Society of Indian Automobile Manufacturers' (SIAM) estimates, the inventory of BS-III compliant vehicles stand at 8,23,000 of which a lion's share of 81% belongs to two-wheelers. With a bulk of this inventory lying at dealers, there has been a mad rush to offload as many units as possible using mouthwatering discounts as a bait. Two-wheeler manufacturers such as Honda Motor Cycle and Scooter India, Hero Motocorp, Suzuki Motorcycle, Bajaj Auto are offering steep discounts of upto Rs 22,000 on BS-III vehicles. Even premium bike makers such as Ducati, Kawasaki and Honda are giving huge discounts of upto Rs 2 lakhs on the BS-III variants of two-wheelers.

This surprise bonanza, no doubt, will be a windfall gain for consumers. But the earnings of two-wheeler manufacturers are likely to be affected by the large discounts on units sold as well as losses arising from the stock that remains unsold. Among them a few like Bajaj Auto are better equipped to clear the old inventory by tapping their export markets in 70 countries around the world. Our auto analyst, Kunal Thanvi, has put up a detailed analysis of the impact on the ban on BS-III vehicles on auto stocks in the Premium edition of today's 5 Minute Wrapup.
Two-wheelers feel the biggest BS-III ban pinch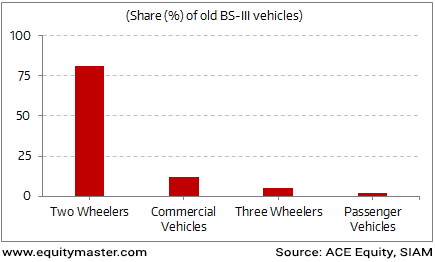 The stock markets are on a roll with the Sensex having run up 15% from the December 2016 lows. Factors such as a huge win by the ruling BJP party in the Uttar Pradesh Elections and the likely implementation of the GST reforms in July 2017 are fuelling the current rally. With greater clarity on Fed rate hikes, positive global cues have also supported the rally.
However, what raises a red flag is that quite a few fundamentally weak companies are also riding the bull wave. As per a study, out of the 90 stocks in the BSE 200 index that have surged by over 20%, 26 had return of equity of less than 10% whereas six of them yielded negative shareholder's returns in FY16. Warren Buffett had famously said...
Only when the tide goes out do you discover who's been swimming naked.
Therefore, investors need to avoid blindly following the herd and getting caught in fundamentally weak stocks that can turn out to be value destroyers in future. But making smart gains at trading need not be all about good luck and probabilities. My colleague Apurva (Research Analyst), editor at Profit Hunter, has developed a smart process SCOREFASTTM system to identify potential winners. Over to him...
SCOREFASTTM uses nine indicators to identify stocks on the cusp of a long-term reversal...from down to up. The main advantage of getting into these stocks is the limited risk. The downside risk is smaller with already beaten down stocks. But the upside potential is huge, as the uptrend can last for months...even years...and the rewards can be very big.
Now, Apurva has fantastic news to share on the SCOREFAST system. As you know, his mission is to unearth stocks that can score big and that can score fast. The system he has developed is a combination of nine indicators that can identify stocks that have potential to score big.
And after months of hard work, he is ready and raring to go.
I've just been told that our SCOREFASTTM system has thrown up its first recommendation.
Now the most important thing is, Apurva will be revealing the full details about this company at 11 AM sharp TOMORROW.
So look out for an email from us at 11 AM TOMORROW with the subject line - "Our First SCOREFAST Recommendation Revealed!"
After opening the day flat, Indian equity markets remained volatile and are trading marginally lower. At the time of writing, BSE Sensex was trading lower by 62 points and NSE Nifty was lower by 13 points. The mid cap index is trading up by 0.5% whereas the small cap index is trading up by 0.6%.
04:50

Investing Mantra

"Great investment opportunities come around when excellent companies are surrounded by unusual circumstances that cause the stock to be misappraised." - Warren Buffett

This edition of The 5 Minute WrapUp is authored by Tanushree Banerjee (Research Analyst) and Madhu Gupta (Research Analyst).
Today's Premium Edition.
Will Bharat Stage Norms Suffocate the Indian Auto Sector?
How prepared is the auto sector to transition from BS III to BS IV?
Read On... | Get Access
Recent Articles