The Aam Investor Has Turned Greedy. What Is the Super Investor Doing?
Jul 7, 2017
In this issue

» HNIs bitten by the FOMO bug
» India's strengths take centerstage
» Market Update
» And more...
Yesterday, I was in a small town in Gujarat for a company meeting.
It's a very small company with huge runway in an emerging sector in India. I will talk more about in the coming days...
But today, I want to talk about hyperactivity among retail investors.
After the meeting, on our way to the airport, we passed through the town. The driver showed us a few places including the famous horse racecourse.
But because I'm an investor, my eyes were scanning for the brands, products, advertisements, etc of the companies I track. It's subconscious; my brain constantly checks my surroundings for 'signs' that can help me invest better.
Here, in the small Gujarati town, I saw a sign...a big one...many of them actually.
All around the city were big signboards promoting IPOs and capital markets.
One read: 'Xx company got subscribed 102% in just 2 days'.
A hoarding talking about the oversubscription of a recent IPO...urging passers-by to subscribe...is a strange sign indeed in small-town Gujarat.
It occurred to me that advertisements for consumer products...gold...and fixed deposits have been replaced by signs for IPOs and capital markets. This is a sure 'sign' of a bull run.
The rising market has created a very different kind of fear across the country: FOMO. Fear Of Missing Out.
Nobody wants to miss out in this market. Not while their friends, colleagues, and relatives are making big money.
And nobody wants to talk about valuations. All it takes is a good story.
The mainstream media, of course, aggravates the situation. The financial dailies talk about some hot stock or another and aggressively promote the 'advice' of their Investment Gurus.
Reading the headlines, seeing the over subscriptions, and the pervasive FOMO...I get nervous.
So I thought I'd check in with our Super Investors to see how they've been handling these frothy markets. I went back to our tool to trace what the smart money is doing. The results were satisfying and assuring...
It's been a period of relative inactivity for the 40+ Super Investors we track.
Most of them have been completely inactive these past three months...holding for the right time most likely. We've seen just one bulk deal and there has been no instance where a super investor increased more than 1% stake in any of the company in the last three months.
That said, the one bulk deal is very interesting...and has become a tough competitor for the honour of our next recommendation (competing with the company I wrote to you about earlier this week). Not to give away too much, it's a niche non-banking financial company (NBFC).
[Editor's Note: To be the first to know which company makes the cut and becomes Kunal and Rohan's next recommendation, take out a subscription to Smart Money Secrets today.]
Inactivity when valuations look rosy and good activity when they look attractive is a practice we like. In fact, it was one of the criteria when we comprised our Super Investors list.
At any rate, this data is very interesting and needs some quick work. The Smart Money Secrets team is meeting some very niche and relatively untraced companies that have caught the eyes of our Super Investors. These are the rare buys our super investors are making during this bull market.
I can't reveal too much about these companies now.
Stay tuned!
02:30

Chart of the Day

FOMO seems to have gripped the high net worth individuals (HNIs) big time. According to rating agency ICRA, the median HNI subscription in initial public offerings (IPO) shot up to 80 times in FY17 from a mere two times in FY16. In the past one year, IPOs of Avenue Supermarkets (DMart), Thyrocare, Advanced Enzyme and GNA Axel saw the HNI portion oversubscribed by over 200 times.
HNIs Bet Big on IPOs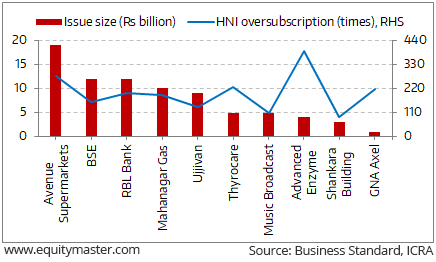 Note: 15% of the issue size is reserved for HNIs
The HNIs' growing appetite in the buzzing primary market is fueling demand for IPO financing. HNIs typically invest in IPOs for listing gains. But with surging investor interest, these investors are required to make big-ticket applications to increase their chances of allotment. This in turn has given rise to the market for providing short term capital to HNI investors for funding the IPO application.
As banks are prohibited by regulations, non-banking financial companies finance this requirement charging interest rate of 9-12% for seven days. Interestingly, the financing cost has come down after the listing period reduced from 13 days to just seven days which in turn has pulled down the break-even for HNIs further adding fire to the IPO frenzy. But even then, HNIs managed to make positive gains in only 35% of the 31 issuances since April 2016.
Betting on IPOs for listing gains is getting increasingly difficult for the retail subscriber. Rather their focus should turn towards a few good IPOs that could certainly become the multibaggers and create wealth in a few years.
Download this FREE report now and discover How to Get Rich with IPOs. This guide will show you how to safely profit from the 2017 IPO rush.
Even as India gears up to benefit from the structural advantages of the white economy after the implementation of Goods and Services Tax on 1st July 2017, the world is sitting up and taking a note of it. As per a Harvard University Research, India will top the list of the fastest growing economies to 2025 on strong growth prospects from its diversified export base consisting of complex sectors such as chemicals, vehicles and certain electronics. The research goes on to add that India will continue to remain ahead of China in the coming decade, clocking a growth of 7.7% per annum.
Need we add that the time is just ripe for investors to invest in businesses that are on the cusp of the Megatrend and have the potential to become huge wealth creators over the long term.
The India Letter essentially focuses on unearthing such megatrends and multibaggers early on, thereby providing an opportunity to ride on the complete growth curve.
Indian equity markets opened the day weak and continued to trade in negative territory. At the time of writing, BSE Sensex was trading lower by 41 points and NSE-Nifty was lower by 16 points. Both the mid cap and small cap indices are trading down by 0.1% and 0.3%, respectively. Stocks from the realty and healthcare sectors are witnessing maximum buying interest.
04:56

Investment Mantra of the Day

"It's almost a mathematical impossibility to imagine that, out of the thousands of things for sale on a given day, the most attractively priced is the one being sold by a knowledgeable seller (company insiders) to a less-knowledgeable buyer (investors)." - Warren Buffett
Today's Premium Edition.
Six Things to Know Before You Bet on a Trading Stock
Make sure you keep your trading portfolio strictly separate from your fundamentals-based long-term portfolio.
Read On... | Get Access
Recent Articles