Equitymaster App Download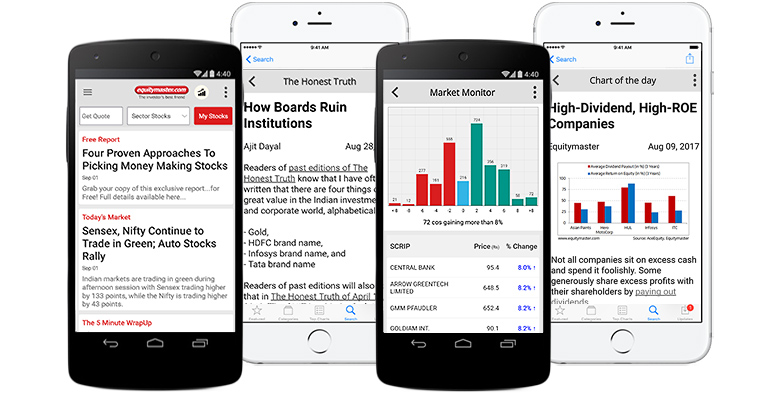 The Equitymaster stock market App provides you with up to date share market information and live status of Indian stock market and other investment tools and Stock recommendations from experts.
Download the Equitymaster stock market research app today and you will automatically receive our free report: Four Proven Approaches to Picking Multibagger Stocks. Along with this you will get a complimentary, free for life, subscription to our extremely popular newsletter, The 5 Minute WrapUp.
Hurry! Download Now.

Features
Our Mobile App has been designed to offer you the best that we have to offer and we invite you to try it today! Please note that this App is loaded with Stock research, stock analysis, information, views, data and tools. This mobile App will give you instant access to:
Today's Market: An easy to read daily commentary on the BSE / NSE stock market movements for the day with our opinions and views. Plus, a glimpse into the top gainers and losers for the day as well.
The 5 Minute WrapUp: Equitymaster's Daily Free-for-life e-Newsletter that covers news and opinions which could have an impact on your investments. Access it on the go!
MyStocks: Keep track of your favorite stocks and ensure that you do not miss out on a Buying opportunity as soon as it arrives.
Portfolio Tracker: Our "Intelligent" Portfolio Tracker that not just gives an overview of your complete portfolio(s) but also gives you an opportunity to analyse it, just like an astute fund manager would. It does this by providing you with what we call "intelligent" reports. All at the click of a button... and Absolutely Free!
Chart of the Day: A Picture says a thousand words. And we publish one chart every day that highlights a "hidden" insight that could affect your investment strategy or it could bring upfront issues which are usually "hidden" between the newspaper headlines!
Views on News: In our e-Newsletters we also publish hundreds of articles, recommended readings and a lot more for our valued readers. And you'll have full free access to our "views on news" section.
Free E-Newsletters: In addition to The 5 Minute WrapUp, we also publish Ajit Dayal's e-newsletter "The Honest Truth" and "Daily Reckoning" by Bill Bonner and Vivek Kaul.
And if you're a member of Equitymaster Family, this App (Andriod ) will also give full access to:
Premium Services: StockSelect (Large Cap Stock Recommendation Service), Hidden Treasure (Small Cap Stock Recommendation Service), The India Letter (Stocks which could profit from India's Growth story), ValuePro (Group based Stock Recommendation Service), Microcap Millionaires (Microcap Stocks Recommendation Service), Swing Trader (Short-term stock recommendation service based on charting techniques)... and a lot more!
And THIS is just the beginning!
We're confident that this app will further evolve over time to meet our goal of empowering you, the individual investor, with all the right tools, information, views and opinions to make smarter and more profitable investments.
So, download the app right away and Join the Equitymaster Family!

Reviews for our App
Equitymaster's android app is one feature rich app with unique selling point of research, analysis and reviews and views on news of stock market. I'd definitely suggest you to give it a try and experience how it helps you with your daily investment and market monitoring routine.
Equitymaster – Independent Stock Market Research App India is an very cool stock market app designed to provide current market information about Indian stocks to Indian Android users.