How Vijay Kedia and Dolly Khanna's Namesake Took this Auto Component Stock for a Ride
Jan 6, 2022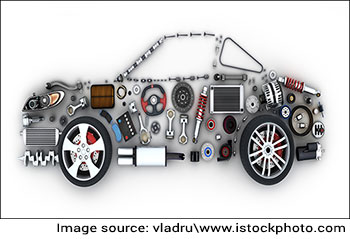 Wondering what sparked a sharp rally of 45% in the stock of Talbros Automotive Components in just four trading days?
It's a classic example of how the namesake of renowned investors can change the fortunes of a stock and take them for a spin.
Shares of Talbros Automotive surged 11% today even in a weak market, days after it was announced that Vijay Kedia and Dolly Khanna have bought into the stock.
Data revealed that ace investor Vijay Kedia bought stake in Talbros Automotive Components during the December 2021 quarter.
Vijay Kedia, who did not feature in the minority shareholders list at the end of September 2021, held 280,000 shares or 2.27% of the company at the end of December 2021.
A majority of this quantity was bought on 30 November 2021 when Kedia purchased 205,524 shares at price of Rs 337.5.
A word about Vijay Kedia...
Vijay Kishanlal Kedia is an Indian investor and trader based out of Mumbai and his company - Kedia Securities is the largest shareholder (after the promoter) in several listed companies.
Kedia has been involved in the Indian stock market since the age of 19. He has been described by many as a 'market master'.
To point out a few of his investments, he bought ACC at Rs 300 in 1992-93 and sold the stock around Rs 3,000 within a year and a half.
During years 2004 and 2005, he picked several multibagger stocks which gave returns of over 1,000% in the next 10-12 years. Few of these stocks were Atul Auto, Aegis Logistics, and Cera Sanitary.
Why did Vijay Kedia invest in Talbros Automotive Components?
While we don't know why Mr. Kedia bought into it, there are some reasons that we can guess...
As you know by now, the EV revolution is upon us. As the EV revolution picks up pace, automobile companies won't be the only ones benefitting.
Other players like battery makers, shock absorber manufacturers, automotive lighting companies, and other auto component markers will also gain from this transition.
Talbros Automotive caters to a wide range of products including gaskets, heat shield, forgings, chassis, suspension systems, anti-vibrating components, and hoses. So it has no threats to India's push for EVs. Instead, it's beneficial for the company.
The company is diversifying its products with additions of critical suspension components supply to EVs.
This year in July, the company invested in a battery manufacturer startup Lohum Cleantech.
Besides, the company has a robust distribution network. That is why it has marquee customers such as Bajaj Auto, Ashok Leyland, Escorts Group, Force Motors, Hero MotoCorp, Honda, Hyundai, John Deere, M&M, Maruti Suzuki, TAFE, Daimler India, Tata Motors, Simpsons, among others.
On the financial front, for the quarter ended September 2021, Talbros Automotive reported an 11% YoY rise in profits on a 33% YoY rise in revenues to Rs 1.4 bn.
An important point to note here is that Vijay Kedia is not the only ace investor which has stake in the company. In July to September 2021 quarter, Dolly Khanna had added Talbros Automotive in her portfolio by buying 154,061 shares or 1.25% stake.
If we see the latest October to December 2021 quarter shareholding, Dolly Khanna now holds 211,120 shares or 1.71% stake. This means that even Dolly Khanna added some shares during the quarter.
Even foreign investors seem to be bullish on the stock. Four foreign portfolio investors (FPIs) held 0.21% in the company as of December against 0.02% held earlier.
Which other stocks does Vijay Kedia hold in his portfolio?
Apart from Talbros Automotive, here are few other stocks where Vijay Kedia holds more than 1% stake.
Data Source: Ace Equity
Should you blindly follow the stock market gurus?
People expect stock market gurus to have done their research. So the stocks they buy come 'pre-verified'...right?
If it were only that simple...
There are instances in the past where favourite stocks of these gurus have seen a bloodbath.
While keeping track of their purchases and sells is a good thing, following them blindly and replicating their portfolio is not advisable.
Richa Agarwal, editor of Hidden Treasure, agrees on this. Here's what she wrote in one of her editorials while discussing Rain Industries:
If you are blindly following your favourite investors, you are unlikely to make gains.

The reason? You will always get information (and act on it) with a lag. The stock price would most likely be up by the time you hear about it and rush to buy it. And huge gains would have been pocketed by the time you would know your favourite investor has exited.

You are quite likely to end up with the short end of the stick. At times, even losses.
How the stock of Talbros Automotive has performed recently
Talbros Automotive share price opened the day marginally lower by 0.2% at Rs 516 against its previous close of Rs 520.
The stock extended gains as the session progressed and rallied 11% to Rs 584, also its all-time high.
Over the past one year, shares of the company have surged a massive 257%. In the past one month alone, the stock is up over 45% with major gains coming in the past three days.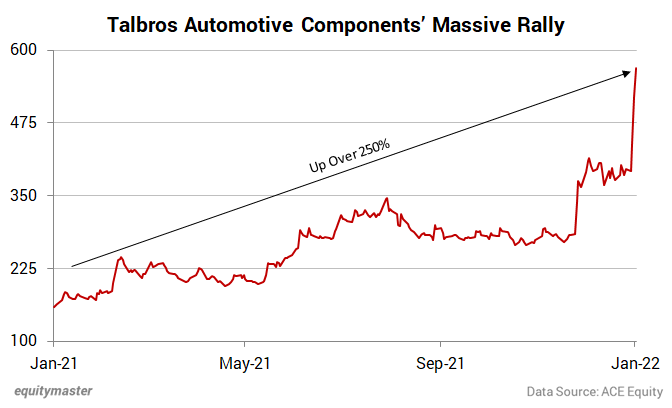 To know more, check out Talbros Automotive's latest shareholding pattern.
About the company
Talbros Automotive is engaged in the business of manufacturing gaskets and forging that are supplied to original equipment manufacturers (OEMs) and the aftermarket.
The company has majority share of over 50% in India in the gaskets division. It has aggressively invested in BS VI technology and is also focusing on post coating lines which leads to lower imports and higher cost savings.
The company was incorporated in 1956 and is part of the Talbros group promoted by Mr Pran Talwar and family.
It has four gasket production facilities - two at Faridabad in Haryana and one each at Pune in Maharashtra and Sitarganj in Uttarakhand.
To know more about the company, check out Talbros Automotive's financial factsheet and quarterly results.
You can also compare Talbros Automotive with its peers:
Talbros Auto vs Banco Products
Talbros Auto vs Suprajit Engineering
Since stocks from the auto sector interest you, check out the top auto companies in India.
And to know what's moving the Indian stock markets today, check out the most recent share market updates here.
Disclaimer: This article is for information purposes only. It is not a stock recommendation and should not be treated as such. Learn more about our recommendation services here...
Yash Vora is a financial writer with the Microcap Millionaires team at Equitymaster. He has followed the stock markets right from his early college days. So, Yash has a keen eye for the big market movers. His clear and crisp writeups offer sharp insights on market moving stocks, fund flows, economic data and IPOs. When not looking at stocks, Yash loves a game of table tennis or chess.