Is it the Time to Buy Aviation Stocks as Fuel Costs Fall?
Jan 9, 2019
The past one month was fantastic for Indian aviation stocks like Indigo and SpiceJet, which rose 9% and 8%, respectively. It was only Jet Airways, that declined during the month.
But Jet Airways has been facing another set of issues altogether.
Jet Airways' woes got much worse last week, with the cash-strapped airline defaulting on its loan repayments to a consortium of Indian banks led by the State Bank of India.
This debt default, the airline's first, marks a serious deterioration in its troubled state of affairs that has seen it delaying salaries and aircraft lease payments.
But that's a topic for another day.
Coming back to surge in share prices of airline stocks last month. What was the reason for this industry-wide jump?
Two words: Oil Prices.
High Crude Prices Ground Aviation Stocks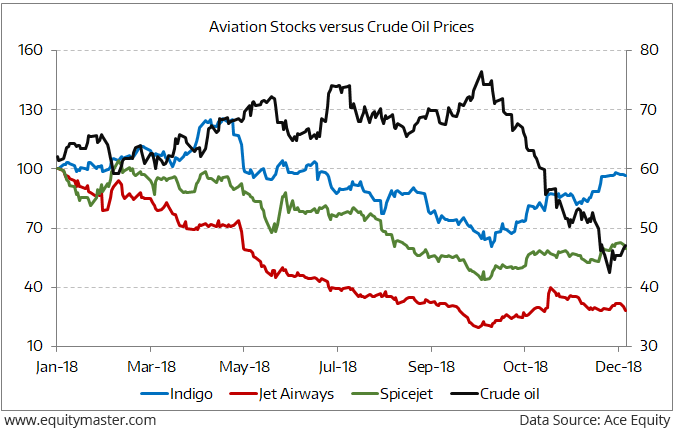 Fuel is the largest expense for airlines. Fluctuations in fuel prices have the single biggest impact on an airline's bottom line in the short term.
Because the cost of jet fuel corresponds tightly to crude oil prices, movements in the price of crude oil affect how much airlines pay for Aviation Turbine Fuel (ATF).
--- Advertisement ---


13 Stocks to Buy in 2019…

Sarvajeet and Radhika, co-editors of Smart Money Secrets, track down the investments of 40+ of India's most successful investors, and share the best of these stocks with their subscribers…

They have identified 13 stocks (which you could consider buying right now) – for huge potential profits.

Click here to see how these stocks are identified – and how you could get access to these 13 stocks.
------------------------------
So, when oil prices go up, airline stocks feel the pinch. When oil prices drop, airlines can make hay while the sun shines and their share prices usually increase.
Best example is 2014 when oil prices dropped by more than 50%. Aviation stocks were flying high that year.
As you can see in the chart below, lower ATF prices resulted in the industry reporting positive operating profit margins since 2015.
With 2016 reportedly being the best year of profitability in over a decade. The ATF prices stayed at multi year lows of Rs 30-40 per litre.
Falling ATF Prices During 2014 Boosted Airlines' Profit Margins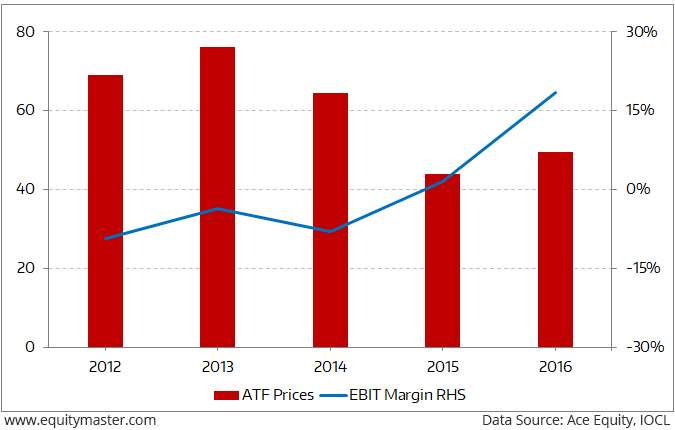 Of course, the opposite is also true.
When oil prices climb, as they did in the second half of 2017, airline stocks tend to underperform the broader market.
That is exactly what has been happening until now.
The sector got an apt New Year present of lower ATF prices.
According to Indian Oil Corp. Ltd, average ATF prices for domestic airlines, at the four metros, have declined by nearly 20% compared to the average for the December quarter. These are the lowest monthly prices in this fiscal year.
In a relief to India's aviation industry, oil marketing companies slashed jet fuel prices by around 15%.
This is the second consecutive reduction in the prices of ATF after around 10% cut in December.
ATF costs has been the major reason to why airlines posted lackluster earnings in Q2FY19. Indigo's fuel cost rose by a whopping 84% in Q2FY19.
The chart below shows how with an increase in oil prices, the net profits of the companies fell during the September quarter in 2018.
Rising Fuel Costs of the Airline Stocks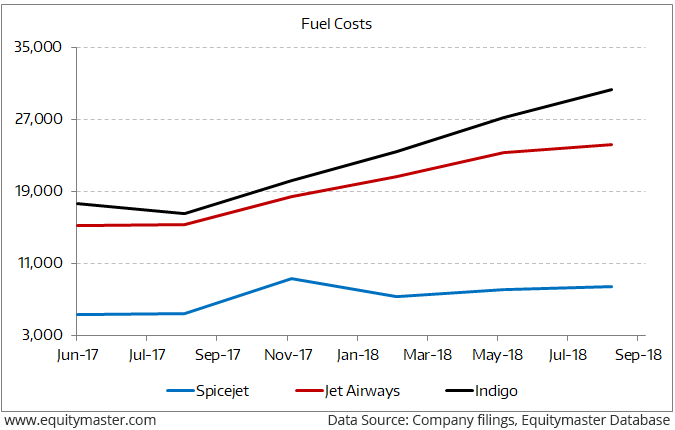 Poor Q2 Performance as Fuel Costs Rise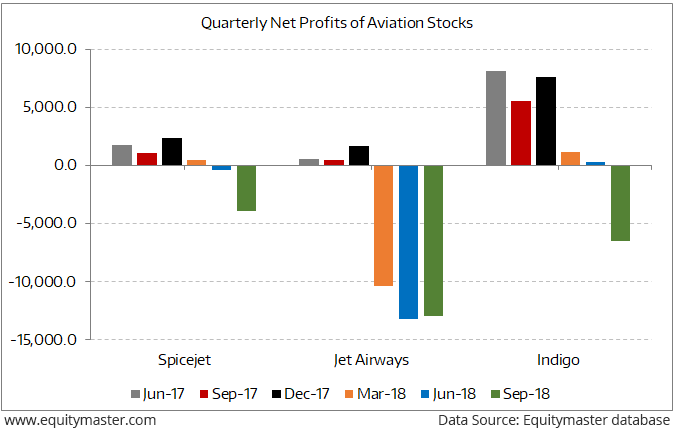 However, important to note here is that, its not only oil prices that drive the shares of airline companies. A case in point is Jet Airways and Air India.
Broader economic indicators can also have a big impact.
On top of that, OPEC and Russia recently announced a production cut, which caused oil prices to rise. However, that bump was short-lived.
So, while it seems that lower fuel prices may be likely to stick around through the year after all, it's important to know that the lower fuel price environment is not necessarily a permanent feature.
There is always the risk that prices will inch higher.
Over the past one year, all the listed airline companies in India have underperformed the benchmark index.
It can of course be argued that the very fact that these stocks have underperformed could now turn them into potential future winners. After all, stocks revert to the mean, don't they?
Of course, they do.
But let's first see what co-head of research at Equitymaster, Rahul Shah has to say about it:
"But the principle is applicable to companies that are efficiently run, have strong balance sheets and are only victims of an economic downturn or the downturn in the industry. But when companies have negative networth like both Jet and SpiceJet do and also have balance sheets loaded with debt, it is usually a good idea to stay away from such companies rather than invest in the hope that things will indeed turn around one day.

If they haven't all these years, there's a very small possibility that they will in the future. And one shouldn't bet too much money on a scenario that with little or no upside and the downside that can go all the way to possible bankruptcy."
So, what can we conclude here?
No doubt the capacity has been growing at a brisk pace, the important question whether lower fuel prices will ensure that load factors remain high.
Load factor measures the capacity utilisation of public transport services like airlines. It is used to assess how efficiently a transport provider fills seats and generates revenue.
So, while the trends on demand and load factors are yet to play out, the positive factor right now is that ATF prices have come back to levels where low-cost airlines can generate decent profits.
Also remember, although air travel is becoming the new normal, investors need to understand the industry dynamics before buying any aviation stock.
Best Regards,
Rini Mehta
Rini Mehta is a keen follower of the stock markets and economy. At Equitymaster, she covers daily stock market moves and broader market trends across Indian and global markets.