Why Navin Fluorine Share Price is Falling
Jan 9, 2023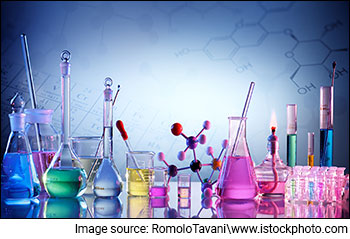 Specialty chemical stocks were all the rage in 2021. Many turned multibaggers on the back of brighter prospects due to the adoption of the China plus one strategy.
However, as 2022 began, these stocks started feeling the heat as input costs increased due to inflation and the sector witnessed a slowdown in demand.
The tide hasn't turned for them yet. Specialty chemical stocks continue to fall.
Among these companies, the share price of Navin Fluorine has fallen by 6% in the last month.
Let's find out why.
Slowdown in demand and weak financial results
Over the last 3 months, Navin Fluorine shares have corrected more than 15% partly on account of global demand slowdown concerns and partly due to weak quarterly results in the September 2022 quarter.
The company reported a 24% YoY increase in revenue for the September 2022 quarter at Rs 4.2 billion (bn) compared to Rs 3.4 bn in the year ago period.
However, it reported a 9% YoY decline in net profit at Rs 578 m.
The high-performance products and specialty chemicals businesses registered steep growth, driven by higher sales in the domestic market as well as the international markets and a few strong partnerships.
However, the contract development and manufacturing organisation (CDMO) business declined for the second straight quarter.
A continued correction in crude oil prices, a sharp decline in freight rates, elevated energy costs, and lower demand is expected to create headwinds for the specialty chemicals sector in the near term.
As a result, most crop protection companies have seen their share price fall. Navin Fluorine was one of them.
Outlook remains positive for the long term
The specialty chemicals and the CDMO segment is expected to continue to drive robust growth for the company with increasing use of fluorine in the pharma and agro space.
Recently, Navin Fluorine has entered into a partnership to manufacture Honeywell's proprietary Solstice range of hydrofluoroolefins (HFO) in India.
The company is also undertaking heavy capex to meet long term demand. The management expects its multipurpose plant (MPP) to get commissioned in phases from the second half of the financial year.
It expects it to hit peak annual revenue in the next three years.
Production of the agrochemical intermediate would also start from December 2022, which was earlier expected to start by end of the financial year 2023.
Navin Fluorine implemented a new organisational structure with three separate business units, led by three operating chief executive officers in the first half of the financial year 2023.
It has identified Electronic materials as the fourth business unit, wherein capex, team building etc, are expected to start gradually from FY24/FY25.
The three key sub-categories in this segment are energy storage solutions, solar, and semiconductors.
It expects a reasonable contribution from this segment over the medium term.
How Navin Fluorine shares have performed lately
Navin Fluorine shares have declined by more than 3.5% in the last five days and more than 6% in the month gone by.
The stock was under pressure in the first half of 2022 as well due to rising input costs. As a result, its performance remained.
However, the stock has been a multibagger. In the last five years, it has gone up by more than 300%.
At the current price, Navin Fluorine trades at a PE multiple of 65.8 and a price to book value multiple of 9.68.
As of September 2022, promoters owned 29.4% of the company, while FIIs owned 20.07%.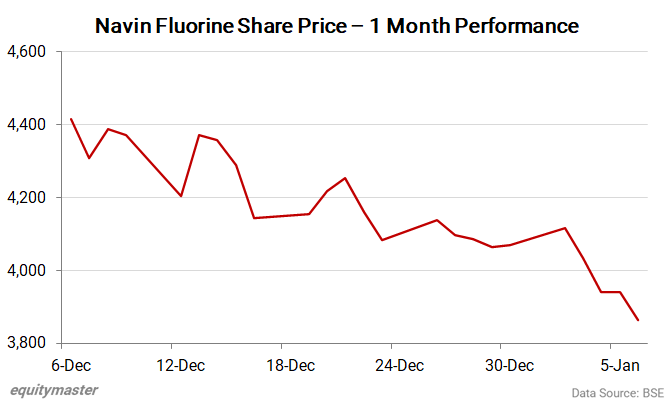 Equitymaster's View on the Chemical Sector
Here's what Aditya Vora, research analyst at Equitymaster, wrote about chemical stocks in one of his editorials in 2022:
I believe the best is behind these stocks.

In the chemical sector we see the following.

Too much price volatility and the dependence on global and Chinese prices. This gives it the characteristics of a commodity. Hence, it's cyclical in nature.

Margins are at a peak. Tailwinds in the form of chemical prices and operating leverage have played out.

Raw material cost has started to increase. This is evident over the past 2 quarters.

These are B2B business with very little or no pricing power.

In a nutshell, most of re-rating in the stocks of chemical companies has already happened.

We are in a scenario where bulk commodities are available at 3-4 times above their mean valuations.

Niche chemical companies do deserve some premium, but the way their stock prices have risen, the margin of safety is very limited.
You can read his entire editorial here: Have Chemical Stocks Peaked Out in 2021?
About Navin Fluorine
Navin Fluorine is primary engaged in producing refrigeration gases, inorganic fluorides, specialty organofluorines, and also offers contract research and manufacturing services.
The company has been engaged in the specialty chemicals business for more than two decades. This division produces niche fluorine-based molecules that have downstream applications in crop science, pharma key starting materials, and industrial chemicals.
The company ventured into contract research and manufacturing services for global clients in 2010. It provides its services to key downstream clients in innovator pharma and life sciences and agrochemicals space
To learn more about the company check out, Navin Fluorine financial factsheet and quarterly results.
You can also look at Navin Fluorine 2021-22 annual report analysis.
Now Before You Go, This is Something You Need to Know...
Equitymaster's co-head of research, Tanushree Banerjee, believes that one of the fastest growing sectors this decade will be defence.
In fact, within defence there are segments with 33x growth potential by 2030. Yes, it's a massive opportunity.
Tanushree has already identified 3 next-generation defence stocks to ride this mega opportunity.
Now, these are not ordinary defence stocks.
Very few people know about the real potential of these companies.
Because these companies are working silently on developing next-generation warfare technologies.
Our research says that these 3 defence stocks could potentially provide you some of the biggest gains of your lifetime.
* 2 out of these 3 stocks have already run up. Act fast or you might completely miss out on this big opportunity.
Disclaimer: This article is for information purposes only. It is not a stock recommendation and should not be treated as such. Learn more about our recommendation services here...
Ayesha Shetty is a financial writer with the StockSelect team at Equitymaster. An engineer by qualification, she uses her analytical skills to decode the latest developments in financial markets. This reflects in her well-researched and insightful articles. When she is not busy separating financial fact from fiction, she can be found reading about new trends in technology and international politics.