IdeaForge Technology IPO: 5 Things to Know
Feb 13, 2023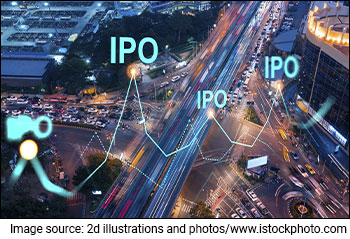 Indian blockbuster movie starring Aamir Khan - 3 Idiots - brought focus on an important invention: drones.
What's interesting, the drone used in the movie was manufactured by a Mumbai-based company - IdeaForge Technology.
The skies are about to change in India with the launch of the country's first mainboard drone company's Initial Public Offering (IPO).
This ambitious venture is set to revolutionise the drone manufacturing industry, bringing cutting-edge technology and innovation to the forefront.
Let us find out important details about India's first mainboard drone company's IPO.
About IdeaForge Technology
Founded in 2007 by IIT Bombay alumni Ankit Mehta, Rahul Singh, Ashish Bhat, and Vipul Joshi, IdeaForge Technology is engaged in the security operations segment as the first India-based organisation to develop and manufacture vertical take-off and landing (VTOL) UAVs.
In addition to the US, IdeaForge has also expanded beyond India to Oman, Nigeria, and Bhutan.
The Mumbai-based company makes drones for India's armed forces, police and homeland security as well as industrial applications.
IdeaForge has a license from the Ministry of Defence to manufacture unmanned aerial vehicles (UAVs).
Backed by Marquee Investors
In August 2022, the company had a Series B funding round.
In the series B round, the company raised US$ 20 million (m). The investment was led by Florintree, a company led by Mathew Cyriac, the former private equity co-head of Blackstone India.
The round also saw participation from the company's existing investors Celesta, a prominent technology investment fund, Infosys, Qualcomm and Infina, along with the Exim Bank of India.
IPO details
Reportedly, the company is set to raise about Rs 7.5 billion (bn) through an initial public offer (IPO).
In this IPO coming up, the company may also consider an issue of shares aggregating up to Rs 600 million (m). If such placement is completed, the fresh issue size will be reduced.
Over the weekend, ideaForge filed papers with the market regulator to raise capital via an IPO.
About 25% stake will be offered in India's largest drone maker through a secondary and primary share sale. The IPO will value the company at Rs 30 bn.
The proceeds of the proposed IPO would be used to pare debt and for working capital requirements and product development.
Investment banks JM Financial, and IIFL are the lead managers for the IPO. A draft red herring prospectus (DRHP) was filed on Friday and the IPO will be launched by May 2023.
Notable mentions of ideaForge
According to the company's draft red herring prospectus, here are the company's noteworthy establishments:
During the 2015 earthquake, ideaForge drones were used for site monitoring in Kathmandu, Nepal, and other locations to aid with the search and rescue activities.
During a terrorist incident in Pampore in 2016, these drones were able to deliver crucial intelligence by revealing the precise locations of the terrorists.
Further, ideaForge's Ninja drones were utilised to curb theft and pilferage cases with the company's partnership with railways to boost their surveillance operations.
Investment Takeaway
The company has the largest operational deployment of indigenous UAVs across India.
Its customers have completed over 300,000 flights using the company's UAVs. ideaForge also ranked 7th globally in the dual-use category (civil and defence) drone manufacturers as per the report published by Drone Industry Insights in December 2022.
It appears the company has a strong presence in an emerging business. However, the timing of the IPO may raise certain concerns. The Adani story is still unfolding in front of us.
While we know that Indian drone companies are the next investing theme, the market is quite volatile these days.
Diminishing investor appetite and volatile markets have pushed away companies from going public. In the past six months, 27 companies with IPO plans worth Rs 380 bn have allowed their regulatory approvals to lapse.
Similarly, the permissions to another nine firms planning to raise a total of Rs 150 bn are set to expire over the next two months.
It remains to be seen during what conditions the company decides to come out with its IPO.
But one thing is for sure...just like Tata Technologies IPO and Tata Electronics IPO, ideaForge's IPO will also witness a lot of traction.
Speaking of drones, according to co-head of Research at Equitymaster, Tanushree Banerjee, the drone sector could be one of the fastest-growing sectors of the stock market by 2030... and possibly even beyond.
If you're an investor, then you simply cannot ignore this sector today. Otherwise, you could be leaving a lot of money on the table.
Watch the below video to know more:
Investment in securities market are subject to market risks. Read all the related documents carefully before investing
Alert on Emerging Business Stocks
Our small business research team has been tracking a few exciting opportunities in India's Emerging Business space.
If you've ever looked at stocks like Titan, Pidilite, or Page Industries and wished you would
have invested in these companies at an early stage - this is for you.
*The securities quoted are for illustration only and are not recommendatory
Details of our SEBI Research Analyst registration are mentioned on our website - www.equitymaster.com
Disclaimer: This article is for information purposes only. It is not a stock recommendation and should not be treated as such. Learn more about our recommendation services here...