Look for Promoter Pledging in Companies Before You Invest
Feb 21, 2019
Over past few months, you would've come across headlines like these:
Reliance Group shares rise up to 13% after lenders agree not to sell pledged shares till September.
Essel Group pledged Zee's shares to raise funds.
In recent weeks, stock market investors have been hit by sharp swings in prices after news of high promoter pledging, sale of pledged shares by lending institutions, and agreements between the lenders and promoters to go slow on such sales.
Shares of the Zee group have plunged between 15-60%, while Reliance group stocks have dipped 60-80% on such incidents.
Reliance Group & Zee Group Shares' Underperformance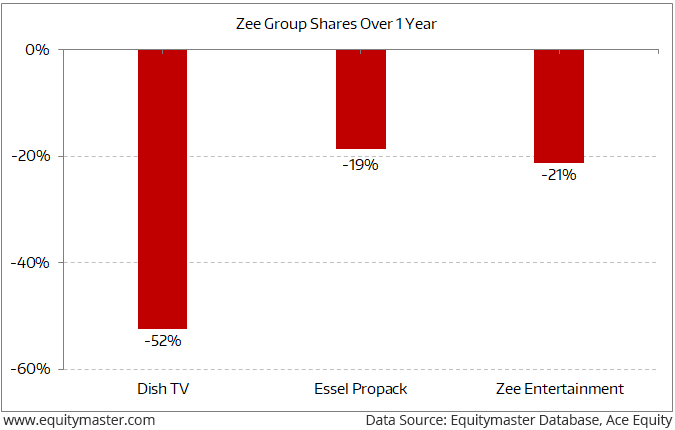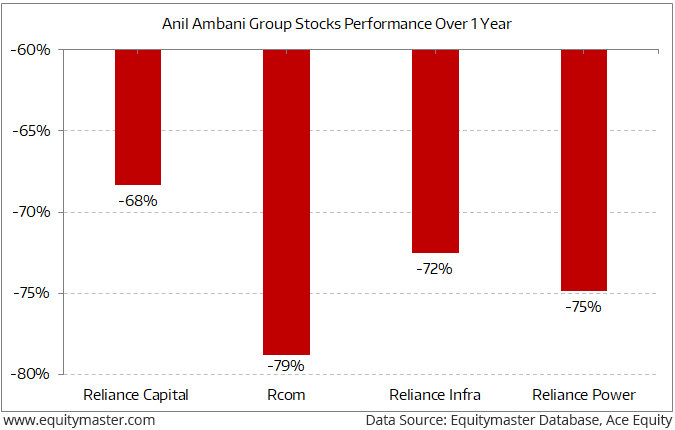 A large number of India Inc promoters have been forced to draw loans by pledging their holdings.
Last week, non-banking finance companies, especially L&T Finance and certain entities of Edelweiss Group, sold 318.1 million pledged shares worth Rs 5.5 billion of Reliance Group, leading to a loss in investor wealth of Rs 130 billion.
--- Advertisement ---


How to Profit Alongside India's Richest Investors...

What if you had a way of knowing exactly which stocks rich investors were putting their money into?

A reliable and 100% legal way...

A way that let you ride alongside some of India's richest investors to blockbuster profits?

It turns out there is a way...

All you have to do is log on to the official Stock Exchange site and download a copy of this regulatory document.

It's simple - here's how to do it.
------------------------------
Reliance Communications failed to take necessary approvals from its lenders and the Department of Telecommunications (DoT) to conclude its deal with Reliance Jio. It then opted for insolvency proceedings on 1 February 2019. It's lenders resorted to panic selling of shares in four Anil Ambani-led companies, including Reliance Capital, Reliance Communications, Reliance Infrastructure, and Reliance Power.
As a result, the promoter's stake in Reliance Communications and Reliance Capital slipped below 50%.
What is Share Pledging? And Why Should Investors be Bothered?
Would you ever lend money to a person neck deep in debt? A person who has even mortgaged his house and personal belongings?
Most likely, the answer to this question will be 'No'!
Now consider this situation: Promoters of a company have taken debt by keeping as collateral their controlling stake of the very company they own.
Will you invest in such a company whose promoters have 'pledged their shares'?
No? Well, many investors actually do invest in such companies.
Simply put, pledging of shares is taking a loan against the shares one holds.
Post the Satyam scandal, share pledging is seen as a critical factor in picking up stocks.
What's more, there has been a rise in the value of pledged shares. You can see in the trend below:
Promoter Pledging on the Rise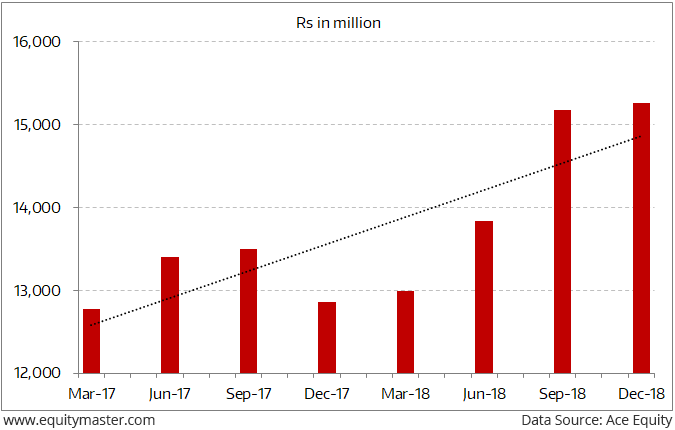 Now, let us dig into the reasons for pledging...
Promoters, to raise funds for either personal or company needs, pledge their holding shares to a financial institution.
In short, pledging by itself is not illegal or bad. The motive is wide ranging and the intention could be either noble or questionable.
We believe, high promoter pledging can lead to high volatility in the stock price.
Why? Let's explain this through an example.
Let's assume the promoter of a hypothetical company A, decides to pledge 10% of his shares. Let's also assume that when this happens, the price of A's stock is Rs 100 per share.
The bank may set a level, say Rs 80, to which if the price falls, the promoter would need to repay the loan or pledge more shares.
In a few months' time, the price of A dips to Rs 80. At this point, the bank could ask the promoter to repay some loan or pledge more shares.
If the promoter is unable to repay, he could be compelled to increase the pledging to 20% of his total shares. This process could go on till the pledging reaches 100% or the promoter repays the loan.
This is where the catch lies!
If the promoter is unable to pay the loan or pledge any more shares, then the bank has the right to sell the shares in the open market to recover the loan.
A bulk sale of this sort could send the stock price crashing.
Think of how that would affect the shareholding of ordinary investors. Such an event reflects poorly on the promoter as well as on the company because it questions their ability to repay their loans.
Following are the top 10 companies with very high level of promoter pledging.
Top 10 Companies with Highest Promoter Pledging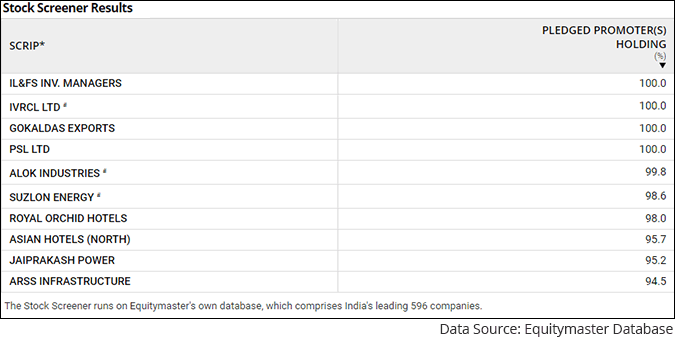 Here's what Research Analyst & Editor of Hidden Treasure, Richa Agarwal, thinks about promoter pledging:
"The promoter using pledged shares as a way of raising capital is okay. However, from a small retail shareholder's standpoint, a high amount of pledging with bad financials could lead to the banks or financial institutions (who hold these shares as a collateral) to dump them to recover their dues. This would then have a cascading effect on the stock price as well, resulting in a huge loss for the shareholder."
What Next?
This makes it clear that promoter pledging can turn out to be a major investment risk. Investors would do well to check this before considering any stock for investment.
We at Equitymaster have developed a stock screener for investors to screen companies which have high level of promoter pledging.
Note that, share pledging is not an illegal activity. However, you must keep an eye out for such data points especially for companies with questionable managements.
For those looking to delve into stocks in beaten down sectors, it makes sense to check promoter pledging before making their decisions.
No matter how attractive a stock may seem, investors must keep away from companies where the debt overhang situation become difficult to assess.
It is better to be safe than sorry. Over leveraged firms with high percentage of pledged shares could very well turn out to be value traps.
Best Regards,
Rini Mehta
Rini Mehta is a keen follower of the stock markets and economy. At Equitymaster, she covers daily stock market moves and broader market trends across Indian and global markets.