This Legacy Power Company is Transforming into a New Energy Stock. Take a Look
Feb 25, 2022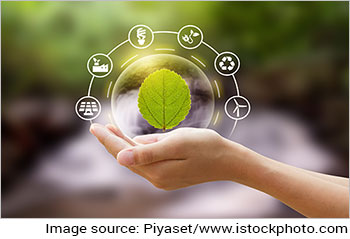 India is the third-largest producer of electricity in the world. The country boasts of an installed power capacity of 382.7 GW (gigawatt), as of April 2021.
However, despite significant increase in the power generation capacity, it still struggles to meet the growing demand as reliable supply remains low.
Now, 76% of the total power generated in India, comes from the use of coal i.e., thermal-based energy. This means that thermal-based power plants command a large share of power generation.
Thermal energy is coal-based, i.e., dirty energy. It releases high levels of CO2, thereby generating the second-largest share of greenhouse gas emissions.
To reduce this, the government has undertaken initiatives to curb the generation of coal-based energy and ramp up the production of clean energy via renewable sources such as solar energy, wind energy etc.
With India transitioning to green energy, capacity addition from clean energy sources is likely to outstrip conventional sources. Clean energy capacity has grown steeply from 76.4 GW in March 2014 to 151.4 GW in December 2021.
The government has ambitious plans to increase capacity to 175 GW by the end of 2022, which expands to 500 GW by 2030.
As India prepares to leap forward in developing cleaner energy sources, Tata Power is equipping itself every step of the way. What started as Tata Hydroelectric Power Supply Company in 1911 is now India's largest integrated power player.
Be it power generation, transmission, or distribution, this well-known company is present across the entire energy value chain.
Foray into Solar EPC (Engineering, Procurement, and Construction) segment
Tata Power's mix on the power generation side is 60% thermal and 30% renewable. Being the largest private player in the power sector, Tata Power boasts an installed capacity of 13.06 GW.
The company is present across the entire power value chain. It generates renewable as well as conventional power including hydro and thermal energy. It is also involved in the transmission & distribution of power, coal & freight, logistics, and power trading.
With 4.2 GW of clean generation capacity from solar, wind, hydro, and waste heat recovery accounting for 32% of the overall portfolio, the company is committed to clean energy generation.
After increasing its share of renewable energy (clean energy) from 30% in 2021 to 60% by 2025, it plans to take it to 80% by 2030.
This mix will not only help the environment but also boost profitability.
60% of the thermal generation brings in 34% of the revenue and 34% of the operating profits (EBITDA-earnings before interest, tax and depreciation), whereas clean energy while only 9% of the revenues brings in a hefty 29% of the operating profits.
The solar EPC (Engineering, Procurement, and Construction) business brings in 9% of the total revenues and 3% of the company's operating profit come from this segment.
The company has been proactively growing its solar EPC business. With the regulatory push towards cleaner energy in every sector, anyone looking to develop Solar parks will prefer working with Tata Power. It also has a healthy order book.
With the solar EPC, sector projected to grow by 10x over the next 5 years, this segment can become a large source of revenue for the company.
Another big push for the solar EPC business can come from oil companies looking to diversify into clean energy via solar power plants.
As the world goes green, the use of oil will only reduce. And so, cash-rich oil tycoons looking to maintain their wealth want to diversify into clean energy. A well-established player with a strong brand name, Tata Power stands to benefit from this opportunity.
Moreover, its presence across the energy value chain can help it achieve operational efficiency, making Tata Power a truly well-diversified power company.
The Indian EV market is set to soar.
Tata Power leads the pack with 1299 charging stations under its umbrella. Despite the first-mover advantage, they can leverage the trusted Tata brand name. Considering EV is a relatively new concept when it comes to after-sales service, users will prefer the trusted TATA brand name. With a lineage of impeccable service across all its brands, a business or household knows a company from the house of Tatas will not disappoint them.
Aiming to create a large dedicated electric charging infrastructure, Tata Power plans to become the leader with over 1 lakh chargers installation by 2026.
This implies a CAGR growth of 1.4x. But is that possible? Let's find out.
India's vehicle population is all set for a dramatic surge, poised to rise from the existing 160 m units to over 550 m by 2030. This increased dependency on oil raises environmental concerns, steering us towards cleaner transportation and electrification.
Battery and plug-in electric vehicles (EVs) are increasingly becoming a vital component of the transportation landscape.
Not only do they offer clear environmental benefits but also economic and energy benefits.
According to NITI Aayog, India can save 64% of anticipated road-passenger-based energy demand and 37% of carbon emissions in 2030 with a shared and electric mobility future.
The Indian government has also announced some incentives. But before any earnest policy reforms, the country needs to work on its infrastructure.
A report suggests that Delhi alone, assuming an EV penetration of 30%, will require 300,000 charging stations.
Another report projects the need for 400,000 charging stations across the country by 2026.
Now that is a big number. But if you think about it, it makes complete sense.
You don't just need charging stations at home. Much like our fuel stations, you need to place them at strategic locations, like retail malls, business hubs, highways, and neighborhoods.
This is where Tata Power stands to benefit.
How can Tata Power benefit?
Having installed 1299 charging stations and 10,000 home charging stations as of December 2021, the company is making strides in this segment.
Under their brand name, Tata EZ-charge, the company installs and offers end-to-end charging solutions for EVs at workplaces, malls, hospitals, and housing societies.
To accelerate the deployment of public charging stations across India, Tata Power has tied up with some of the eminent EV players in the country.
So far, the company has tied up with Macrotech Developers (Lodha), Apollo Tyres, TVS Motor Company, Tata Motors, and MG Motors India.
It also has partnerships with Jaguar Land Rover, Hindustan Petroleum Corporation (HPCL) and Indraprastha Gas.
Being a part of the Tata group comes with certain perks. Other than the trusted brand name, the company can benefit from a synergy with other group companies such as Tata Motors and Tata Chemicals.
Why has the stock shot up?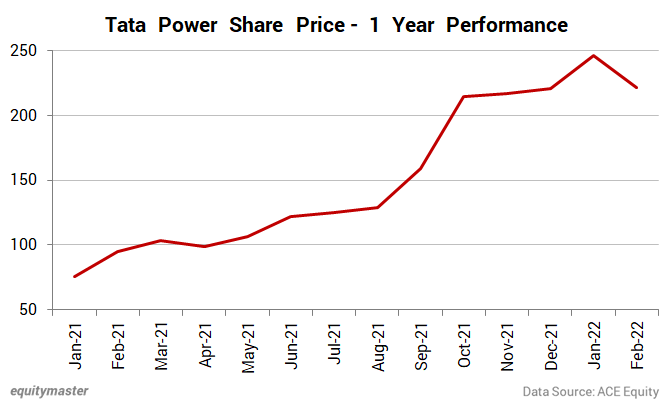 Trading at a price-to-book value (P/BV) of 3.4x, a number higher than the past five years average P/BV of 1.2x, the stock of Tata Power has doubled in the past year. While some short-term factors contributed to this steep rise, there were other important developments:
Along with the other power utilities, Tata Power's stock price also shot up owing to the power crunch in the country last year.
With a sudden jump in demand, power players couldn't get their hands on imported coal, forcing them to shut plants. This power shortage sent electricity prices through the roof.
But Tata Power's largest plant in Mundra had coal reserves to last for some days, giving them a leg up.
Another short-term reason was the inclusion of Tata Power in the MSCI Index. Signifying that the company is a potentially good investment, the stock's inclusion in the MSCI index put it on the radar of international investors.
The Road Ahead
While these events were short-lived, there was one positive long-term event. The company bagged a large contract to build a 100 MW solar project for the government. This increases its chances of procuring potentially large government orders.
Moreover, the expansive EV infrastructure opportunity and the synergies that can emerge from its tie-ups with the other sister concerns can create long-term value for Tata Power.
Tata Power's revenue growth has been stable over the past few yars. However, the profits have been affected due to large interest payments over the same period.
Nevertheless, the company has been reducing debt off its balance sheet. The debt-equity ratio fell from 1.9x in 2017 to 1.4 in 2021. This should continue as the company continues to generate a positive cash flow.
A positive cash flow means the company has money for funding investment opportunities, prepaying debt, or paying dividends to its shareholders.
If Tata Power can monetize all these opportunities, then there is no doubt the company can become the frontrunner of the clean energy revolution.
For more details on Tata Power, check out the company's fact sheet on our website.
Disclaimer: This article is for information purposes only. It is not a stock recommendation and should not be treated as such. Learn more about our recommendation services here...