Mar 11, 2022 - The Many Forces Driving Silver Higher. Should You Increase Allocation?
The Many Forces Driving Silver Higher. Should You Increase Allocation?
Mar 11, 2022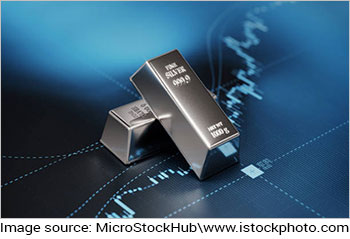 If you've been following financial markets recently, you would have noticed the rising price of silver.
From just above Rs 60,000/kg at the start of the year, the price went up close to Rs 72,000/kg. In dollar terms, during the same period, it's up from US$ 22 per troy ounce to almost US$ 27 per troy ounce.
This is a jump of around 20% in just 2 months.
There are many reasons why the price of the white metal is going up. And many of these reasons are long-term, i.e. structural in nature.
This means the silver has strong long-term drivers which will take the take the price higher, no matter what happens in the short term.
Now, that's good news for the bulls. So what are these structural drivers that are taking the price of silver higher? Should you buy silver now? And should you increase your allocation?
That's what we will look at in this article.
First things first...
Silver is in a Long-Term Bull Market
Powerful economic forces will make sure of that.
This doesn't mean the price won't fall. It most certainly will. But such corrections are unlikely to cause a bear market.
Why?
Well, we believe there are more than enough reasons for investors to buy into any correction. In India we have already seen how stubbornly the price held onto the 60,000 mark.
So that brings us to the all-important question? What are the reasons for the bull market in silver.
The first reason is silver's ancient role as money in the financial system. Silver is sometimes called the poor man's gold. Just like gold silver too is a monetary asset. It's just that it isn't used in this way anymore because gold is preferred.
However, during times on economic uncertainty, both gold and silver tend to rise together. The war in Ukraine is just the latest example.
Another reason is inflation. Gold is the traditional hedge against inflation. But silver comes in second place in this role. As inflation takes hold all around the world, silver will benefit.
Next we come to the industrial reasons for silver's bull market. As we will see, these reasons are more important than the monetary ones.
You see gold is mainly a store of value. No matter how bad the economic conditions get, gold tends to hold its own. Every national government understands this. They are fully aware of gold's role in the monetary system.
People understand it too. They know that the yellow metal will preserve their wealth over generations.
If gold is the emperor of commodities, silver is the empress.
However, silver plays a key role in the global economy too. This is because silver is not just a precious metal. It's used in industry across many applications.
Artificial knee joints, dentistry, water purification, photovoltaic cells for solar energy, electric vehicles, smart phones...these are just some of uses of silver. There are many more.
In fact, as per the IEEE, silver is an 'electrically critical element'. It is an excellent conductor of electricity. So much so that it usually can't be replaced in many applications. Hence the term 'critical'.
Silver and Solar Power
The world is going 'all in' on solar energy to break the dependence on fossil fuels. To generate solar power, we need photovoltaic (PV) cells. Every PV cell contains silver. It can't do without it.
Now each cell may require a small amount of silver. But consider for a minute the number of solar mega projects that are underway all around the world right now...and in India too.
There are many more projects in the pipeline in many countries. The demand for silver from this one application is likely to exceed several million troy ounces. 1 troy punce = 31.1 gm.
And this will just make a small dent in the fossil fuel market. The amount of solar power needed to deal a big blow to fossil fuel use is so large that it will require several thousands of tonnes of silver over many decades.
And that was just for solar power generation.
The Electric Vehicle Boom
As per the latest figures publicly available, each EV needs about 55 gm of silver in it.
Now this number will come down over time due to better efficiency but it's likely to stabilise over time somewhere close to 30 gm of silver per EV.
This modest decline is nothing compared to the huge boom in EV sales. The sheer number of electric vehicles sold around the world will drive the demand for silver. This is not a trend for the future. It has already begun.
EV manufacturers as well as the component makers want a steady and smooth supply of silver. Satisfying this demand is not a problem today but in the future, when global demand for EVs hits a certain level, silver will be available only at higher prices.
The 5G and IoT Revolution
5G will be a game changer for silver. The potential demand for silver the 5G will unleash is hard to imagine. As the American saying goes, 'You ain't seen nothing yet'.
Every smart phone has a small amount of silver in it. The more premium the phone, the more silver there is in it. This is a simple linear progression. There's nothing complicated about it.
But 5G is different.
The technologies that 5G will unleash will be unprecedented. Phones will look like very basic devices in the 5G world.
We're taking about self-driving cars, smart homes filled with all kinds of smart devices, virtual reality (VR) and augmented reality applications like the metaverse, smart cities, and a lot more.
We're very close to living a world driven by the Internet of Things (IoT). The IoT revolution will bring about a massive change in the way we live our lives. The number of devices we use will be a multiple of what we use today.
All these devices will have silver in them. Smart appliances, VR headsets, automatic home lighting and air purifying systems, you name it.
All this will be enabled by 5G. And without silver, this future won't be possible.
Then there is investment demand too, which will be a further driver of silver prices. In India the first silver ETFs have been launched which will give a boost to domestic investment demand.
Supply won't Spoil the Party
If silver supply could keep pace with this ever increasing demand, the price wouldn't be expected to rise a lot. But that's not the case.
As per the Silver Institute, silver supply has been stagnant at under 30,000 metric tonnes per year for many years now. And there are no signs of a huge increase in production.
So these are the many reasons why silver is in a long-term bull market.
What's the best way to buy silver or even gold for that matter?
India's #1 trader, Vijay Bhambwani made a video on this. Check it out...
So that brings us to the big question...
Should You Increase Your Allocation to Silver?
The short answer is yes.
You can consider either physical or ETF modes of investment. But please be aware that silver is a long-term investment. It's not for trading or speculation.
Equitymaster's very own ace trader, Vijay Bhambwani, is very bullish on silver. He suggests a gold to silver allocation of 60:40 or 70:30.
Vijay recommends buying silver on dips.
Watch Vijay's video for more...
Happy silver investing!
Helpful Links to Videos About Investing in Silver