Why Godrej Properties Share Price is Falling
Mar 31, 2023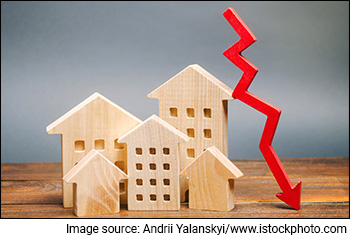 The financial year 2023 (FY23) has come to an end. It would be an understatement to say that it was a difficult year for Indian investors.
Businesses were struggling from the after-effects of war, pandemic effect, dull economic scenario, and high inflation.
The overall market sentiment was dull.
One of the worst performing sectors in the year gone by was the real estate sector. The BSE realty index fell around 17% in FY23.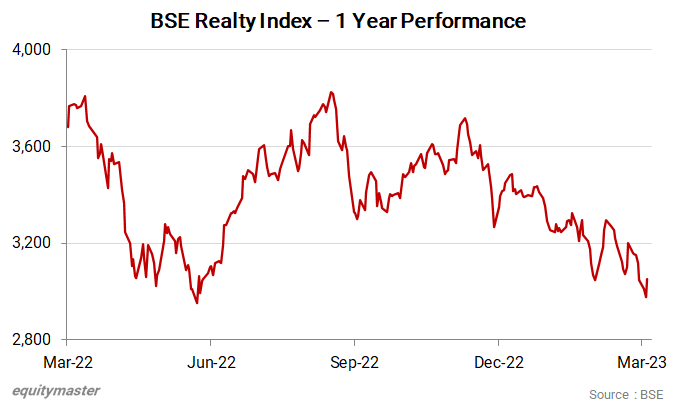 Relatively, majority of realty stocks have suffered. One of the best real estate stocks in India, Godrej Properties was also a victim of the same fate.
Godrej Properties share price underperformed the realty index and fell more...it fell by 38% during the same period.
This week, on 29 March 2023, shares of Godrej Properties hit a new 52-week low of Rs 1,000.7.
Let's take a look into what is dragging down Godrej Properties share price.
#1 Rising interest rates
The dreadful pandemic is behind us but the aftereffects of the pandemic still continue to haunt the real estate sector.
One of the biggest concerns for realty players was rising interest rates. The RBI has been on an aggressive rate hike spree since May 2022. RBI hiked the repo rate for the first time in May 2022 when the setting panel unanimously hiked the benchmark lending rate by 0.4%.
This rate hike was followed by an increase of 0.5% each in June, August, and September. It further hiked rates by 0.35% in December 2022 and February 2023.
These continuous rate hikes have led to short-term turbulence in the overall housing demand. Interest rate hikes increase the cost of housing loans for investors, which in turn reduces the affordability and demand for residential homes.
A potentially delayed pause in the rate hike cycle and risk-off sentiments, particularly for leveraged companies like Godrej Properties, has led to significant pressure on majority of the real estate stocks.
#2 Reports of a stamp duty hike
Recently, media reports indicated that stamp duty may be raised by 1% in Maharashtra along with an increase in ready reckoner rates.
The news is not yet confirmed as there is no official announcement for the same.
The combined effect of rising interest rates and increased stamp duty would have a sharp impact on the demand for residential houses.
In April 2022, Godrej Properties announced its decision to strengthen its presence in Kandivali, Mumbai with a new housing project at an estimated booking value potential of approximately Rs 10 billion (bn).
A stamp duty hike in Maharashtra will have a massive impact on the business of Godrej Properties. The hike will make the houses build in Mumbai costly and less affordable. Thus, Godrej Properties may witness a fall in demand.
#3 High debt
In a rising interest rate scenario, most real estate companies were running away from taking up any debt on their books. But not Godrej Properties. The total debt of Godrej group company during December 2022 quarter increased to Rs 25.9 bn. Debt has increased nearly 5 times in just four quarters.
The company's quarterly sales numbers continue to impress, but with just Rs 12.3 bn of operating surplus generated in 9 months ended on December 2022 and fresh land acquisition of Rs 27.5 bn, the company's net debt has increased significantly.
Along with this, it had huge expansion plans in the pipeline such as large land acquisitions in Q4 of the financial year 2023 and during the next financial year.
The company also plans to widen its presence across its top four markets. But there is fear that the company's aggressive expansion strategy will weigh on cash flows, margins and elevated debt.
It will be interesting to watch out how the company manages to generate sufficient operating cash flows after increasing its debt on a heavy scale.
Investors are wary of high-debt companies especially, after the Adani-Hindenburg saga.
How Godrej Properties share price has performed recently
In the past one month, shares of Godrej Properties are down around 6%. On a YTD basis, Godrej Properties is down 16.3%
Godrej Properties has a 52-week high of Rs 1,715.4 touched on 04 April 2022 and a 52-week low of Rs 1,005.7 touched on 29 March 2023.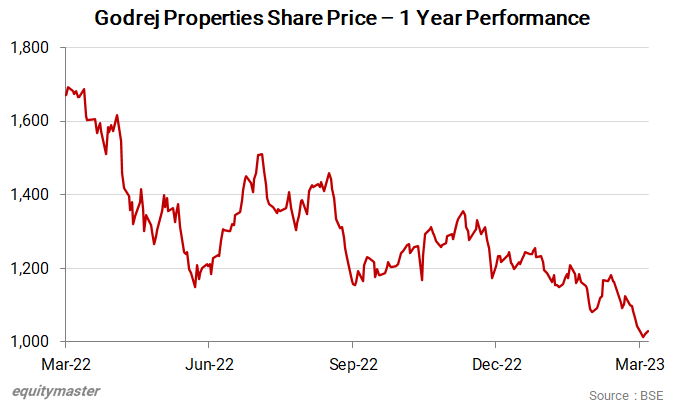 About Godrej Properties
Godrej Properties, established in 1990 is one of India's leading realty companies.
Godrej Properties is part of the 125-year-old Godrej group, one of India's most trusted business houses. Real estate is considered a key growth business for the Godrej group.
The company is focused on developing residential, commercial, retail and IT projects across cities like Mumbai, Pune, Bangalore, Kolkata and Hyderabad. Their business focuses on residential, townships, commercial complexes, office spaces, business centres, IT Parks and technology parks.
For more details about the company, you can have a look at Godrej Properties fact sheet and quarterly results on our website.
You can also compare Godrej Properties with its peers on our website:
Godrej Properties vs Oberoi Realty
Godrej Properties vs Macrotech Developers
Investment in securities market are subject to market risks. Read all the related documents carefully before investing
Safe Stocks to Ride India's Lithium Megatrend
Lithium is the new oil. It is the key component of electric batteries.
There is a huge demand for electric batteries coming from the EV industry, large data centres, telecom companies, railways, power grid companies, and many other places.
So, in the coming years and decades, we could possibly see a sharp rally in the stocks of electric battery making companies.
If you're an investor, then you simply cannot ignore this opportunity.
Details of our SEBI Research Analyst registration are mentioned on our website - www.equitymaster.com
Disclaimer: This article is for information purposes only. It is not a stock recommendation and should not be treated as such. Learn more about our recommendation services here...
FAQs
Which are the top growth stocks in India right now?
As per Equitymaster's Stock Screener, these are the top growth stocks in India right now.
These companies have been ranked as per their 5-year sales compounded annual growth rate (CAGR)
High growth companies have the potential to generate multibagger returns. But if these companies disappoint even slightly, they could get punished heavily by the market due to high valuations.
However, there are other parameters you should take into account as well before forming a hard opinion on the stock.
What are growth stocks?
Growth stocks are companies whose sales and profits are growing at a faster pace than the market.
The top growth stocks usually trade at a premium to other stocks in the market because investors are willing to pay for the higher profits in the years ahead.
The faster they grow, the bigger the returns are for shareholders.
What are the risks of investing in growth stocks?
It's important to understand that growth stocks have a lot of investor expectations driving them higher. This is why they trade at high PE ratios. In fact, they are the most expensive stocks in the market.
If these expectations are dashed due to poor quarterly results or some unexpected event, then growth stocks will crash.
There's also the risk of higher interest rates. If interest rates rise, it puts breaks on growth stocks and their plans.
Investors who have a low risk-appetite may want to reconsider pursuing a growth-oriented investing strategy.