Why ICICI Prudential Life Shares Surged Today
Apr 20, 2021
Shares of ICICI Prudential Life Insurance Company surged in intra-day trade today after the company posted a 23% year-on-year (YoY) growth in value of new business (VoNB) premiums during the March quarter (Q4FY21), led by steady traction in both the regular and single premium businesses.
VoNB is the present value of expected future earnings from new policies written during a specified period. It reflects the additional value to shareholders expected to be generated through the activity of writing new policies during a specified period.
On an annualised premium equivalent (APE) basis too, the insurer's business grew by 27%, ending the streak of contraction for three consecutive quarters.
APE is the sum of annualised first year premiums on regular premium policies, and 10% of single premiums, written by the company during any period come from new retail and group customers.
This cheered investors with the shares gaining more than 6% in early trade today.
Business Grows on Strengthened Distribution
The company ended FY21 with a 40% YoY growth in assets under management (AUM) at Rs 2.2 trillion and became the market leader among private insurers in new business sum assured with a 13% market share, up from 11.8% a year ago.
The focus on maintaining balance sheet resilience through a robust risk management mechanism and investment policy has helped ensure zero non-performing assets since inception and across market cycles, Chief executive and Managing Director N S Kannan told in a post-earnings call.
He also attributed the numbers to a well-diversified product and distribution mix and expressed hope that the company is well poised to achieve the stated objective of doubling its FY19 VoNB.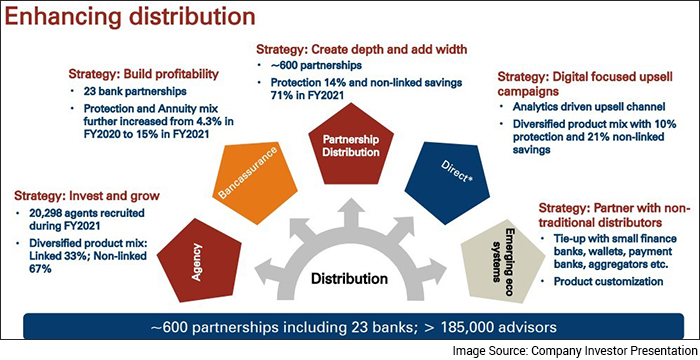 Net Profit Down Due to Accelerated Provisioning
Despite reporting a good set of overall numbers, the net profit of ICICI Prudential Life Insurance fell by 65% year-on-year (YoY) to Rs 625 million during the quarter, on account of provisions of Rs 2 billion for the pandemic.
However, Rs 74 billion of investment income, as a result of gains from the market, against a loss of Rs 180 billion in the corresponding period last year, helped it cushion the hit.
The company also had a payout of Rs 2.7 billion, net of reinsurance for 205 claims from the pandemic deaths.
With the additional Rs 2 billion of provisions for this quarter, the total amount of provisions set aside stands at Rs 3 billion, taking the company's solvency ratio to 217% (well above the regulatory requirement of 150%) with zero NPAs, well protecting its embedded value which rose 26% YoY to Rs 211 billion.
The board of directors of the company also approved a final dividend of Rs 2 per equity share for FY21.
--- Advertisement ---
WATCH: FULL Replay of Our Urgent Broadcast

The full replay of our urgent broadcast on India's Revival is available for a limited time now.

In case you missed watching our broadcast LIVE...

You can see all the important highlights from our broadcast in this replay.

Please note that we may take this replay off the internet any minute.

So it is highly recommended you watch it immediately.

Click Here to Watch the Replay NOW
------------------------------
Equitymaster's View on ICICI Prudential Life Insurance...
We reached out to Tanushree Banerjee, Co-Head of Research at Equitymaster, and Editor of the premium stock recommendation service, StockSelect, for her view on the company.
Here's what she has to say -
"Bank owned life insurers have a low-cost distribution network thanks to their parent bank branches.

This is a massive advantage for them and leads to market share gains.

A low-cost distribution network and diversified product helps companies like ICICI Prudential Life Insurance tackle economic cyclability and regulatory challenges better. "
BREAKING: It's Good Time to Invest in Gold, but Just Don't Go Blindfolded
How the Stock Markets Reacted to ICICI Prudential Life Insurance's Results...
Shares of ICICI Prudential Life Insurance Company opened at Rs 462.3 on the BSE and Rs 465.5 on the NSE and gained 8.8% in early trade today.
The stock closed at Rs 478.3 (up 5.8%) on the BSE and Rs 476.8 (up 5.5%) on the NSE, respectively.
At its current price, it is trading at a P/E of 64.1.
The share also touched its 52-week high of Rs 537.9 on January 8, 2021, and its 52-week low of Rs 329.8 on April 24, 2020.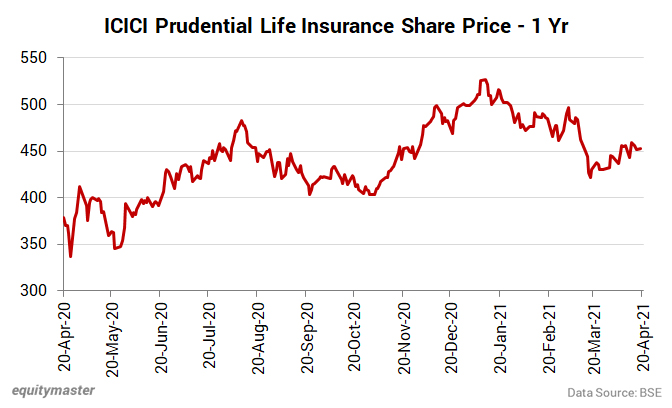 About ICICI Prudential Life Insurance
ICICI Prudential Life Insurance Company is in the business of providing life insurance, pensions and health insurance products to individuals and groups.
These products are distributed through individual agents, corporate agents, banks, brokers, the company's proprietary sales force and the company website. Riders providing additional benefits are offered under some of these products.
It is also one of the largest private-sector life insurers in the country based on new business premiums, its strong bancassurance channel, robust underwriting performance with an increasing focus on the protection business and comfortable solvency levels.
For more details about the insurance sector, you can check out the insurance sector report on our website.
And to know what's moving the Indian stock markets today, check out the most recent share market updates here.
Ayesha Shetty is a financial writer with the StockSelect team at Equitymaster. An engineer by qualification, she uses her analytical skills to decode the latest developments in financial markets. This reflects in her well-researched and insightful articles. When she is not busy separating financial fact from fiction, she can be found reading about new trends in technology and international politics.