HDFC Bank Posts Good Q4 Performance Amid Covid-19 Second Wave
Apr 20, 2021
India's largest private sector lender, HDFC Bank, has reported an 18.2% year-on-year (YoY) rise in its standalone net profit to Rs 81.9 billion for the quarter ended March 2021 (Q4FY21).
The net profit growth was powered by a 20% rise in operating profit which in turn was due to a healthy 14% loan growth. The lender's pre-provision operating profit in the quarter stood at Rs 155.3 billion.
On a sequential basis, the standalone net profit declined 6.5% compared with Rs 87.6 billion reported in the December quarter (Q3FY21).
Net interest income was up 12.6% from a year-ago quarter at Rs 171.2 billion.
Asset Quality Surprises Stock Market Participants
While HDFC Bank's profit growth failed to meet Street expectations on account of higher provisioning, market participants were positively surprised by the lender's asset quality. The additional provisioning offers a decent cushion for FY22 against the ongoing second wave.
On the asset quality front, HDFC Bank saw its net non-performing assets (NNPAs) rise to Rs 45.54 billion in FY21 from Rs 35.4 billion in FY20. Meanwhile, its gross non-performing assets (GNPAs) grew to Rs 150.9 billion during the fiscal under review from Rs 126.5 billion in the previous fiscal.
The bank's gross non-performing assets (NPAs) rose sequentially at 1.32% in Q4FY21. In Q3FY21, gross NPA of the bank was 0.81%.
Net NPAs of the lender stood at 0.4% in the March quarter.
Here's a table comparing the above parameters on YoY basis and quarter-on-quarter (QoQ) basis:
| (Rs m) | Q4FY21 | Q4FY20 | Q3FY21 |
| --- | --- | --- | --- |
| Interest Income | 304,236 | 300,797 | 298,851 |
| Interest Expenses | 133,034 | 137,621 | 146,810 |
| Net Interest Income | 171,202 | 163,176 | 152,041 |
| Growth (%) | 12.6% | | |
| Net Profit | 81,865 | 87,583 | 69,277 |
| Growth (%) | 18.2% | | |
| Gross NPAs | 150,860 | 88,256 | 126,500 |
| Net NPAs | 45,548 | 10,160 | 35,424 |
| Net NPAs to Net Advances | 0.40% | 0.09% | 0.36% |
Data Source: Equitymaster
Capital adequacy ratio of the bank at the end of March quarter stood at 18.8%, well above the regulatory requirement of 12.1%.
The lender's board of directors decided against declaring any dividend for FY21 in light of the second coronavirus wave.
Provisions in the quarter rose 24% on a YoY basis to Rs 46.9 billion.
The lender said the coronavirus-induced slowdown has led to a decrease in loan originations, the sale of third party products, the use of credit and debit cards by customers and also the efficiency in collection efforts. This may lead to a rise in the number of customer defaults and consequently an increase in provisions.
In a call with analysts on Saturday, the management of the private bank said cheque bounce rates rose in April, which is a sign of stress.
--- Advertisement ---
WATCH: FULL Replay of Our Urgent Broadcast

The full replay of our urgent broadcast on India's Revival is available for a limited time now.

In case you missed watching our broadcast LIVE...

You can see all the important highlights from our broadcast in this replay.

Please note that we may take this replay off the internet any minute.

So it is highly recommended you watch it immediately.

Click Here to Watch the Replay NOW
------------------------------
Interest Refund on Moratorium Loans
HDFC Bank provided around Rs 5 billion to refund the interest-on-interest amount to borrowers on the moratorium loans. The bank is, however, awaiting a final decision from Indian Banks Association (IBA) on this concerning the methodology to calculate this amount.
Third Party IT Audit in Final Stages
Srinivasan Vaidyanathan, Chief Financial Officer of HDFC Bank in an analyst call after its fourth quarter results said the third party independent audit of HDFC Bank's IT infrastructure is in the final stages.
The Reserve Bank of India (RBI) had in February this year appointed an external IT firm for carrying out a special audit of the IT infrastructure of HDFC Bank, which has faced a number of outages in its digital banking services.
Credit Card Advances Rise Despite Halt in New Customers
On the credit card business, Vaidyanathan said the bank is focusing on engaging with existing customers, whose cards are either dormant or inactive to resuscitate them.
Concerned by the outages, the RBI had on December 2 last year directed HDFC Bank to temporarily halt sourcing of new credit card customers as well as launches of digital business generating activities planned under its proposed programme - Digital 2.0.
Note that despite the temporary halt, HDFC Bank's credit card advances grew by 12.3% to Rs 646.7 billion for the quarter ended March 31, 2021 as against Rs 575.8 billion in the fourth quarter of 2019-20.
BREAKING: It's Good Time to Invest in Gold, but Just Don't Go Blindfolded
Equitymaster's View on HDFC Bank's Q4FY21 Performance...
We reached out to Tanushree Banerjee, Co-Head of Research and banking sector analyst at Equitymaster, for her view on the private lender's performance.
Here's what she has to say about HDFC Bank's Q4FY21 results:
HDFC Bank's performance in terms of profit growth and sustenance of credit quality in FY21 was credible. However, the lender's retail loan growth, which was at 6.7% YoY as against industry growth of 9% YoY, could remain lackluster. Especially in the near-term amid localized lockdowns due to the raging second Covid wave.

Delayed resolution of technical issues in IT platforms and lifting of embargo on new credit card issuances would also impact HDFC Bank's credit growth in the coming quarters.
How Stock Markets Reacted to HDFC Bank's Q4 Numbers...
Shares of HDFC Bank tumbled as much as 5% in intraday trade yesterday. Losses were however recouped later in the session as the shares settled 1.1% lower.
Most of the banking stocks were down over 3% yesterday and the Bank Nifty index tanked over 4.5% due to concerns regarding the second wave of Covid-19 pandemic.
HDFC Bank share price touched a 52-week high of Rs 1,650 on 24 February and a 52-week low of Rs 826 on 19 May 2020.
On a YTD basis, share price of HDFC Bank is up 1% and in FY21, it has gained a whopping 80% as can be seen from the chart below.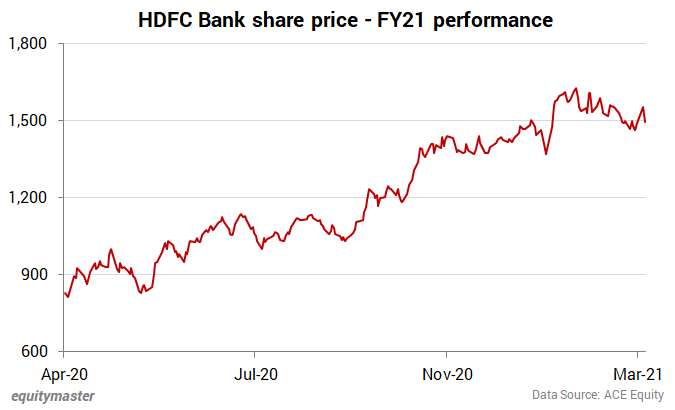 At the current price of Rs 1,412, the P/E ratio for HDFC Bank stands at 25.9 times.
About HDFC Bank
HDFC Bank remains the Gold standard in the banking industry when it comes to its solid execution capabilities and pristine loan book. Headquartered in Mumbai, HDFC Bank is a new generation private sector bank providing a wide range of banking services covering commercial and investment banking on the wholesale side and transactional/branch banking on the retail side.
HDFC Bank also has one overseas wholesale banking branch in Bahrain, a branch in Hong Kong and two representative offices in UAE and Kenya. The Bank has two subsidiary companies, namely HDFC Securities and HDB Financial Services.
The lender has a banking network of 5,608 branches and 16,087 ATM's in 2,902 cities/towns.
For more details about the company, you can have a look at HDFC Bank's factsheet and HDFC Bank's quarterly results on our website.
You can also compare HDFC Bank with its peers on our website:
To know what's moving the Indian stock markets today, check out the most recent share market updates here.