What's Behind ACC's Highest-Ever Revenue in March Quarter?
Apr 20, 2021
Cement major ACC has reported a strong set of numbers for the first quarter of the calendar year 2021 (CY21).
The company posted a 74.2% year-on-year (YoY) surge in its consolidated net profit at Rs 5.6 billion for the March quarter (Q1CY21).
The rise in profits was backed by a strong topline and better-than-expected operating performance.
Consolidated revenue during the quarter grew by 22.7% YoY to Rs 42.1 bn as compared to Rs 34.3 bn in the year-ago period (Q1CY20).
At the operating level, consolidated earnings before interest, tax, depreciation and amortisation (EBITDA) spiked 46.8% to Rs 8.6 bn, while the operating margin expanded 330 basis points (bps) YoY to 20.4%.
Earnings before interest and tax (EBIT) jumped 67.1% YoY to Rs 7.1 bn and margin climbed 450 bps to 17% in Q1CY21 driven by capex-led strong cost actions and higher growth in premium products.
ACC follows January-December as its financial year.
Here's a table comparing ACC's quarterly performance on key parameters on a YoY basis:
| (Rs m) | Q1CY21 | Q1CY20 | Q1CY19 |
| --- | --- | --- | --- |
| Net Sales | 42,130 | 34,330 | 38,500 |
| Growth (%) | 22.7% | -10.8% | |
| Profit After Tax | 5,630 | 3,231 | 3,460 |
| Growth (%) | 74.2% | -6.6% | |
| EBITDA Margin (%) | 20% | 17% | 14% |
| EBIT Margin (%) | 17% | 13% | 10% |
| Sales Volume - Cement (million tonnes) | 7.97 | 6.56 | 7.46 |
Data Source: Company Presentation
Cement Sales Volume Registers 21.6% Growth
ACC said cement sales volume increased to 7.97 million tonnes (MT) in Q1CY21, registering a 21.6% growth compared to 6.56 MT in March quarter last year.
Ready-mix concrete sales volume declined to 0.83 million cubic metres during the quarter, from 0.93 million cubic metres in the corresponding period.
Cement prices for ACC witnessed a 6.5% YoY gain, as can be seen below.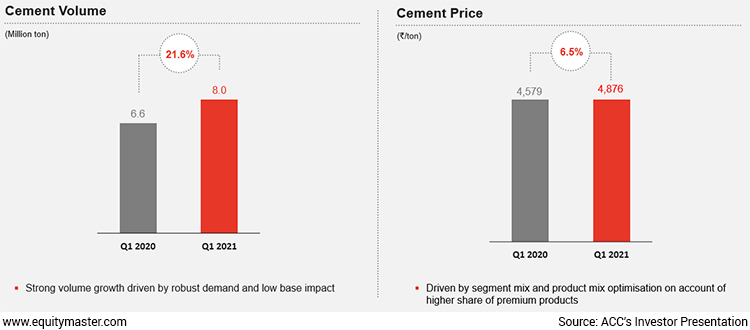 Record Revenues and Cost Efficiencies
ACC delivered its highest-ever revenue and operating EBIT in Q1FY21.
The company also saw cost reductions for raw material costs and employee expenses, which in turn helped the bottomline.
Note that ACC has delivered strong performance on the cost front over last couple of years despite constrained capacity and steep surge in coal and diesel prices.
Furthermore, cost efficiency project 'Parvat' is on track and has helped in managing some continuing cost headwinds for the company.
--- Advertisement ---
One stock to add to your portfolio asap

Our co-head of research, Tanushree Banerjee, has uncovered this one stock, which she believes is a must have in your portfolio.

Tanushree is very bullish on this stock.

It could potentially multiply invested money 12 to 13 times over the long term.

Tanushree will reveal details of this stock at her upcoming special event.

You can click here to sign-up. It's free.
------------------------------
In one of its presentations, ACC shared that 'Parvat' is an efficiency optimisation programme initiated in 2019 to bring radical changes in the cost structure and to improve delivered cost.
It also stated that even as the COVID-19-induced lockdown threatened to slow the progress, the company teams were quick to resume in full spirit, as soon as the restrictions were lifted. As a result, in 2020, about 500 initiatives were implemented successfully by the company on the manufacturing front alone.
New Grinding Unit at Sindri to Add 1.4 MTPA Capacity
ACC said it has commissioned a new grinding unit at Sindri in a record time, adding a capacity of 1.4 MTPA.
This was one of the fastest capex projects to be implemented despite the challenges posed due to COVID-19 and other restrictions.
The new facility will add 1.4 MTPA of cement capacity to its existing 3 MTPA unit at this site in Jharkhand.
The foundation stone for Sindri grinding unit Phase-2 was laid in December 2019 with the objective to service the expanding market, strengthen presence in the eastern region and add value to the overall business.
ACC's Management on Q1 Performance
The management of the company commented that ACC has demonstrated strong resilience which has been reflected in performance this quarter.
Managing Director and CEO Sridhar Balakrishnan went on to add, "We aim to continue driving the four stated strategic priorities: Performance, growth, innovation and sustainability. With the government's increased spending and its strong focus on infrastructure development, we maintain a cautious yet positive outlook for overall cement demand in the coming months.
Key Operational Highlights from ACC's 2020 Annual Report...
Here are some of the key operational highlights ACC witnessed in 2020 despite the Covid-19 disruption:
Generation of Additional Cash: The company witnessed significant improvement in cash conversions in 2020. This was driven mainly by strong working capital actions implemented by the company.
Value Added Solutions: ACC's ready-mix concrete launched value added solutions such as ACC Thermofillcrete, ACC Suraksha NX and ECOPact - the Green Concrete.
Capacity Addition: ACC undertook capacity expansion in 2020. This was done through organic route to sustain and grow its market share and capitalise on the growing demand for cement consumption in the eastern and central regions.
Consistent Dividend Payout: ACC declared dividend at the rate of Rs 14 per equity share (140%) for the year ended December 31, 2020. This was in line with the company's dividend payout ratio in the years 2019 and 2020 where it declared dividend of Rs 14 per equity share each year.
ACC's View on the Cement Industry in India
As per ACC, the cement industry in India is witnessing an imbalance in installed capacity and its utilisation.
Despite excess production volumes in the industry, expansion programmes continue, resulting in intense competition for the industry players.
As a result of this, ACC is aiming to widen its product portfolio by increasing the share of its premium products in the retail segment, application-based products, value-added products and services to the business-to-business (B2B) segment.
Equitymaster's Technical View on the Cement Sector...
We reached out to Brijesh Bhatia, Research Analyst at Equitymaster, and Editor of the premium monthly recommendation service Fast Profits Report, for his technical view on the cement sector.
Here's what he has to say:
The financial market was hit in March 2020 by lockdown and by March 2021, they are up by 100% from the lows.
Cement sector outperformed and most of the cement stocks are up by 100% from the lows.
The demand in cement is largely lead by government spending on infrastructure and real estate.
The commercial office been vacant with work-from-home culture and new housing projects been stalled, can still the cement sector rally from current levels?
We created an Equal Weighted Cement Index (EWCI) chart using cements stocks with market cap over 10,000 crores and compared it with Nifty Realty Index.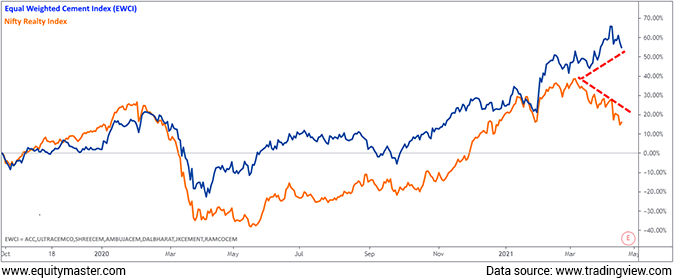 Since the lows in March 2020, EWCI and Realty Index rallied in a same manner. But since March 2021, we are witnessing divergence between the two sectors (marked red) where Cement stocks are trading near high and Realty stocks are underperforming against Cement stocks.
To check the future outperformance of Cement stocks, we compared EWCI with Nifty.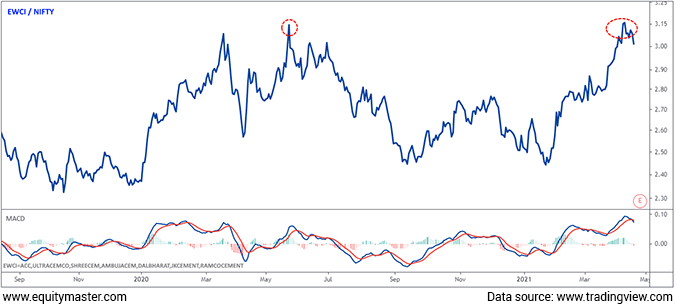 The ratio chart of EWCI Index vs Nifty above is indicating profit bookings can be on cards for cement stocks and it has reversed from the similar highs made in June 2020.
The negative crossover of averages on Moving Average Convergence Divergence (MACD) supports an underperformance of EWCI over Nifty.
How Stock Markets Reacted to ACC's Q1 Numbers...
Shares of ACC witnessed buying interest in intraday trade today and the stock of the company is presently trading marginally higher at Rs 1,880 (up 0.3%).
Cement stocks are trading on a mixed note today with JK Lakshmi Cement witnessing most of the buying interest.
ACC share price has touched a 52-week high of Rs 2,022 and a 52-week low of Rs 1,108.
On a YTD basis, share price of ACC is up 60% and in FY21, it has gained a whopping 97% as can be seen from the chart below.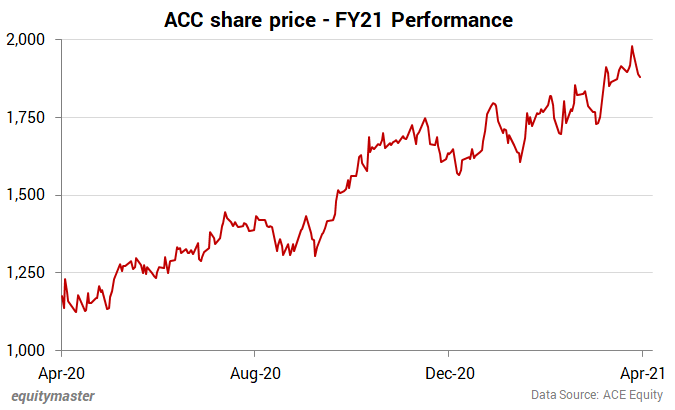 At the current price of Rs 1,880, the P/E ratio for ACC stands at 28.9 times.
About ACC
ACC is India's oldest cement company.
It is a member of the LafargeHolcim Group, and is one of India's leading producers of cement and ready-mix concrete.
The company has 6,300 employees, 17 cement manufacturing sites, 79 concrete plants and a nationwide network of over 50,000 retail outlets to serve its customers.
ACC boasts a large marketing infrastructure, pan-India presence, and strong operational linkages with Ambuja Cements. The two companies together have around 14% capacity share in the Indian cement market. Their nationwide presence shields operations from regional price volatility and demand-supply imbalances.
ACC and Ambuja Cements are part of the LafargeHolcim group. As on December 31, 2020 LafargeHolcim held 63.27% stake in Ambuja Cements, which held 50.05% stake in ACC; it also holds 4.48% stake in ACC through Holderind Investments Ltd.
For more details about the company, you can have a look at ACC's fact sheet and ACC's quarterly results on our website.
You can also compare ACC with its peers on our website:
To know what's moving the Indian stock markets today, check out the most recent share market updates here.
Monish Vora is a keen student of the markets and shares his observations through his clear and concise commentary.