Shares of Oxygen Suppliers in Focus Amid Rising Demand for Oxygen
Apr 20, 2021
Shares of Oxygen Suppliers and industrial gas manufacturers are in limelight for quite some days now amid increasing demand for oxygen following a surge in Covid-19 cases in many states across the country.
India reported its highest-ever single-day spike of Covid-19 cases with over 2.73 lakh new cases and 1,619 deaths in the last 24 hours, according to the Union Health Ministry on Monday.
The government has also prohibited the supply of oxygen for industrial purposes starting April 22, except in nine specified industries.
"There has been a significant surge in the demand for medical oxygen. Department of Promotion of Industry and Internal Trade (DPIIT) has conveyed that this has already reached about 60% of the total daily oxygen production, and is expected to rise further," the DPIIT letter said.
Media reports state that with the Covid situation worsening, the demand for oxygen is further set to rise.
The shortage of oxygen for medical usage due to the ongoing healthcare crisis is leading to strong buying in shares of producers of this gas.
However, the biggest producer, Inox Air Products is not listed.
--- Advertisement ---
One stock to add to your portfolio asap

Our co-head of research, Tanushree Banerjee, has uncovered this one stock, which she believes is a must have in your portfolio.

Tanushree is very bullish on this stock.

It could potentially multiply invested money 12 to 13 times over the long term.

Tanushree will reveal details of this stock at her upcoming special event.

You can click here to sign-up. It's free.
------------------------------
Stocks such as National Oxygen, Linde India, Bhagwati Oxygen and National Oxygen have soared over the past one week.
National Oxygen share price has rallied over 21% in the last week, and in the past one month, the stock has climbed more than 75%.
Bhagwati Oxygen share price has rallied 15% in one week and has gained over 17% in the past one month.
Gagan Gases share price has jumped more than 21% in the past week and over 53% in the past month.
Meanwhile, Linde India share price has gained 12% in one week, and is up more than 113% in one month.
To know more about the company, you can read Linde India's company factsheet and its latest quarterly results on our website.
Investors Mistakenly Pump NBFC Stock
Apart from the above, shares of Bombay Oxygen Investments have also rallied. The stock has more than doubled in the past two weeks.
Stock of the company saw a record close on Monday as it ended at Rs 24,575, up 189% from the 52-week low of Rs 8,512.
The rally in the stock started a month ago on March 25 when it was trading at Rs 10,000.
The gains of the stock, however, are driven solely by its name, rather than by the business it does.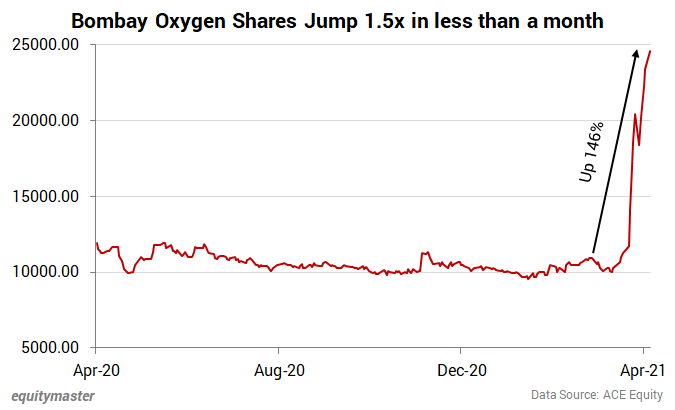 The company now commands a market capitalisation of over Rs 3.5 billion. Promoters own more than 73% of the company shares, while a bulk of the public shareholding is with small retail investors.
At the current price of Rs 23,346, the P/E ratio for Bombay Oxygen stands at 15.7 times.
Revealing Tomorrow: The Great Indian Wealth Project
About Bombay Oxygen Investments
Bombay Oxygen was incorporated in October 1960. According to the company's website, its primary business was manufacturing and supplying of industrial gases, which was discontinued from August 1, 2019.
The company's name was changed to Bombay Oxygen Investments effective October 3, 2018.
In December 2019, it received an RBI nod to continue as a non-banking financial company (NBFC). "The company owns substantial financial investments in the form of shares, mutual funds & other financial securities and the income from such financial investments is the source of revenue of the company," its website says.
The company's revenues are derived from the its investments in shares, mutual funds and other financial securities.
While several media reports are saying the company no more deals in oxygen, there is a contradiction on its website, as its 'products' section continues to refer to oxygen and other industrial gases. This section still describes the company as 'Manufacturer and Dealer of Industrial Gases' and lists oxygen, nitrogen, argon, carbon dioxide as products.
Clarification to BSE
The Bombay Stock Exchange (BSE) had sought a clarification from the company on the significant price movement on April 8, to which the company had clarified on April 9, stating -
"There is no pending information or announcement which may have a bearing on the price movement of the company.

Therefore, the movement in the share price of the company is market-driven and the company is in no way connected with any such movement in price."
Shares of the company today crashed 5% as the anomaly was widely reported and circulated on social media websites.
--- Advertisement ---
How to Earn a Fortune in Gold, the Smart Way

Gold is on 'the verge of a decadal run' says Vijay Bhambwani, India's #1 Trader and Editor of Fast Profits Daily at Equitymaster.

He says gold has the potential to generate staggering gains in the coming years...And those who are betting on gold right now will hit the jackpot.

But wait.

While gold is an attractive investment destination, there's a very specific way to play this opportunity...

A way that ensures you rake in maximum profit and perhaps hit the jackpot...while minimizing potential pitfalls. Thankfully, Vijay - India's #1 Trader - can guide you step-by-step in the upcoming gold rush and help hit the jackpot just at the right time.

Sure, you don't want to be an average trader. That's not how you make a fortune.

Here's how you can get Vijay's guidance...
------------------------------
Here's an excerpt from an article by The Economic Times on Bombay Oxygen:
"The episode highlights the growing power of social media platforms such as Twitter, WhatsApp and Telegram on investment and trading decisions of market participants. It also brings to light the quantum of manipulation that exists in the Indian stock market as traders and investors, especially retail, fail to do due diligence in a hurry to bag the next big multibagger.

Regulators such as the Sebi are still unable to cope with the menace of such tip-based investing which eventually ends up burning the hands of retail traders and investors."
A few months ago, shares of GameStop saw a rally driven by social media.
Note that a lot of companies, taking advantage of this mindset of gullible investors, had changed their company name using the words "finance and investments" in the 1993-95 period that witnessed the "financial" boom and "information technology" during the dot-com boom between 1998 and 2001.
To control this, the markets regulator had, in 2004, amended new norms for change of name, mandating that at least 50% of the total revenue in the preceding one year period should have been accounted for by the new activity.
Equitymaster's Technical View on Oxygen Stocks...
We reached out to Brijesh Bhatia, Research Analyst at Equitymaster, and Editor of the premium monthly recommendation service Fast Profits Report, for his technical view on oxygen stocks.
Here's what he has to say:
With rising Covid positive cases in second wave, scarcity of beds in hospital, oxygen and medicine have made situations worse than first wave.

The trading opportunity in rising stock price of Oxygen stocks cannot be ruled out and most of the stocks have moved into uncharted territory.

We believe the traders can dance till the music stops when government will cap the price like they did in medicine and hospital charges.

Traders should keep in mind that most of the stocks are from small and micro cap with low trading volumes which will make it risker while exiting the stock.
We will keep you updated on the latest developments from this space. Stay tuned.
To know what's moving the Indian stock markets today, check out the most recent share market updates here.