Why Did AU Small Finance Bank Shares Fall Today?
May 3, 2021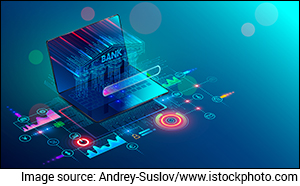 Shares of AU Small Finance Bank slipped 8% on the BSE in intra-day trade today as the bank's asset quality worsened during the March quarter (Q4FY21).
Asset Quality Deteriorates Sequentially
The bank's gross non-performing assets (NPA) ratio increased to 4.25% in the March quarter (Q4FY21), against a pro forma gross NPA ratio of 3.3% in the December quarter (Q3FY21).
The increase in gross NPAs was due to a particularly affected stressed pool that was less than 90 days past due (dpd) and paying but were 'once NPA' and have been tagged as NPAs now.
--- Advertisement ---
The Smallcap Revival Summit

Join us on the evening of 20th May to learn,

• Why despite rallying over 100% since March-2020 lows... small-cap stocks are set for a massive rally over the coming months and years
• Details of our top 3 stocks to capture potentially huge gains from this upcoming small-cap rally
• And how to spot opportunities, even in the current market, with the potential to generate 200%, 400%, and even 900% long-term gains

Plus, there is a lot more that we are going to cover.

The summit is free to attend for Equitymaster readers.

But since there are limited seats, we would recommend you to register at the earliest.

Grab your spot for the Summit here. It's free.
------------------------------
This resulted in an increase in non-performing loans by Rs 5.4 bn (1.6% of loans).
AU Small Finance Bank Asset Quality Overview (Q4)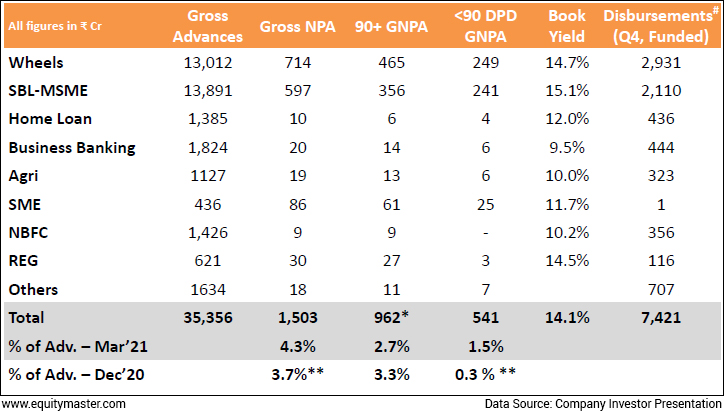 Net NPA ratio also soared to 2.18% from 0.81% during the same period a year ago, and 0.24% in Q3FY21.
Meanwhile, provisions for bad loans and contingencies, increased to Rs 1.8 bn during the quarter from Rs 1.5 bn in the previous quarter.
Total restructured loans of the bank increased to 1.8% vs 1.5% guided for in Q3FY21. The bank carries a provision of Rs 1.2 bn on this.
Get Details: We are Bullish on These 3 Little-known Stocks
Bank's Business Resiliency Comes to the Rescue
AU Small Finance Bank's core operating metrics for the quarter trended better than expected.
The bank's assets under management (AUM) grew by 22% year-on-year (YoY) primarily driven by retail products, strong traction in deposits and a steady reduction in the cost of funds.
Total deposits grew 38% YoY to Rs 360 bn with the share of retail deposits increasing to 55% of the total mix. The bank's CASA ratio increased to 23% during the quarter vs 22% in the previous quarter.
Net interest income (NII) of the bank also grew 18% YoY to Rs 6.6 bn. However, the NII was impacted due to interest reversals of Rs 660 m on account of NPA tagging of borrower accounts in compliance with the Reserve Bank of India (RBI) circular of 7 April 2021.
The bank had made Rs 380 m of provisions against these reversals which were utilised during the quarter.
Collection efficiency and customer activation rate of the bank also moved higher than pre-Covid-19 levels.
Chief Audit Officer of the Bank Resigns
Meanwhile, AU Small Finance Bank made a notable announcement of the resignation of the Chief Audit Officer (CAO) in its exchange filings, post numbers for Q4FY21 were declared.
Mr Nitin Gupta, CAO of the bank submitted his resignation request on 3 March 2021 to pursue career opportunities outside the bank.
The Audit Committee has accepted his resignation with effect from 13 May 2021 and will appoint a new Chief Audit Officer (Internal Audit) to take charge from 14 May 2021.
Mr Gupta will remain in employment with the bank until the completion of his notice period.
--- Advertisement ---
[EXCLUSIVE] Webinar Invitation -
"Pandemic Impact. Economic Recovery. Investment Strategy - Insights Revealed!"

Date: May 21st | Time: 6pm | Venue: Your Computer

The Covid-19 crisis in India is said to be one of the biggest crises the country has ever seen.

Amidst this turmoil, investors are also questioning the future of their financial wellbeing.

In this exclusive webinar, Chirag & Sorbh will answer big questions like:

• How will the second wave of Covid-19 impact economic recovery?
• What asset allocation could you consider for uncertain times like this?
• Is the Indian stock market immune to the Covid-19 surge?

And many more...

Click Here to Register FREE for this Exclusive Webinar
[No Payments | No Credit Card | Absolutely FREE] | [Yes! I want to attend this Webinar]
------------------------------
How the Stock Markets Reacted to AU Small Finance Bank's Results
Shares of AU Small Finance Bank opened at Rs 958 on the BSE and slipped over 8% to Rs 927.1 in intra-day trade today.
The stock was trading lower for the third straight day, falling 19% during the period. It corrected 32% from its 52-week high level of Rs 1,356, touched on 30 March 2021.
At its current price, it is trading at a P/E of 26.8.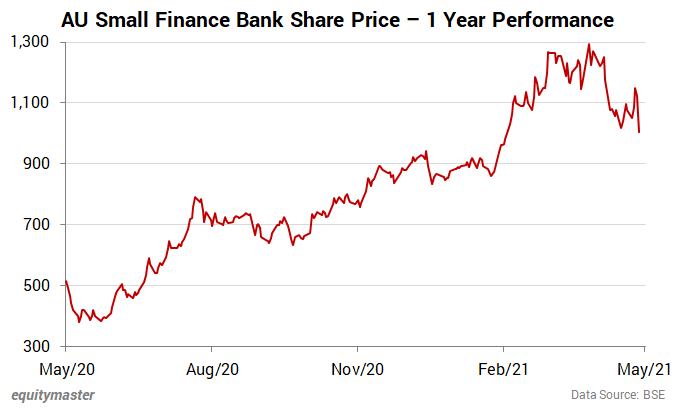 About AU Small Finance Bank
AU Small Finance Bank is an Indian scheduled commercial bank that was founded as vehicle finance company AU Financiers (India) in 1996 and converted to a small finance bank on 19 April 2017.
The bank has a long-standing track record of over two decades of being a retail-focused and customer-centric institution; serving low and middle income individuals and small businesses that have limited or no access to formal banking and finance channels.
The bank offers a comprehensive suite of loan, deposit & payment products and services.
For more details about the banking sector, you can check out the banking sector report on our website.
And to know what's moving the Indian stock markets today, check out the most recent share market updates here.