Top 4 Rice Stocks to Add to Your Watchlist
Sep 9, 2022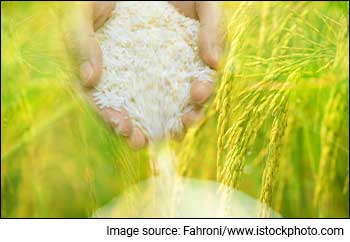 Editor's note: India, the world's second-largest rice producer after China, commands a 40% share in the global trade.
Being the largest exporting nation, any news flow surrounding an export ban does not bode well for rice exporting companies.
This week though, one such announcement was made by the Indian government. The center notified on Thursday, 8 September 2022, that it has banned exports of broken rice and imposed a 20% duty on exports of non-Basmati rice except for parboiled rice.
This move was taken to boost domestic supplies amid a fall in area under the paddy crop in the current Kharif season.
Interestingly, majority of rice exported are white rice and brown rice, which account for around 60% of India's exports.
The price of rice exported from India are currently near their yearly high as demand from Bangladesh remained strong. Supply concerns and an uptick in demand meanwhile, added to the price hike.
In May 2022, when the Russia-Ukraine war was roiling the commodity markets, we wrote to you about the top 4 rice stocks in India.
Top Rice Stocks in India
Source: Equitymaster
The above list is still relevant today as all of them are exporting companies. Hence, they have seen a downtrend in recent days due to the export ban.
Read on to know more about these stocks and what the future holds for them.
Top Rice Stocks in India
Right from the USA to Australia, rice has been a staple in most cuisines in the world for ages.
Despite the fact that people follow multiple diets, rice is still consumed by more than half of the population.
With a growing population, the consumption and production of rice has also increased over the years.
India, being the largest exporter and second-largest producer of rice, benefits from increasing rice consumption.
In financial year 2022, India exported non-basmati rice worth US$ 6.1 bn, which is 27% higher than the previous year.
India's efforts to expand port handling infrastructure and explore new opportunities to export rice have helped boost rice exports in the country.
Along with this, the expectation of a normal monsoon will further boost the exports in the next fiscal year.
Indian rice stocks are the primary beneficiaries of rising exports and hence are in focus right now.
Here's a list of four Indian rice stocks to add to your watchlist. These companies are also the leading rice exporters in the world.
#1 LT Foods
First on our list is one of the leading rice brands in India, LT Foods.
LT Foods is a food processing brand engaged in milling, processing, marketing, and manufacturing rice and value to rice food products.
It has a diversified rice product portfolio that includes white rice, brown rice, steamed rice, organic rice, parboiled rice, and quick cooking rice.
Its flagship brands, Daawat and Royal, enjoy leadership positions in India and the US. The company has several other brands of branded rice such as Ecolife and Devaaya to name a few.
LT Foods has a global footprint in over 65 countries across four continents. It has a network of over 1,200 distributors, 137 thousand retail outlets in India and over 1,000 distributors across the globe.
In the last three years, the company's revenue grew at a compound annual growth rate (CAGR) of 6.2%, driven by US and Europe business growth. The net profit jumped 28.7% due to lower finance expenses during the same period.
In the December 2021 quarter , the revenue has grown by 21.2% year-on-year (YoY), led by increased in-house consumption.
Due to higher free cash flows, the company was able to reduce debt on its balance sheet in the past few quarters, which led to lower interest costs. As a result, the net profit has grown by 11.9% YoY.
LT Foods plans to grow by expanding its footprint to new countries through its flagship brand Daawat.
Current trends such as higher spending capacity, increased in-house consumption and growing health awareness will support the company's expansion plans.
To know more about LT Foods, check out its factsheet.
#2 KRBL
Next on our list is KRBL, India's first integrated rice company.
KRBL is one of the leading producers of basmati rice in the world, with operations across the basmati value chain right from seed development, farming, processing, and marketing.
It's also the largest rice miller in the country, with a milling capacity of 195 metric tonnes (MT) per hour.
The company has a diversified product portfolio, including basmati, non-basmati rice, bran oil, furfural, rice bran, and de-oiled cakes.
It has several popular brands under its umbrella, such as India Gate, Unity, Nur Jahan, Doon, and Bemisal.
Besides food processing, KRBL also diversified into renewable energy. It has an energy production capacity of 145 megawatts (MW), which it uses for captive consumption and generating revenue.
In the last three years, the company's revenue declined slightly, mainly due to covid.
However, it has been able to expand its profit margin to 14% in 2021 from 12.2% in the financial year 2019. This was mainly due to lower interest costs.
In the December 2021 quarter, the revenue has grown 3.6% YoY, and the net profit declined by 50% due to high input costs.
In 2022, as the economy is opening up, KRBL expects the revenue growth to be driven by exports.
To know more about KRBL, check out its factsheet.
#3 Chamanlal Setia Exports Ltd
Third on our list is Chamanlal Setia Exports, one of India's oldest rice millers and exporters of rice.
Chamanlal Setia Exports is engaged in the business of milling and processing basmati rice.
It primarily caters to private labels, but it also has its own brands, Maharani, Mithas, and Begum.
Chamanlal Setia Exports has a loyal client base of over 800 private buyers spread across 80 countries. The company is slowly expanding its geographical footprint by sustaining the demand in existing markets.
Its manufacturing facility in Haryana has a processing capacity of 12 MT per hour with state-of-the-art facilities.
In the last three years, Chamanlal Setia's revenue grew at a CAGR of 3.5%, led by volume growth. However, the net profit grew at a CAGR of 33.6%, mainly due to a fall in paddy prices and growth in realisations.
In the December 2021 quarter, revenue has grown by 12.6% YoY. The net profit declined by 18% YoY on account of higher expenses.
Going forward, growing contributions from its own brands to the company's revenue will drive the growth of the business.
To know more about Chamanlal Setia Exports, check out its factsheet.
#4 GRM Overseas Ltd
Last on our list is GRM Overseas, the fifth largest exporter of Basmati rice globally.
GRM Overseas is engaged in the business of milling, processing and marketing branded and non-branded basmati rice in India and across the globe.
It has an international presence spread across 38 countries and is the third largest exporter to the Gulf region.
Though the company has its own brands, it derives a large portion of its revenue from sales to private labels.
Some of its brands include Himalaya River and Tanoush, which it introduced in the UK a few years back.
GRM Overseas has three state-of-the-art manufacturing facilities in India with a capacity of 20 MT per hour. It also has a network of 125 distributors that place its products on the shelves of over 160 thousand stores.
In the last three years, the company's revenue fell by 10% due to Covid-19. However, its net profit grew at a CAGR of 70% during the same time due to lower expenses.
In the December 2021 quarter, its revenue has grown by 46%, and net profit jumped by 352% YoY.
Going forward, the company plans to expand its domestic presence with its own brands and has partnered with Reliance Retail and Walmart to place its products in these stores.
To know more about GRM Overseas, check out its factsheet.
Should you invest in rice stocks?
Basmati rice is the signature food item of India. It's used in almost all countries, including the Middle East and European countries, as a staple food.
Though India is the largest exporter of basmati rice, in the last three years, India's basmati rice exports have been reducing.
This is mainly due to the falling rupee reserves in Iran and the sanctions imposed by the US.
Besides this, trade policies in Europe have also led to a fall in sales.
However, the overall rice exports have increased in the past couple of years mainly due to the growth in non-basmati production and sales.
Also, it's expected that basmati rice exports may soon pick up as new markets have opened up their doors for Indian basmati rice.
Hence the prospects look bright for India's rice processing industry, and investors can consider adding these rice stocks to their watchlist.
Nevertheless, it's always better to check the fundamentals and valuations before investing in any stock.
Remember that stock markets can be volatile, and it's always better to proceed with caution.
Happy Investing!
Disclaimer: This article is for information purposes only. It is not a stock recommendation and should not be treated as such. Learn more about our recommendation services here...