What's Fueling the Rally in Adani Transmission Shares
May 22, 2021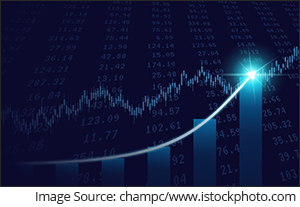 Continuing the momentum seen throughout the year, shares of Adani Transmission zoomed 5% on Friday to a record high of Rs 1,455.
Shares of the company ended higher for the fifth consecutive trading session yesterday.
Adani Transmission Surpasses Adani Ports
Adani Transmission surpassed Adani Ports to become the second most valuable company of the Gautam Adani-led Adani group companies.
With Rs 1.60 trillion market cap, Adani Transmission replaced Adani Ports which has a market-cap of Rs 1.57 trillion.
Adani Green Energy tops the list of most valuable Adani Group company with market-cap of Rs 2.01 trillion.
What's Behind the Rally?
Earlier this month, global index services provider Morgan Stanley Capital International (MSCI) announced multiple changes to its MSCI India index.
Three Adani group stocks were included in this review - Adani Transmission, Adani Enterprises, and Adani Total Gas.
Gautam Adani-controlled Adani Green Energy and Adani Ports were already part of the index.
--- Advertisement ---
Replay Available: The Great Indian Wealth Project

Watch Tanushree Banerjee reveal the details of first stock to potentially accumulate Rs 7 crore long-term wealth.




Watch Now
------------------------------
As per reports, inflows worth Rs 20.9 bn are expected in the stock of Adani Transmission. This could be one reason why the stock is on an up move.
Another reason could be the company's stellar March quarter earnings, in which it reported a four-fold jump in profits.
Adani Transmission's consolidated net profit grew 333% YoY to Rs 2.6 bn for the fourth quarter compared to Rs 590 m in the same period a year ago.
The company also reported a healthy growth of 82% in its consolidated net profit at Rs 12.9 bn for the fiscal year ended March 2021.
Investors might be willing to bet on the company attributing to company's growth in profits.
The company is also planning to invest Rs 30 bn in its transmission business and Rs 15 bn in the Mumbai electricity distribution business in 2021-22, as it aims to continue its expansion plan.
Recently, the company signed definitive agreements with Essel Infraprojects for acquisition of Warora-Kurnool Transmission (WKLT). As per the agreement, WKTL will develop, operate, and maintain transmission lines aggregating to 1,750 ckt km.
Adani Transmission has also acquired Reliance Infrastructure's Mumbai assets.
Based on this, one could conclude that the company has strong business prospects.
On the other hand, the Adani group is among one of the country's most indebted groups.
Watch the Replay: The Smallcap Revival Summit
As per a report, the group's total borrowings were up 14.3% YoY in the first half of FY21 to Rs 1.25 trillion, while all financial liabilities were up 18% to Rs 1.41 trillion. This translated into gross debt to equity ratio of 1.8x for the group, up from 1.7x at the end of September 2019 (or H1FY20).
Apart from this, the company has a robust under-construction pipeline worth Rs 150 bn, which includes Mumbai-HVDC project.
In an investor presentation, the company had said:
"Adani Transmission has strong growth potential through TBCB (tariff based competitive bidding) transmission projects. The acquisition, new license, franchise and public private partnership (PPP) opportunities in transmission and distribution (T&D) space."
Stock Continues Uptrend Despite Re-rating
Earlier this month, CLSA dropped coverage on Adani Transmission saying that the stock is driven by speculative interest and lack of 'real' effective liquidity', keeping valuation at a stratospheric 16 times premium to the sector.
The brokerage firm said that the stock has doubled in the last three months on limited free float and inclusion in FTSE and MSCI indices which led to passive buying.
It added that promoters own 75% stake in the company, and of the balance, 81% is owned by closely-held foreign investors-which are common across the Adani Group and hardly liquid. This effectively leaves a free float of just 5%.
Note that the foreign brokerage has also dropped coverage on Adani Power as it has gained shareholder approval to delist.
Gautam Adani Closing in on Mukesh Ambani
This week, Gautam Adani edged past Chinese tycoon Zhong Shanshan to become the second-richest Asian, according to the Bloomberg Billionaire Index, as the stock prices of his listed companies soared.
The spectacular rise in Adani's wealth has come on the back of the rise in the share prices of Adani companies.
Gautam Adani, who started as a commodity trader, today owns companies across ports, airports, energy, resources, logistics, agribusiness, real estate, financial services, gas distribution and defence, among others.
Once a medium-sized group based out of Ahmedabad, Adani's companies now have the third-biggest market capitalisation among family-owned businesses in India after Tatas and Reliance Industries.
Adani Transmission's Stellar Run Over the Past Year
Shares of Adani Transmission have been on an up move in the past one year and have rallied 714%.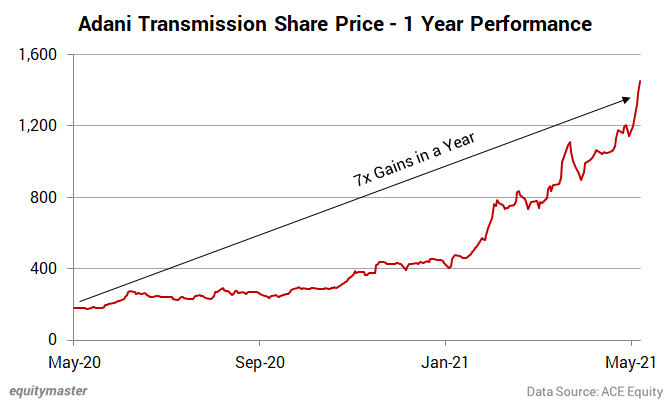 About Adani Transmission
Adani Transmission is the transmission and distribution business arm of the Adani group, one of India's largest business conglomerates.
ADAT is the country's largest private transmission company with a cumulative transmission network of 17,200 ckt km, out of which 12,350 ckt km is operational and 4,850 ckt km is at various stages of construction.
The company also operates a distribution business serving about 3 m plus customers in Mumbai.
With India's energy requirement set to quadruple in coming years, the company is fully geared to create a strong and reliable power transmission network and work actively towards serving retail customers and achieving 'Power for All' by 2022.
For more details about the power sector, you can have a look at the power sector report on our website.
And to know what's moving the Indian stock markets today, check out the most recent share market updates here.