Why Polyplex Corporation Share Price is Falling
May 24, 2023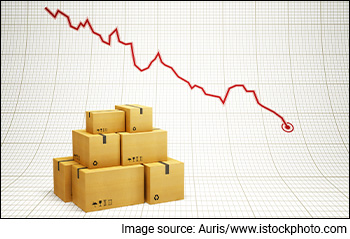 Polyplex Corporation, a prominent manufacturer of packaging film products, witnessed a sharp plunge of over 8% in its stock price on 24 May 2023.
The stock price has almost halved from its 52-week high of Rs 2564.7, touched on 3 June 2022. So far, in 2023, the stock has already fallen over 12%.
Notably, this isn't the first instance where Polyplex Corporation's shares have failed to deliver satisfactory returns. After an impressive surge of over 40% in the first half of 2022, the stock underperformed in the latter half of the year.
Back then, we discussed the reasons explaining why Polyplex Corporation share price is falling. The persistent downward trend in the stock in 2023 has sparked concerns among investors.
Here's why shares of Polyplex Corporations are reeling under pressure.
#1 Weak quarterly earnings
Polyplex Corporation reported weak earnings results, contributing to the decline in its share price.
In the March 2023 quarter, the company reported an 11.6% YoY decline in revenue, amounting to Rs 16.7 billion (bn) compared to Rs 18.9 bn in the same quarter the previous year.
This was due to demand disruptions in the overseas market and the excess supply situation faced by the BOPP and BOPET industries.
The net profit for the quarter stood at Rs 76.1 million (m), marking a 95.9% YoY decrease from Rs 1.9 bn in the corresponding quarter last year. This decline can be attributed to higher financial costs and increased depreciation during the quarter.
Also, on the operating front, earnings before interest, taxes, depreciation, and amortisation (EBITDA) declined 72.9% YoY to Rs 1.2 bn from Rs 4.4 bn in the same quarter of the previous year. This decline was driven by higher input costs.
Despite the challenging financial performance, the company's board announced a dividend of Rs 3 per equity share.
#2 Stake sale impact
According to the official disclosure to the stock exchanges on Tuesday, the promoters of Polyplex Corporation agreed to sell a 24.2% stake in the firm to Dubai-based AGP Holdco.
The deal is valued at Rs 13.8 bn and includes a binding term sheet and provisions for put and call options, allowing AGP Holdco to increase its stake in the future.
As per the terms, AGP Holdco will have the right to appoint a director on Polyplex's board and its subsidiaries' boards.
The transaction values Polyplex Corporation at approximately Rs 56.8 bn, premium compared to its market capitalisation of Rs 47.7 bn at the end of trading on 23 May 2023.
This could have further dampened sentiment as it creates uncertainty and apprehension among investors about changes in ownership and potential shifts in the company's direction or strategic plans.
Strong growth prospects
Going forward, Polyplex Corporation is expected to showcase improved financial performance due to stabilising input costs and the re-negotiating of old contracts.
Additionally, the company is benefiting from a significant rise in demand, which is creating favorable market conditions.
Despite the short-term uncertainties, it has many qualities of a high-quality company. The group has consistently generated strong operating cash flow over the past decade, thanks to its high-capacity utilisation and its presence in the less volatile BOPET segment.
Polyplex also stands out as a fundamentally strong company, delivering double-digit returns since 2017.
The company has a track record of paying consistent dividends, boasting a dividend yield of over 7%. This makes Polyplex one of the dividend stocks that consistently outperforms fixed deposit returns.
How Polyplex Corporation shares have performed recently
Polyplex Corporation share price is down 12.2% in 2023 so far. In the past six months, the shares have delivered a negative return of 21.8%.
In the past five days, shares of Polyplex Corporation have declined by 10.9%.
Polyplex Corporation touched its 52-week high of Rs 2,564.8 on 3 June 2022. Its 52-week low was Rs 1,101 touched on 28 March 2023.
It's currently trading at a PE (Price to Earnings) multiple of 9.7, while the PB (Price to Book) ratio stands at 5.8x.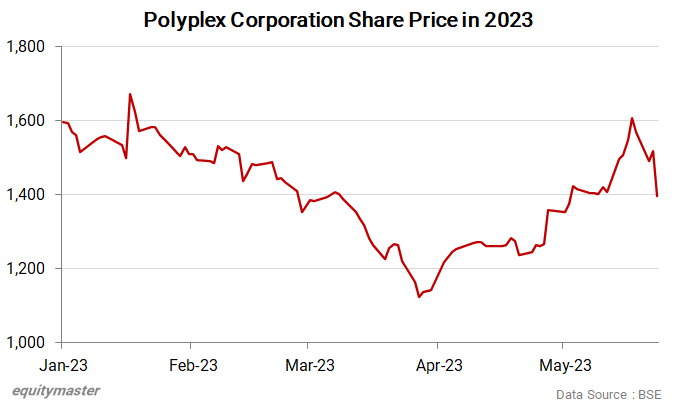 About Polyplex Corporation
Polyplex is an Indian multinational company which manufactures polyester films for packaging, electrical, and other industrial applications.
The company is an industry leader with a stable market share of about 25% in Thailand and Turkey, as well as around 10% in India, the US, and Indonesia.
The group's business is diversified in terms of manufacturing capacities and its revenue contribution split across regions and product applications.
To know more, check out Polyplex Corp's financial factsheet and its latest quarterly results.
You can also compare it with peers:
And to know what's moving the Indian stock markets today, check out the most recent share market updates here.
Disclaimer: This article is for information purposes only. It is not a stock recommendation and should not be treated as such. Learn more about our recommendation services here...
FAQs
Which are the top smallcap companies in India right now?
As per Equitymaster's Indian Stock Screener, these are the top smallcap companies in India right now.
These smallcap companies have been ranked as per their market capitalization. The higher the market cap, the higher the total value of the company.
Of course, there are other parameters you should take into account before forming a hard opinion on the stock valuation.
What are smallcap stocks?
According to the market regulator, smallcap stocks are companies which rank 251st and beyond in terms of their market capitalisation.
Investing in them is perceived to be risky. However, the potential for higher returns makes them an appealing investment avenue.
How much should one invest in smallcap stocks?
According to us, in a scenario of ideal allocation of funds, small cap stocks should not comprise more than 10% of one's total equity portfolio.
Further, we believe that a single small cap stock should ideally not form more than 2-3% of the total portfolio.