Why Are Some People Talking About a Market Correction After Modi's Election Win?
May 29, 2019
Irrational exuberance is when the price of a stock irrationally exceeds its intrinsic value.
Every phase of euphoria in stock market has its own circumstances. It must also be seen in the context of the times.
Yet the cause of any euphoria is timeless. It's human behavior taken to excess.
It is is people's emotionally driven buying and selling decisions, along with their fear of missing out.
We are seeing this in India since the past few weeks.
Investor sentiment turned positive last week. the one slogan that took over the market and country last week was, Modi Sarkar, phir ek baar.
We could see the signs of optimism in the movements of benchmark indices, rupee, and FII inflows.
However, co-head of Research, Rahul Shah has recommended exercising caution. Here's what he wrote in one of his articles:
You can very well do what everyone else is doing and celebrate a Modi win by increasing exposure to stocks.

However, no one beats the markets over the long term by doing what the majority is doing.

Long term outperformance comes by following sound investment principles that are related to intrinsic value of the stocks and not to their market price action. And it also comes from having a method of operation that is different from the majority of investors.

Both of these rules are pointing towards exercising caution right now.
He is right. These charts will prove his point.
First Signs of Euphoria Are Visible in Our Benchmark Indices
Last week, the stock markets celebrated Modi's victory. The Sensex touched 40,000 and Nifty touched 12,000 mark for the first time ever.
The mood remained buoyant across the market as PM Narendra Modi returned to power.
Sensex and Nifty Soar High on Modi's Victory

Investors were overjoyed as the market cap of the Sensex surged substantially in the last 3 months.
Rise in Market Cap of Sensex Companies in the Last 3 Months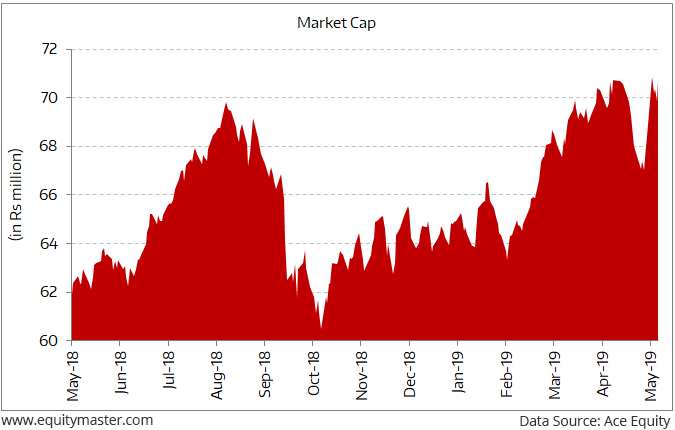 This exuberance warrants some caution.
The rally in benchmark indices caused the price to earnings ratio (PE ratio) to rise. The PE ratio implies the amount an investor is willing to pay to earn one rupee as profit.
For example, if the PE ratio of a stock is 25, it means investors are willing to pay Rs 25 for every Re 1 profit the company earns.
Notably, the PE ratio of the Sensex stood at 28.4 on 23 May. And PE ratio of the Nifty stood at 29.
The Sensex and Nifty are trading at uncomfortably high price to earnings ratios.
Historically, high PE levels above 28 have led to correction in markets. A high PE ratio occurs when an index rises at a faster pace than earnings.
PE Multiples of Sensex and Nifty Enter Danger Zone
Beyond the Sensex level of 40,000, valuations will be hard to justify without earnings catching up.
Let's understand this with the help of some past similar scenarios.
Nifty had hit a PE of 28.7 in August last year.
On 27 August 2018, PE ratio of Nifty stood at 28.7. The PE ratio declined 15% to 24.1 till 26 October in the same year.
On 27 August last year, the index's value stood at 11,691. During the next three months, the index lost 1,661 points and declined to 10,030 on 26 October.
What Happened in the Past When PE Ratios Crossed 28?
Similarly, on 4 January 2008, the Nifty PE rose above the 28-mark after which the index crashed 56% in nearly 11 months.
On 4 January 2008, the index stood at 6,274. It fell over 56% to 2,752 on 27 November 2008.
So, what does this mean?
The market rally could fizzle out soon and investors would be seen running for cover to minimise losses.
Other Factors Contributing to the Optimism
Now, let's look at the Indian rupee. It has also risen due to the Modi wave.
The rupee gained 1% after Modi swept to a comfortable victory as predicted by nearly all exit polls.
Will the Rupee Go Back to Square One After the Election Rally?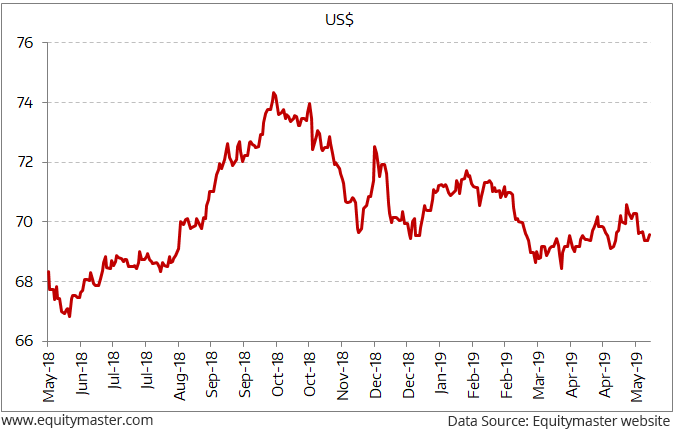 The rupee is likely to under-perform amid wider-than-expected trade deficit, cautious outlook toward emerging markets, and risks of rising oil prices. Oil is India's top import item and a major driver of inflation and trade deficit.
The jump in the value of rupee against the dollar can be also attributed to the fact that foreign direct investors invested Rs 20.3 billion on Friday alone and Rs 58.9 billion in the last week.
Foreign institutional investors (FIIs) also cheered Modi's landslide victory.
Most of the buying from them was seen in May especially after the exit polls and the election results. Before that, they were cautious and had turned net sellers.
Will FIIs Continue Pouring Money in Indian Stocks?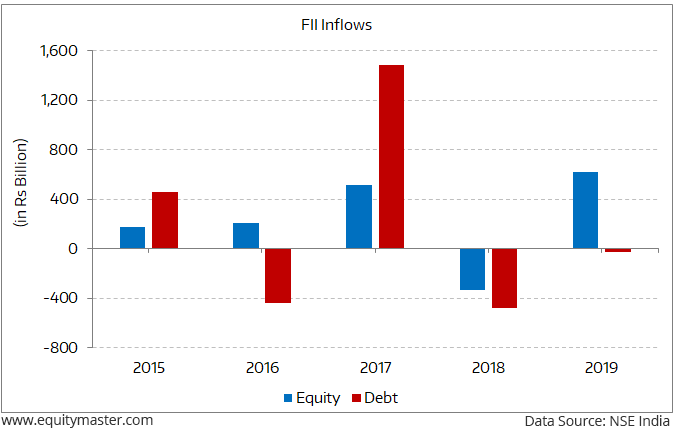 So, was all of this just about Modi Magic?
These inflows would continue after election only if growth and earnings come back on track.
Besides global factors, domestic issues on economic front may cloud investor sentiment.
With the election outcome settled, markets want to know how the government will tackle slowing economic growth.
This could be true from a near term perspective.
Over the long term though, we believe the India growth story remains intact. Indeed, very few nations offer such compelling opportunities as India.
What eventually works for long-term investors is investing in fundamentally strong companies when they are available at attractive valuations.
To that extent, a correction will be a good thing as it would result in a lower entry point for stock investments.
So, enjoy the market's advance while it lasts!
But don't expect the bull run to keep up at its current pace indefinitely.
Continue to maintain an appropriately balanced asset allocation profile across multiple asset classes.
Until next time...
Warm regards,
Rini Mehta
Rini Mehta is a keen follower of the stock markets and economy. At Equitymaster, she covers daily stock market moves and broader market trends across Indian and global markets.