Magma Fincorp Shares Locked in 5% Upper Circuit
Jun 1, 2021
Shares of Magma Fincorp were locked in 5% upper circuit on the BSE and NSE today after the company appointed Mr Adar Poonawalla as its chairman as part of a management overhaul.
Earlier this month, the Poonawalla-controlled Rising Sun Holdings acquired a controlling stake in the company. Rising Sun invested Rs 34.5 bn in the non-banking finance company.
Magma will soon be rebranded as the Poonawalla Group company
The company has also appointed Mr Abhay Bhutada as its Managing Director and Mr Vijay Deshwal as Chief Executive Officer.
Mr Deshwal, currently a business head at ICICI Bank, will assume charge at Magma from the first week of July.
He will also be the group CEO of Poonawalla group's financial services business.
--- Advertisement ---
This is a Powerful Mega Trend Playing Out in India

We have uncovered a powerful mega trend that is playing out in India right now.

It could potentially generate immense wealth for early movers.

Our co-head of research Tanushree Banerjee has also zeroed in on one specific stock riding this mega trend.

It's her #1 stock pick right now.

And she believes, this could be one of the top stocks to get to potential Rs 7 crore wealth over the long term.

Tanushree will reveal all the details about this mega trend and her #1 stock at her special online event on July 29.

At the event Tanushree will also show you, how to potentially accumulate Rs 7 crore in wealth over the long term.

What you learn at the event could possibly change your financial fortunes forever.

Click here to reserve your FREE seat.
------------------------------
March Quarter Loss Widens on Higher Provisions
The company reported a widening of net losses to Rs 6.3 bn in the March 2021 quarter from Rs 350 m in the March 2020 quarter.
This was on account of aggressive provisioning to cover stressed assets.
The company's revenue also declined to Rs 4.5 bn from Rs 5.3 bn over the same period.
The company has adopted a conservative policy for technical write-offs.
Segment Wise Revised Write-Off Policy

It has cleaned its balance sheet by writing off all default accounts beyond the 90 days past due in the SME lending business, beyond 180 days past due in the vehicle finance business and over 730 days past due in the affordable housing finance business.
This policy change has resulted in a one-time write-off impact of Rs 2.8 bn during the quarter.
It has also made 100% provisions against these accounts, leading to a rise in provision coverage ratio (PCR) to 68.6% from 36.5% last year.
Apart from the one-time incremental write-off, the company has created management overlay provisions of Rs 6.2 bn for the second wave of Covid-19.
The company also holds cumulative provisions of Rs 11.9 bn as of March 2021.
Free Signup: The Smallcap Revival Summit
Asset Quality Improves Significantly
For the year 2021, the non-banking finance company reported a loss of Rs 5.6 bn as against a profit of Rs 270 m in the year 2020.
The company's income during the year also fell to Rs 23.5 bn from Rs 25.6 bn in the same period. The interest income was down at Rs 21.6 bn against Rs 23.2 bn.
On the asset quality front, the gross non-performing assets (NPAs) of the company by the end of March 2021 fell to 3.7% of gross advances, as against 6.4% earlier.
The net NPAs were at 1.2%, down from 4.2%.
Magma Fincorp Asset Quality (2020-21)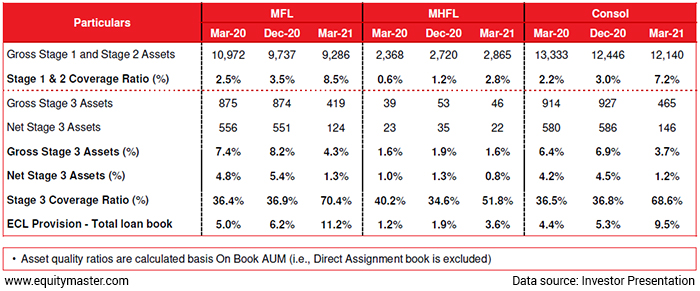 The one-time provisions and write-offs have resulted in an uptick in asset quality of the remaining book, standing as one of the best in the industry with net stage 3 assets at 1.2% and overall expected credit loss (ECL) provisions at 9.5% of the total loan book.
The Kolkata-based company said 97% of its portfolio is either secured by collateral or has a sovereign guarantee cover.
The balance sheet has been strengthened significantly through the equity infusion, with the Tier1 capital adequacy ratio (CAR) standing at 66.8%, and leverage at 1.3x as of 15 May 2021.
The company also said the board of directors has not recommended any dividend for the year in order to conserve capital, given the challenging situation caused by the ongoing pandemic and loss during the year.
How the Stock Has Performed Recently
Magma Fincorp shares opened at Rs 143.05 on the BSE and at Rs 142.95 on the NSE and were locked in an upper circuit of 5% today.
The scrip touched its 52-week high of Rs 147.9 on 10 May 2021, and its 52-week low of Rs 13.7 on 1 June 2020.
The stock is up over 15% in the last month and over 900% in the last year.
At its current price, it is trading at a P/BV ratio of 5.4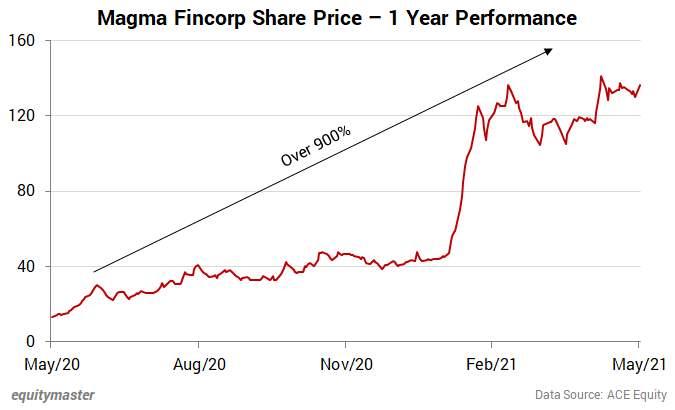 About Magma Fincorp
Magma Fincorp (MFL) is a non-banking financial company registered with the Reserve Bank of India as an asset finance company.
The company operates more than 295 branches in 22 states and has a strong presence in rural and semi-rural India.
In 1996, Magma entered the retail financing business for vehicles and construction equipment. In 2007, the company formed a joint venture with International Tractors (ITL) to enter the tractor financing business.
Over the years, Magma has inked a joint venture with German insurer HDI Global to the enter general insurance business.
It has also picked up a 7% stake in the newly formed Experian Credit Information Company of India, the Indian arm of the global credit information services company.
For more details about the company, you can have a look at Magma Fincorp's factsheet and Magma Fincorp's quarterly results on our website.
You can also compare Magma Fincorp with its peers.
Magma Fincorp vs Power Finance Corporation
Magma Fincorp vs M&M Financial Services
To know what's moving the Indian stock markets today, check out the most recent share market updates here.
Ayesha Shetty is a financial writer with the StockSelect team at Equitymaster. An engineer by qualification, she uses her analytical skills to decode the latest developments in financial markets. This reflects in her well-researched and insightful articles. When she is not busy separating financial fact from fiction, she can be found reading about new trends in technology and international politics.