Jun 15, 2021 -

3 Cryptos to Learn About
3 Cryptos to Learn About
Jun 15, 2021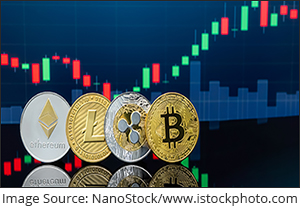 DeFi.
You must have heard this term over the course of investing in cryptos.
Decentralised finance, or DeFi, refers to a system of applications that aim to recreate traditional financial instruments with cryptocurrency.
Simply put, DeFi are financial applications in cryptocurrency, geared toward disrupting financial intermediaries.
For example, you can loan or borrow cryptocurrency through DeFi lending, as you would normally do at a bank, and earn interest as a lender.
However, unlike a bank, borrowers using DeFi apps cannot be held accountable with physical assets if unable to effectively pay back a loan.
Decentralised exchanges and stablecoins are the types of DeFi applications.
Consider this example...
To borrow money from a bank, you have to sign documents, get the loan approved and follow the tedious procedure. On top of that, the fees are high.
With DeFi apps, you can do your own banking.
--- Advertisement ---
Replay Available: The Great Indian Wealth Project

Watch Tanushree Banerjee reveal the details of first stock to potentially accumulate Rs 7 crore long-term wealth.




Watch Now
------------------------------
The national average annual percentage yield (APY) on savings accounts is just 0.04%, according to the Federal Deposit Insurance Corporation (FDIC). You can earn more interest by investing with cryptocurrency through DeFi apps.
However, one should note that there are many risks associated with DeFi.
On that note, let's have a look at three cryptos that you should learn about.
YFI
Yearn Finance (YFI) is one of the platforms that provides opportunity in the DeFi space.
It is a DeFi project and a yield aggregator for various lending platforms that rebalances for the highest yield during contract interaction.
The major goal of Yearn Finance is to make the DeFi space easier for investors who lack the technical skills or those who wish to be passive investors in the space rather than serious traders.
YFI is one of the most highly-valued crypto protocols and is worth over US$1.5 bn.
Only 36,666 YFIs, the platform's token, exist on the open market.
So far this year, YFI has performed exceptionally well. This was before the crypto markets entered bearish territory following Musk's plans to stop crypto payments.
Have a look at the chart below to see its performance from the start of this year.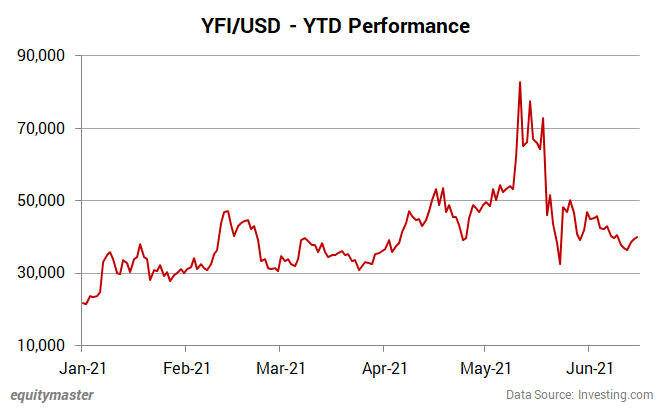 YFI began the year trading at US$21,800 per coin. As the crypto market was on a bull run, YFI's price continued to rally, reaching all-time high levels of US$85,000 in May.
Yearn Finance developers talked about a lot of development that is coming to the network over the coming weeks and months, at the Bitcoin Miami conference.
Going LIVE at 5pm: The Smallcap Revival Summit
XRP
XRP, a cryptocurrency tailored to work on the Ripple network, is consistently listed among the top five cryptocurrencies by market capitalisation.
Ripple is a payments settlement system and currency exchange network that can process transactions around the world.
The idea is that Ripple serves as a trusted agent between two parties in a transaction as the network can quickly confirm that the exchange went through properly.
It can facilitate exchanges for a variety of fiat currencies, cryptos and even commodities like gold.
When it was launched in 2012, Ripple marketed XRP as a faster, cheaper alternative to bitcoin because transactions settled in 3-5 seconds.
XRP's network can achieve this rapid speed because its infrastructure is centralised and it does not utilise proof of work, the consensus algorithm used by Bitcoin to process transactions.
Unlike bitcoin, XRP coins are not mined. Ripple minted the entire supply when the network was launched.
Ripple releases portions of the supply from an escrow and sells them on the open market.
Ripple has faced some hurdles in the past.
Last year, the SEC filed a lawsuit against Ripple, saying that since it can decide when to release XRP, the company should have registered it as a security.
Until this gets resolved, it could slow down institutional use of this system.
Owing to this, several exchanges have stopped listing XRP.
At the start of this year, XRP's price stood at around US$0.22. The coin managed to climb to as high as US$1.96 in April 2021.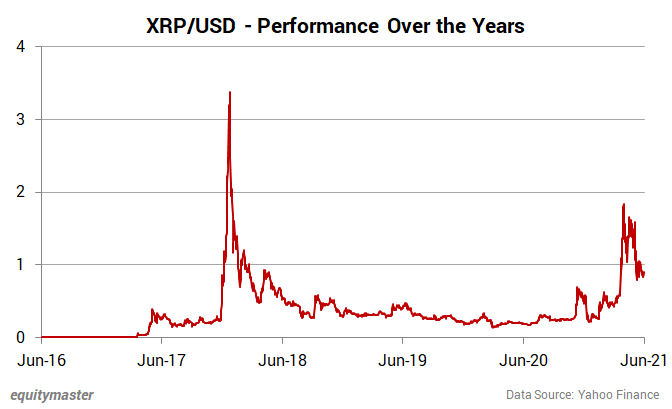 XRP earned its name in the crypto market years ago when it spiked as much as 1,400% in 2017.
Back then, its market cap reached over US$130 bn. Currently it is worth about a third of that.
BNB
Binance Coin (BNB) powers the Binance Ecosystem and is the native coin of the Binance Chain and the Binance Smart Chain.
Just like other cryptos, BNB offers several uses that go beyond the Binance exchange. These include trading, transaction fees, credit card payments, entertainment, investment and more.
BNB was launched through an initial coin offering (ICO) that took place from 26 June 2017 to 3 July 2017 - eleven days before the Binance Exchange opened for trading.
The issue price was 1 ETH for 2,700 BNB or 1 BTC for 20,000 BNB.
BNB was originally issued as an ERC-20 token, running on the Ethereum network, with a total supply of 200 m coins.
100 m BNBs were offered in the ICO, but the current total supply is lower due to periodic burning events, in which Binance destroys BNB held in its treasury.
Binance plans to burn a total of 100 m BNBs.
BNB's price hovered around US$20 for much of its lifetime. It was considered as a stable coin given its relative stability.
This was until the crypto markets boomed in March 2021.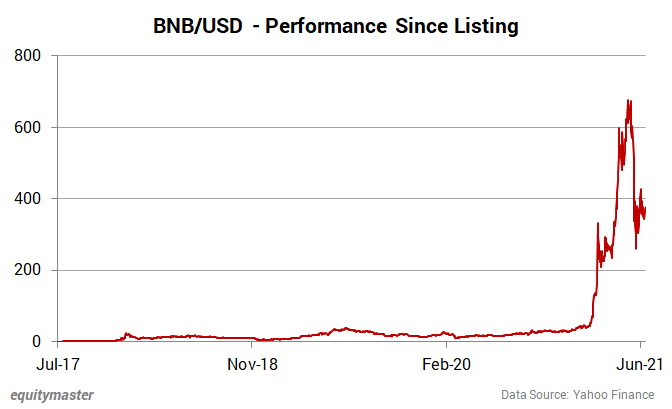 BNB's value peaked in May 2021 to an all-time high levels of US$700.
How are cryptos performing today?
Most cryptos are trading in green today, all thanks to a tweet by Tesla's Elon Musk.
Tesla CEO indicated on Sunday that the electric carmaker had a plan to resume cryptocurrency transaction in future.
Bitcoin prices climbed above US$40,000, its highest level in more than two weeks.
The recent rally pushed Bitcoin's market cap up to US$756 bn or over 45% of the total cryptocurrency market cap.
Speaking of bitcoin's market cap, have a look at the chart below which shows the total market cap of cryptos excluding bitcoin.
Crypto Total Market Cap Excluding Bitcoin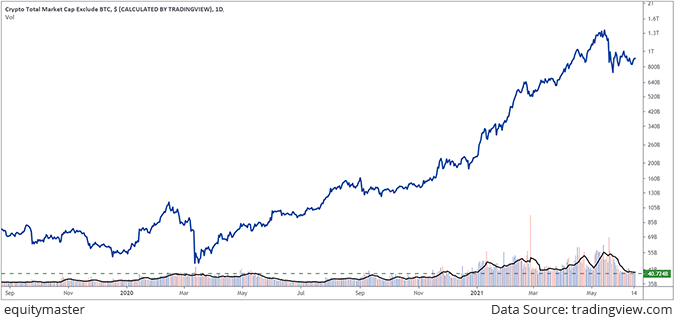 Here's what Brijesh Bhatia, Research Analyst at Equitymaster, and Editor of the premium monthly recommendation service Fast Profits Report, has to say about this.
The 10 days average volume of total crypto (excluding Bitcoin) has hit the 2020 lows indicating the so called strategy of pump and dump by smart investors in fancy coins takes out small traders in this down wave.

Is this the end of bearish tone and resumption in fresh leg of rally? Or traders are still looking for opportunities in fancy coins as multi-bagger?

The Small-Cap saga is the flavor of the year as we are witnessing the same in equities as well as cryptos. We believe this is not an end yet...the Game is On.
Equitymaster's Take on Cryptos
We don't get cryptos. Honest.
It's something that has caught our imagination but we just can't figure out a way to value it. Fundamentally speaking.
Chartists like our very own Brijesh, study prices and suggest various levels. That makes sense to us.
Having said that, our 'fundamental' take on cryptos is simple...
It's in line with the approach anyone should have when dabbling in a space one does not understand.
Invest only what you can afford to lose. Nothing more.
Happy Investing!
Disclaimer: This article is for information purposes only. It is not a stock recommendation and should not be treated as such. Learn more about our recommendation services here...