Is this the Bottom for Punjab National Bank?
Jun 23, 2022
Punjab National Bank (PNB) is one of the biggest underperforming stocks of the decade from the PSU Bank Index.
The stock is trading at a 20-year old level after hitting the high of 167 in 2010.
Will investors ever make profits in this laggard PSB?
Investors hate stocks where they are unable to make profits and PNB is one such stock.
However, this time, the stock may surprise investors.
PNB - Bottoming Structure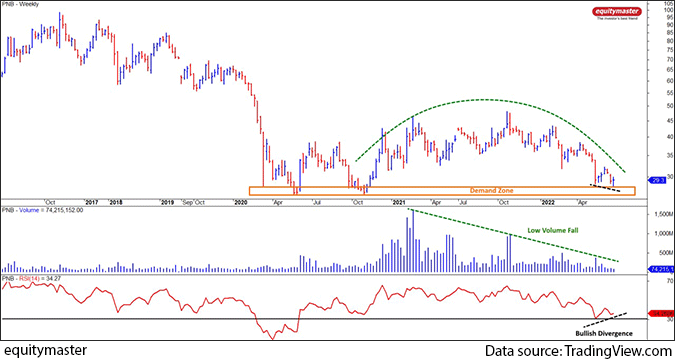 Technically, the stock falling with lower volumes, which usually marks the bottom.
In the recent fall from 48 to 28 since October 2021, volumes decreased. This is what convinced me to share the chart with you.
During the rally in 2021, volumes witnessed an uptick. The smart buyers are still holding the stock during the fall.
The demand zone created between 26-28 during the pandemic was held by bulls in the recent fall.
The bullish divergence on the weekly RSI, signals a reversal is on the cards.
If we witness an increase in volumes over the next few weeks, the stock of PNB may form a long-term bottom between 25 and 30.
At present, PNB is trading is trading close to its 52-week low of Rs 28. In the past one year, it has fallen 30%.
For more details about the bank, check out PNB company fact sheet and quarterly results.
For a sector overview, read our banking sector report.
If you're interested in being part of my charting journey as I share how to create wealth from the profitable trade setups, join my telegram channel - Fast Profits Daily. You'll get access to the best trading ideas in the stock market.
Happy Investing!
Disclaimer: This article is for information purposes only. It is not a stock recommendation and should not be treated as such.
Brijesh Bhatia Research Analyst and expert chartist, is the editor of Alpha Wave Profits. Fully committed to his craft, Brijesh has mastered the art of making money by trading using technical analysis. Brijesh has an MBA from ICFAI and 16 years of experience in India's financial markets. He began his career on Dalal Street as commodities dealer and it wasn't long before he developed his own unique trading system. Brijesh worked on his trading system until it could be expected to deliver 5 units of return for every unit of risk.