5 Things to know about Bajaj Auto's Rs 25 bn Buyback
Jun 27, 2022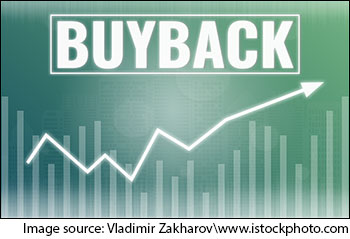 Bajaj Auto share price was among the top buzzing stocks on the bourses today.
Why?
The company announced a share buyback worth Rs 25 bn. Earlier this month, the homegrown auto major had deferred its buyback plan.
The buyback price approved, is significantly higher than its current price.
This sent the auto company's stock soaring 4% on an intraday basis.
Here are five things to know about Bajaj Auto's buyback.
Bajaj Auto buyback - 5 things to know
Bajaj Auto today approved the buyback of shares worth up to Rs 25 bn. The company will buy back 5.4 m shares aggregating around 9.6% of the paid-up share capital via the open market.
The buyback price is set at Rs 4,600 apiece. This is significantly higher, 19% to be precise, from its current price of Rs 2,860.
The company will utilise at least 50% of the amount earmarked as the maximum buyback size.
The said buyback is for existing shareholders, except for promoters, promoter groups and persons in control of the company and would be carried out in the open market through stock exchange mechanism.
Earlier this month, the company had postponed the buyback plan. The company's board, at its meeting held on 14 June decided that further deliberations are required in order to take a decision on the proposal of buyback.
Since buybacks interest you, check out Equitymaster's newly launched corporate action pages.
Corporate action events often bring material changes to a company through changes in the capital structure.
In case of buyback, as a shareholder in cash rich companies, you should not only be wary of expensive buybacks. But if possible, use it to your advantage to rake in some cash.
Before you participate in Bajaj Auto's buyback, the reason behind the buyback must be investigated.
At the end of the day, an increase in earnings should be more a function of the inherent robustness of the business, as that's what will help it continue to grow at a healthy pace.
Equitymaster's view on Bajaj Auto
In December last year, we compared the big auto majors - Bajaj Auto and Hero MotoCorp to come at a decision which stock is better.
We reached out to Tanushree Banerjee, Co-head of Research at Equitymaster for her view on both companies.
Here's what she had to say...
Although the valuations look similar for both the companies, it should be noted that while Bajaj Auto has made record profits over the last one year, Hero Motocorp's profits are at multi-year low.

Therefore, if Hero Motocorp were to regain its past profitability, there's some upside for the taking there perhaps.

From a long term perspective though a lot will depend on how the whole EV story pans out and how they deal with this threat that's growing with each passing day.
How Bajaj Auto has performed recently
Bajaj Auto share price opened the day 2% higher at Rs 3,870 against its previous close of Rs 3,813.
As the session progressed, the company extended gains and touched a high of Rs 3,953.
Bajaj Auto has a 52-week high quote of Rs 4,250 touched on 1 July last year and a 52-week low of Rs 3,028 touched last year in December.
On a YTD basis, the stock has gained 18%.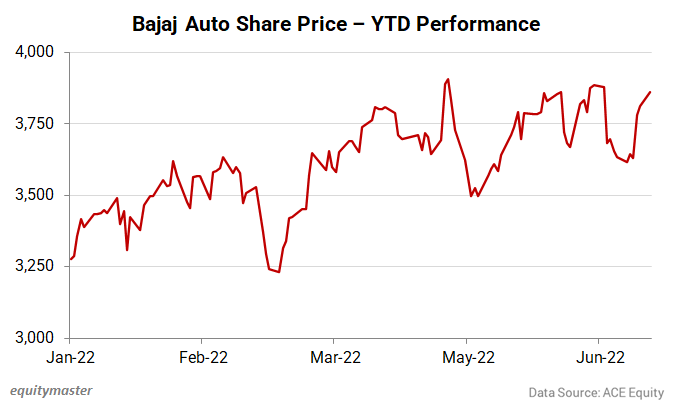 At the current price, the company is trading at a PE multiple of 20 and a price to book value of 3.7.
About Bajaj Auto
Bajaj Auto is one of the leading two and three-wheeler manufacturers in India and it's also world's fourth largest manufacturer.
The auto major has three plants in all, two at Waluj and Chakan in Maharashtra and one plant at Pant Nagar in Uttaranchal.
The Bajaj brand is well known for its research and development (R&D) product development process engineering and low-cost manufacturing skills.
Bajaj Auto is among the top companies which are riding the EV revolution in India when it comes to scooters.
For more details about the insurance sector, you can have a look at Bajaj Auto factsheet and quarterly results on our website.
You can also compare Bajaj Auto with its peers -
Disclaimer: This article is for information purposes only. It is not a stock recommendation and should not be treated as such. Learn more about our recommendation services here...