The 4 Strongest Companies in the Tata Group. Add Them to Your Watchlist
Jun 30, 2022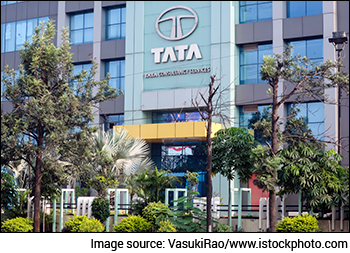 Sometimes the world identifies a country through its association with successful business houses.
For the United States of America, it is companies like Google, Apple, and Facebook.
For a country like Sweden, it is Ikea.
For India, it is undoubtedly the Tata group of companies.
The brand value of the Tata group went up to US$ 24 bn, an increase of 12% in 2022. It was one of the very few conglomerates that showed resilience during and in the post pandemic business environment.
The group has made strategic acquisitions and developed partnerships across key companies. Their performance has exceeded expectations in the financial year 2021-22. The conglomerate continues to be the most valuable brand in the country.
The driving force behind the Tata group has been its sustainable and inclusive actions. This has led to continued growth over the decades.
The group has more than thirty companies, both listed and unlisted (29 are listed) across 10 business verticals. By proactively strengthening its strategic leadership and business around the globe, Tata group has thrived amid fierce competition.
Many of Tata's large caps have built a strong foothold in their respective sectors. Over the years, these companies have performed consistently and generated steady returns for their shareholders. Needless to say, these stocks have become immensely valuable.
Let's take a look at the 4 strongest companies in the Tata group.
#1 Tata Consultancy Services
Tata Consultancy Services (TCS) is the largest information technology (IT) services, consulting, and business solutions company in India. It has a market capitalisation of Rs 12.1 tn in the financial year 2021-2022.
In fact, it was the first company on the Bombay Stock Exchange (BSE) to reach US$ 100 bn market cap in 2018.
TCS has partnered with some of the world's biggest businesses in their transformation journeys over the last five decades. They offer cognitive powered, consulting led bouquet of integrated engineering services and business solutions to companies all over the world.
TCS operates across 55 countries. It has generated revenues of Rs 2,028.3 bn in financial year 2021-22. This was a milestone year in the company's history. It recorded a 15.9% jump in revenue over the previous year.
Key divisions instrumental in this growth were life sciences and healthcare as well as the retail and consumer, which grew by 20.6% and 20% respectively.
TCS finished the financial year 2021-22 on an all-time high order book value of Rs 2,732.5 bn of which Rs 892.4 bn came through in the fourth quarter alone. This is the highest ever in the history of the company.
In the last 10 years, TCS has recorded revenue growth of 292.2%. The compound annual growth rate (CAGR) is 15%.
Under the experienced leadership of chief executive officer (CEO) and managing director (MD) Rajesh Gopinathan, TCS achieved an industry-leading operating margin of 25.3% and a net margin of 20% in the financial year 2021-22.
Since the beginning of 2020, the company has already achieved 4x growth. TCS has comfortably outperformed its biggest industry peers globally with a 17.5% growth in market value in the financial year -2021-22.
The company continues to have a robust cash conversion ratio of 104.2%.
Over the last decade, the company's earnings per share (EPS) also grew from Rs 23 to Rs 104 recording an average of 18.8% year on year (YoY) which is fairly good.
According to the latest annual report for 2021-22, TCS saw an increase of 19.5% in its EPS over the fiscal year 2020-21.
The company announced a consolidated dividend of Rs 43 per share for financial year 2021-22. TCS also concluded its fourth buyback of shares in the last 5 years in April 2022. This amounted to a free cash flow of 102.8% for the company.
In recent times, the profit growth rate of the company has declined. Having said that, the company with its strong fundamentals and experienced promoters, has the wherewithal to successfully navigate through most economic downturns.
This makes the stock that is currently trading at around Rs 3,300 a sound choice for long-term investment.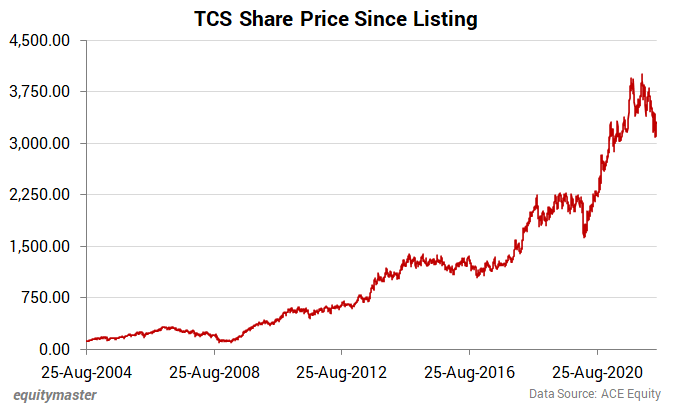 #2 Tata Steel
Established in 1907, Tata Steel is Asia's first integrated private steel company. Today, with a market capitalisation of Rs 1.1 tn in the fiscal year 2021-22, the company is one of the leading steel manufacturers in the world.
Tata Steel offers a broad range of steel products such as hot rolled, cold rolled, coated steel, rebars, wire rods, tubes, wires, etc. Currently, the company's total crude steel capacity is 34 MTPA.
Tata Steel has established a strong footprint through the steel manufacturing value chain, from mining and processing, to distributing finished products.
Tata Steel has operations across 26 countries with a commercial presence in 50 international locations.
In financial year 2021-22, production crossed 19 m tons for the first time, a 13% YoY increase.
The company hit revenue of Rs 24.4 tn in the financial year 2021-22 which is a 55.9% YoY growth. Across the last decade, the company's revenues have increased 74.4%.
The CAGR- stands at 6% in the last ten years.
The company's EPS grew from Rs 52.9 in the financial year 2011-12 to Rs 328.9 in the fiscal year 2021-22. This is a phenomenal 522% jump over the last decade. The average YoY growth stands at 64.6%.
As per the latest annual report for 2021-22, Tata Steel witnessed a rally of 425.7% in EPS in a single year.
The shares of the company are trading at around Rs 880 apiece.
Tata Steel showcases a healthy balance sheet by generating strong cash flows. The company has increased its operating cash flow by 40% YoY in the financial year 2021-22.
At the same time, the company has continued to service its existing debts resulting in Tata Steel delivering its highest ever EBITDA at Rs 638.3 bn and a PAT of Rs 417.9 bn respectively.
The company's profits have shown a healthy 29% increase over the last 10 years.
Tata Steel announced its highest ever dividend payout of Rs 51 per share in the financial year 2021-22.
With a track record of consistent profit growth, the company is in a strong position to fund its ambitious expansion plans and reward its shareholders at the same time.
Despite the uncertainties, the company has continued to accelerate growth, innovation, and business restructuring. Needless to say, this puts Tata Steel shares as one of the must have bluechip stocks on every retail investor's watchlist.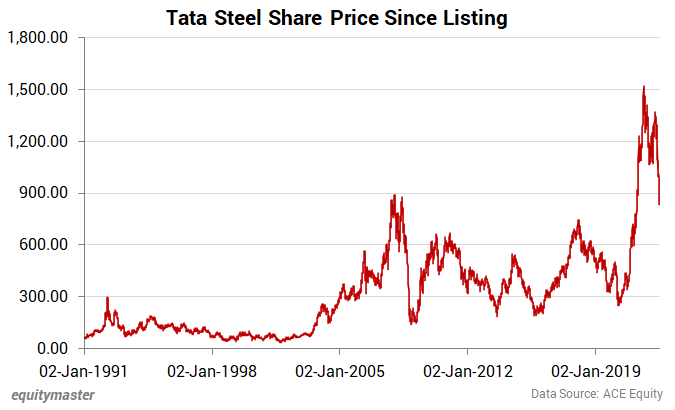 #3 Titan
Titan was born out of a venture between the Tamil Nadu state government and the Tata group in 1984.
Over its 40 year journey, the company has evolved from the world's largest and integrated watch manufacturer to a premier lifestyle brand. It has a presence across segments like jewellery, watches, fragrances, eyewear, and Indian dress wear segments.
Headed by the MD C K Venkataraman, the company hit a market capitalisation of Rs 1.7 tn in the financial year 2020-21.
Over the last decade, the company has experienced a 40% revenue growth and a CAGR of 13%.
Under the new leadership, Titan is progressing towards a large scale brand transformation. This Rs 200 bn legacy lifestyle brand is evolving into a young, edgy organisation by pioneering customer centric innovation and leveraging technology to gratify its discerning customers.
The company's EPS has grown from Rs 4.9 to Rs 10.9 between 2011 and 2021, with an average 17% increase YoY.
Titan's so far unprofitable eyewear division recorded its best ever performance in 2020-21.
Armed with ambitious expansion plans, Titan is looking to spread out across new verticals with the company's wearable division leading the way.
By acquiring HUG Innovations, a Hyderabad based technology and wearables firm, the company is pivoting to embrace innovative technology. It's eagerly invested in creating proprietary capabilities to drive growth in this segment.
The watches to jewellery maker's shares are currently trading at roughly Rs 1,950. The stock price has recorded a CAGR of 24% over the last 10 years.
Titan has been a multibagger stock that has delivered 279.9% returns in the last years and 25,914.8% during its lifetime.
Rakesh Jhunjhunwala holds almost 5.1% stake in the company.
No doubt, the pandemic resulted in a not so good year for the company. However, the company is determined to venture into markets across its three key divisions. It expects to achieve a 40% growth in its top line and 50% growth in EBITDA.
Over the next 5 years, the business is poised on the brink of remarkable growth which makes it a worthy contender on your investment watchlist.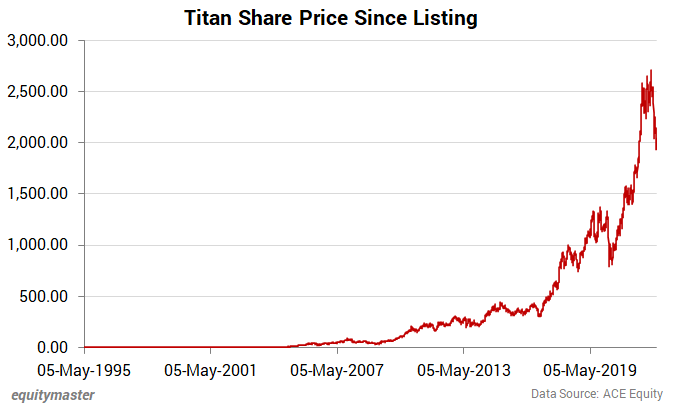 #4 Tata Elxsi
Tata Elxsi's performance has accelerated over the past few years. A little known company few years back, Tata Elxsi is undoubtedly the multibagger stock everyone wanted in their portfolio in 2020 and 2021.
A top global provider of design based technology services across industries, Tata Elxsi was founded as a joint venture in Bengaluru in 1989.
It has a current market capitalisation of Rs 509.8 bn in the financial year 2021-22. The company operates in two core segments - system integration and support as well as software development and services.
The company experienced overall growth across industries and key geographies by clocking a revenue of Rs 24.7 bn in financial year 2021-22.
Led by CEO Manoj Raghavan, Tata Elxsi has gained significant market share with its international clientele. The Tata group company is a specialist vendor for top OEMs and tier-I suppliers.
Over the last decade, Titan Elxsi experienced a staggering 344% growth in revenue. The compounded sales growth over 10 years is 17%.
The company is in a strong leadership position. It has plans to venture into healthcare, transportation, and media and communications businesses.
The company's EPS grew from Rs 5.5 in 2012 to Rs 88.3 in 2022, a jump of 1,060% in 10 years. Last year the EPS grew 49% YoY.
The shares of the company are trading at approximately Rs 8,000. The stock price has recorded a CAGR of 54% over the last 10 years.
This multibagger IT stock has doubled in the last year giving a 235% return to its shareholders. During its lifetime, the shares have delivered gains of 6,993.9%.
Today, the company is virtually debt free. The profit growth in the financial year 2021 - 2022 stands at 49.3%. Over a 10 year timeline, the company has clocked 1,060% growth in profitability.
Going forward, Tata Elxsi has charted its vision for 2023. This includes targeting a 2x revenue, sustaining segment leading margins of 22% and mitigating business risk by branching out its revenue profile.
There are plenty of reasons to bet big on the Tata Elxsi's future potential as there is no doubt that the company has become a force to be reckoned with in the IT industry.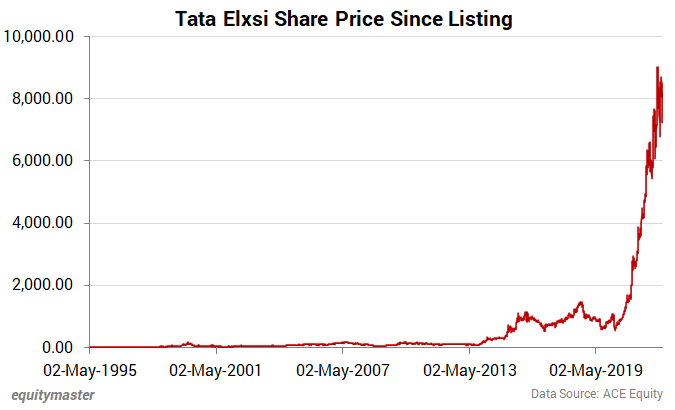 Tata Stocks Are Rallying. Should You Jump in Too?
"I think the house of Tatas is blessed by God".
This is how India's veteran investor Rakesh Jhunjhunwala described the conglomerate.
And we believe he is correct in his assessment.
Even during the economic challenges brought on by the pandemic, all four of these Tata companies delivered steady returns to their shareholders.
Given the scale of the remarkable decade long performance, there's little hesitation in labelling all four of these Tata ventures as its strongest pillars. As far as these companies are concerned, we are sure there is a lot more to come.
To know more, check out the below video by Co-head of Research at Equitymaster, Rahul Shah where he unveils if Tata Group is a genuine wealth creator for investors in India.
Happy Investing!
Disclaimer: This article is for information purposes only. It is not a stock recommendation and should not be treated as such. Learn more about our recommendation services here...