5 Indian EV Battery Makers to Watch Out for
Jun 11, 2022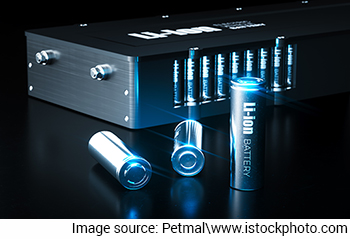 As pollution continues to engulf the world, companies across the globe are intensifying their push towards electric mobility.
So much so that, sales of electric vehicles (EV) are expected to more than triple by 2025.
This will push the demand for EV batteries as well, as they form the most important part of the EV ecosystem.
At present, EVs rely on lithium-ion batteries.
Lithium-Ion batteries first appeared commercially in the early 1990s and are now the go-to choice for electric vehicles.
Demand for the batteries has seen exponential growth, increasing from just 0.5 gigawatt-hours in 2010 to around 526 gigawatt hours a decade later.
According to Bloomberg, this demand is projected to further increase 17-fold by 2030, also bringing the cost of battery storage down.
India too has a vast potential for large-scale battery manufacturing, and industry reports state that India's annual battery market could surpass US$ 15 bn by 2030.
The Indian government is also doing everything it can to make the transition happen smoothly.
To give a boost to the EV sector, it plans to cut the goods and services tax (GST) on lithium-ion batteries and bring them on par with taxes on electric vehicles.
At present, electric vehicles are taxed at 5%, while lithium-ion batteries are taxed at 18%.
Recently, we wrote to you about the top EV battery makers to watch out for. These companies still have the first mover advantage in the EV battery market.
Take a look.
5 Indian EV Battery Makers to Watch Out for
The EV battery race is on. Globally.
Yes, including right here in India.
Today, we take look at what's triggered this EV battery rush in India, and what's the space looking like.
On 11 November 2020, the Government of India announced incentives worth Rs 3 tn to encourage companies in ten sectors to boost local manufacturing and increase exports.
The production-linked incentive (PLI) scheme earmarked Rs 180 bn towards advanced cell chemistry, which aimed at bringing at least 50 gigawatts (GW) of lithium-ion batteries to the market.
Lithium-ion cells are considered the heart of electric vehicles (EVs).
Currently, most electric vehicle makers import cells and batteries from China, the world's top producer of lithium-ion cells.
However, companies are now accelerating plans to produce lithium-ion cells in the country, hoping to take advantage of Rs 180 bn worth of government subsidies.
Here are the top 5 Indian companies, which are also listed, in the EV battery race.
1. Amara Raja Batteries
Amara Raja Batteries is India's second-largest automotive batteries manufacturer.
The company has recently set up India's maiden technology hub to develop lithium-ion cells, at its Tirupati facility in Andhra Pradesh.
Amara Raja has invested Rs 200 m into the hub.
The company has a technology transfer agreement with the Indian Space Research Organisation (ISRO) since early 2019.
In January 2019, ISRO named 10 companies from a list of 141, to which it proposed to transfer the technology to manufacture lithium-ion cells as part of the government's effort to push electric mobility.
Under the tech transfer, ISRO will help these companies set up lithium-ion cell manufacturing units and train their staff. The cells were originally developed for use in launch vehicles and satellites.
However, none of them has started manufacturing. Amara Raja is the first to set up the development hub towards the same.
Update - Amara Raja Batteries has taken the first steps towards its next phase of growth in the New Energy business by supplying li-ion battery packs to three wheelers.
But it is yet to finalize its full-fledged entry into lithium cell manufacturing. It has applied for the PLI scheme for battery cell manufacturing.
For the technology, it has invested in two start-ups (Log9, InoBat) and is open for more partnerships, in addition to organically developing technology.
2. Exide Industries
Exide Industries is primarily engaged in the manufacturing of storage batteries and allied products in India. The company is the leading storage batteries manufacturer in India with a leader in almost all categories such as automotive, industrial, and submarine.
The company has recently invested Rs 331.7 m (US$ 4.5 m) in its subsidiary Exide Leclanche Energy and increased its stake from 77.9% to 80.2%.
In June 2018, Exide Industries and Leclanche, a global energy storage solutions provider, formed a joint venture (JV) to build lithium-ion batteries and provide energy storage systems for India's EV market and grid-based applications.
The JV was formed with a focus on e-transport, stationary energy storage systems, and specialty storage markets.
As part of the JV, Leclanche will provide its know-how and intellectual property for lithium-ion cells, modules, and battery management systems, and Exide Industries would leverage its sales network and brands.
Update - Exide is set to invest Rs 60 bn to establish a lithium-ion cell manufacturing plant in the country in collaboration with China's SVOLT Energy Technology.
The construction of the multi-gigawatt-scale greenfield Li-ion cell facility will be done in two-phases with phase one capex planned at INR 25 bn in Bengaluru.
Targeted to start over the next 3-4 four years, the plant would have an initial annual production capacity of 6 gigawatt hours (GWh), with a goal to increase to 12 GWh in 8-10 years.
3. Tata Group - Tata Power/Tata Chemicals
Tata Power is an Indian electric utility company and is part of the Tata Group. The core business of the company is to generate, transmit and distribute electricity.
The company is building an ecosystem for EVs with the support of group companies - Tata Chemicals and Tata Motors. Tata Power will bring in the know-how while Tata Chemicals will provide battery technology.
Tata Chemicals has also signed an MoU with the Indian Space Research Organisation (ISRO) for the transfer of ISRO's lithium-ion cell technology.
It will soon start building a manufacturing facility for lithium-ion cells in Gujarat.
The Tata group company is likely to seek incentives under the PLI scheme and may also export the cells from India.
Update - Tata Power has partnered with real estate company Kolte-Patil Developers (KPDL) to set up e-charging stations across its projects in Pune, Mumbai and Bengaluru for convenience of electric vehicle owners.
4. Hero MotoCorp
Hero MotoCorp, formerly Hero Honda, is the largest two-wheeler manufacturer in India and the world.
The company has a toe-hold in the domestic electric vehicle (EV) segment with a roughly 34.6% stake in EV start up Ather Energy.
Ather Energy recently unveiled its all-new electric vehicle manufacturing plant at Hosur in Tamil Nadu, spread across 123,000 square feet.
With a capacity to produce 110,000 scooters annually, the facility will serve as Ather Energy's national manufacturing hub. The factory is supported by the government of Tamil Nadu under its EV Policy.
Apart from manufacturing EVs, the facility will also focus on lithium-ion battery manufacturing which is a key area of focus for Ather Energy going ahead.
The facility has the capacity to produce 120,000 battery packs annually.
Ather Energy is the only EV OEM in India to make its own battery packs and has filed 13 patents on the design and manufacturing of the batteries.
Update - Hero MotoCorp, along with Engine No 1 and one other investor has invested US$ 285 m in Gogoro and Poema Global Holdings, a special purpose acquisition company (SPAC).
Gogoro is a Taiwanese company best known for its electric smart scooters and swappable battery infrastructure.
5. Maruti Suzuki
Maruti Suzuki is a subsidiary of the Japanese automotive manufacturer Suzuki. The company sells hatchbacks, sedans, motor utility vehicles (MUVs), and sport utility vehicles (SUVs) in India.
The company plans to procure lithium-ion battery packs from a newly formed joint venture (JV) with Toshiba and Denso as it looks to build a portfolio of hybrid cars.
It is a small operation limited to serving 20,000 hybrid cars annually. The battery in hybrid cars has a different chemical composition than that in lithium-ion batteries.
The first phase of the project was delayed by a few months due to operating and logistical hurdles posed by the Covid-19 pandemic.
As a result, the company has put plans for the second phase of its project on hold, as the work on the first phase is currently behind schedule.
The lack of a well-defined electric vehicle infrastructure and a slowing market for such vehicles has led the joint venture, Automotive Electronics Power (AEPPL), to go slow on the second phase.
Update - In March 2022, the parent company Suzuki Motor corporation along with its subsidiary SMG signed a memo of understanding with Government of Gujarat to invest Rs 104 bn in EV batteries. This would help the company to localize and expand its presence in EV space.
The company plans to launch its first personal vehicle on EV platform in 2025.
How can you ride the EV trend?
As you can see, India's electric vehicle revolution is just getting started. As this economic boom kicks into high gear, it will create many beneficiaries.
You too can profit from this megatrend in the stock market.
However, before investing in any EV stocks, make sure you check out this article in one of the recent editions of Profit Hunter: This is What You Must Know Before Investing in EV Stocks
You can also check out the playlist on electric vehicles on Equitymaster's YouTube channel for more information on sector.
Investment in securities market are subject to market risks. Read all the related documents carefully before investing
Want to Grow Your Wealth With Safe Stocks?
If you want a simple, safe, and hassle-free approach to long term wealth building...
Without having to worry about negative news or every little downswing in the market...
And without having to worry whether your investments will actually "deliver"...
You must read our note on Blue Chip Stocks now.
Details of our SEBI Research Analyst registration are mentioned on our website - www.equitymaster.com
Disclaimer: This article is for information purposes only. It is not a stock recommendation and should not be treated as such. Learn more about our recommendation services here...
FAQs
Which are the best EV battery stocks in India?
Based on marketcap, these are the top EV battery stocks in India:
How should you value EV battery companies?
Investing in stocks requires careful analysis of financial data to find out a company's true worth. However, an easier way to find out about a company's performance is to look at its financial ratios.
Two commonly used financial ratios used in the valuation of stocks are -
Price to Earnings Ratio (P/E) - It compares the company's stock price with its earnings per share. The higher the P/E ratio, the more expensive the stock.
Price to Book Value Ratio (P/BV) - It compares a firm's market capitalization to its book value. A high P/BV indicates markets believe the company's assets to be undervalued and vice versa.
Which are the top gainers and top losers within the EV battery sector today?