The Future is Green! Here Are India's Top Renewable Energy Companies
Jul 17, 2021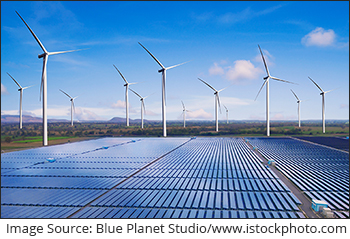 India is one of the world's fastest-growing economies and rapid commercialisation has led to the nation's increased carbon footprint.
In order to make India cleaner and greener, one of the most feasible ways is to adopt alternative energy sources such as wind and solar.
The country is among the largest renewable energy markets in the world, ranking third in solar, fourth in wind, and fifth in hydro power capacity.
India's energy needs are constantly on the rise because of growing economy. Moreover, countering air pollution has become one of the government's top priorities.
To achieve this, India has set out the world's largest expansion plan for renewable energy - a 5x increase of installed capacity to 450 gigawatt (GW) by 2030.
The government also plans to set up over 50 solar parks and ultra-mega solar power projects targeting over 40,000 megawatt (MW) of capacity.
Prominent players in renewable space
Although the sector is still evolving, India's renewable energy capacity has more than tripled over the past five years.
The major renewable energy companies in India can broadly be divided into two categories - private firms and state owned enterprises (known as public sector undertakings or PSUs).
Private companies
#1 Adani Green Energy
One of the best-performing stock in the private renewables market in India is Adani Green Energy (AGE).
It's a subsidiary of the infrastructure-oriented Adani group, which is also India's largest private power company.
AGE has almost 14.8 GW of capacity under construction or installed, and it intends to grow to 25 GW by 2025.
It holds the ambition of becoming the largest solar company worldwide.
Recently, the company acquired SB Energy's solar and wind power portfolio from SoftBank and Bharti Group.
This included 4,180 MW of solar projects, 450 MW of wind-solar hybrid plants, and 324 MW of wind power projects.
#2 Tata Power
The third largest power producer is the venerable Tata Group's Tata Power.
Tata Power, together with its subsidiaries and joint entities, has 12,772 MW of generation capacity.
From energy-saving power services, to making India electric vehicle (EV) ready with multi-city EV charging stations and being India's #1 rooftop solar provider.
The company today has 30% of clean energy generation in its portfolio including solar and wind generation. They aim to grow this to 40-50% in the next few years.
Public sector companies
#1 NTPC
A list of power PSUs in India would be incomplete without the National Thermal Power Corporation (NTPC).
NTPC is the largest energy producer in India, with a total installed capacity of about 66 GW and about the same under development.
NTPC is the first one to declare its energy compact goals as part of the UN High-level Dialogue on Energy.
It has committed to set up 60 GW at an estimated investment of through renewable energy sources by 2032 by when the total capacity is expected to reach 132 GW.
The target has been scaled up from the previous 30 GW planned by the company till 2032.
NTPC targets adding nearly 4,000 MW of clean energy capacity every year, which would be scaled up to 8,000 MW towards 2032.
Recently, NTPC said that it will set up India's largest solar park of 4.8 GW at Rann of Kutch in Gujarat from where it will also generate green hydrogen on a commercial scale.
India's largest power generation utility's subsidiary NTPC Renewable Energy has received the go-ahead from the ministry of new and renewable energy.
This comes against the backdrop of reports about NTPC's plans to list NTPC Renewable Energy.
#2 NHPC
The equivalent of NTPC in the hydropower sector is National Hydro Power Corporation (NHPC).
This venture was founded by the government in 1975, with the specific objective of promoting and developing the use of water as a renewable source.
Since then, it has come a long way - it now has a portfolio of about 11 GW and assets worth more than US$9 bn.
NHPC has an installed power generation capacity of around 7,000 MW, which predominantly includes hydropower (around 6,900 MW) as well as 50 MW each of solar and wind power capacity.
Recently, NHPC invited bids from engineering, procurement, and construction (EPC) contractors for a 600 MW interstate transmission system (ISTS)-connected solar photovoltaic project and associated power transmission lines.
The project will be developed in the Deora village of the Jaisalmer district in Rajasthan.
Apart from the above top 4 stocks, here is the list of other renewable energy companies.
Data Source: Company Website
Reasons to invest in renewable energy stocks
There is an ongoing debate on global warming and climate change along with increasing crude oil prices and how they are deteriorating the overall climate of the planet.
This has forced governments around the world to introduce more ways to utilise renewable energy.
Increasing government spending, new policies that favour renewable energy, and regular incentives have driven people to invest in renewable energy stocks now more than ever.
Here is why you should watch out for renewable energy stocks, given the current climate scenario.
Technological advancement
As the renewable energy sector is growing, there is a massive scope of technological progress within this industry.
New technologies are being invented to reduce the effective cost of instalment, so that more people, even in the rural areas, can afford renewable energy sources.
Apart from this, the government is constantly working to encourage the use of electric vehicles to decrease pollution.
Government support and tax incentives
Our government is continuously making laws and policies and providing a vast budget for the renewable energy sector.
The prospect of renewable energy sector can also be understood by the fact that the Indian government has signed the Paris climate contract which requires investing in renewable energy sources.
The government has understood the need to identify more renewable energy sources. With time, the government will increase its budget towards this sector. The government provides regular incentives and subsidies to anyone who uses these resources. This will increase the value of the companies of this sector.
Thus, the market has potential for strong overall growth in the decade to come.
Investors hoping to profit from India's renewable growth should look into the financials, management, business strategy, and all other fundamental factors of the companies in this sector before investing in them.
For more detailed updates, read our power sector report and check the latest power sector results.
To know what's moving the Indian stock markets today, check out the most recent share market updates here.
Disclaimer: This article is for information purposes only. It is not a stock recommendation and should not be treated as such. Learn more about our recommendation services here...