Green Signal on the Charts for Railway Stocks
Jul 24, 2023
Indian share markets are currently trading near all-time high (ATH) levels with the Midcap and SmallCap indices outperforming the benchmark Nifty50.
A remarkable aspect of this rally is the sector rotation, where sectors rally, consolidate, and then resume their upward trajectory.
Investors are actively seeking opportunities for sector hopping to maximize returns, contrasting with the traditional buy-and-hold strategy witnessed in previous rallies.
In this article, we'll look at one such sector - railway - where several stocks are showing promising trends and potential opportunities.
Let's dive in...
#1 IRFC (Indian Railway Finance Corporation)
IRFC share price has retraced approximately 50% from its high of Rs 37.40 to Rs 31.20, finding support at the 50-day Exponential Moving Average (DEMA).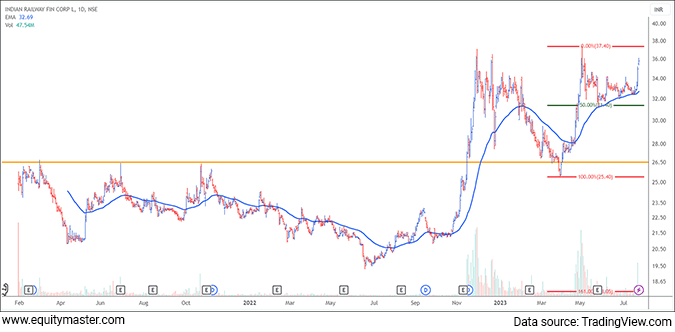 The recent reversal from this support zone indicates a period of accumulation, and the subsequent rally back to Rs 36 suggests that investors are taking advantage of the opportunity.
#2 RVNL (Rail Vikas Nigam Limited)
RVNL's stock history shows a pattern of breakout, rally, retest, and then another rally.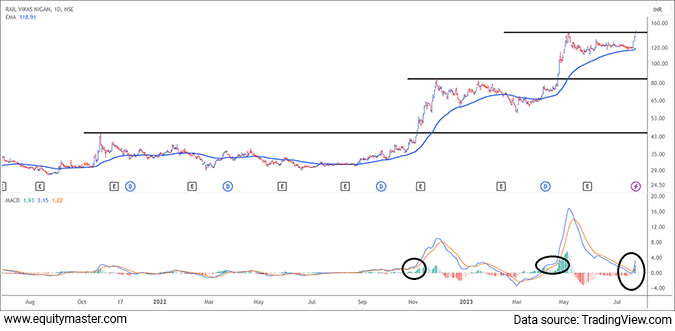 The positive crossover of averages above the zero line on the Moving Average Convergence Divergence (MACD) strengthens the bullish momentum, adding to the stock's potential upside.
The history is repeating on the chart structure, can it repeat on the price? We'll get to know in coming days.
#3 IRCON (Ircon International Limited)
Since its breakout in November 2022, IRCON International share price has witnessed a robust bullish trend.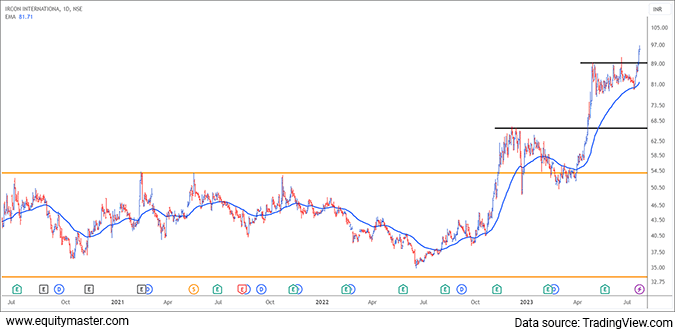 The stock's breakout from its previous 52-week highs has accelerated the momentum, a pattern that repeated in April 2023 and is evident again in July 2023.
This suggests a possibility of history repeating itself, potentially leading to a prolonged rally.
Additionally, the 50DEMA is acting as a support zone on the chart which is currently placed at Rs 82.
#4 Texmaco Rail & Engineering Ltd
Texmaco Rail & Eng Ltd is standing out as a top performer in the railway sector, displaying a consistent bullish trend.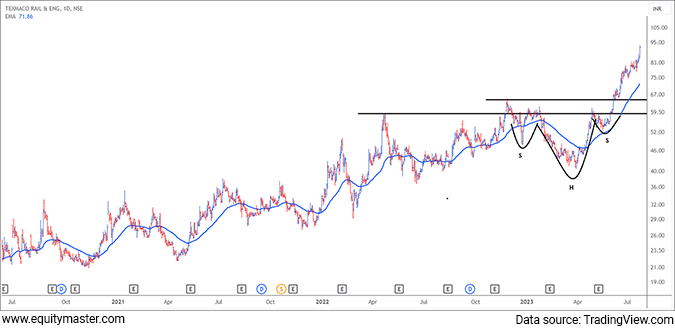 The presence of a bullish or inverted head and shoulders pattern on the chart suggests that the bulls are capitalizing on opportunities, leading the stock to continue its upward trajectory.
The stock has hit an all-time high today, but investors should be mindful of maintaining a deep stop-loss before investing. Buying the dips in this stock could present a better opportunity for entry.
Why Railway Stocks are Rising
There are several reasons for the recent rally in railway stocks. One reason is the government's push for infrastructure development. The government has announced plans to invest heavily in railways, which is expected to boost demand for railway equipment and services.
Another reason for the rally is the improving financial performance of the Indian Railways.
Companies involved in the railways segment have been raking in profits in recent years, and this has improved investor confidence in the sector.
Finally, the rally in railway stocks is also being driven by new launches like Vande Bharat, Tejas Express and AC Locals.
The increasing demand for premium transportation services has resulted in railway stocks becoming more attractive to investors.
For an in-depth analysis into these reasons, watch Richa Agarwal's video railway stocks that could ride the railway capex cycle.
Conclusion
In light of the ongoing bullish trend in the railway sector and the recent performance of stocks such as IRFC, RVNL, IRCON, and Texmaco Rail, investors may find attractive opportunities for potential gains.
However, as with any investment, it is crucial to exercise due diligence, analyse risk-reward ratios, and make informed decisions based on individual risk tolerance and market conditions.
The railway stock's potential upside and historical patterns make them intriguing prospects for investors in the current market scenario.
Since you're interested in railway stocks, also check out the video I recorded back in April 2023.
Investment in securities market are subject to market risks. Read all the related documents carefully before investing
Want to Grow Your Wealth With Safe Stocks?
If you want a simple, safe, and hassle-free approach to long term wealth building...
Without having to worry about negative news or every little downswing in the market...
And without having to worry whether your investments will actually "deliver"...
You must read our note on Blue Chip Stocks now.
Details of our SEBI Research Analyst registration are mentioned on our website - www.equitymaster.com
Disclaimer: This article is for information purposes only. It is not a stock recommendation and should not be treated as such. Learn more about our recommendation services here...
Brijesh Bhatia Research Analyst and expert chartist, is the editor of Alpha Wave Profits. Fully committed to his craft, Brijesh has mastered the art of making money by trading using technical analysis. Brijesh has an MBA from ICFAI and 16 years of experience in India's financial markets. He began his career on Dalal Street as commodities dealer and it wasn't long before he developed his own unique trading system. Brijesh worked on his trading system until it could be expected to deliver 5 units of return for every unit of risk.