India's Big Startups Burn Through Cash at Alarming Rate
Aug 13, 2023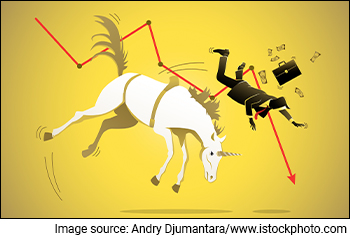 Within India's startup space, innovation and aspiration have found fertile ground to succeed.
In the past decade, we saw a record rise in entrepreneurial accomplishments, sustained by a blend of factors. Factors such as heightened technological accessibility, an expanding consumer market, and an increasing appetite for venturing into the unknown.
But in this evolving startup culture, an evident trend has emerged - one defined by huge capital outflows, often eclipsing the revenues generated by these startups.
This trend raises valid queries concerning the sustainability of these start-ups.
Today, we will tell you about 5 such Indian start-ups, that are burning cash at an alarming rate.
Their rise from humble beginnings to bn-dollar valuations may seem like a success story, but behind the scenes, things are not as rosy.
A closer look at their financial statements reveals some staggering numbers. These startups are spending heavily on marketing, expansion, and employee compensation. This is leading to a massive cash burn rate.
Traditional business wisdom dictates that companies should focus on profitability and efficient resource management. However, these startups seem to be taking a different approach. They are prioritising growth at all costs.
This strategy may work in the short term, but it is not sustainable in the long run. If these startups do not start to become profitable soon, they will eventually run out of money.
Here are the 5 start-ups we want to talk about today...
#1 Flipkart
Flipkart, India's largest e-commerce company, is burning cash at an alarming rate. In the year ending September 2022, Flipkart's cash burn rate was US$3.7 bn, which is the highest for any Indian company, not just in the e-commerce industry.
This high cash burn rate is a major concern for Flipkart's investors, who are worried that the company is running out of money. Flipkart has already raised over US$10 bn in funding, but it is unclear how much more money the company will need to raise to stay afloat.
There are several factors that are contributing to Flipkart's high cash burn rate. One factor is the company's aggressive expansion plans.
Flipkart had raised US$ 3.6 bn in July 2021. Later in August 2021, just ahead of the upcoming festive season, it invested US$ 1.42 bn in many of its expansions.
As per the filing with the registrar of companies, US$ 589 m was infused into Flipkart India Private limited, US$ 353 m into its B2C unit Flipkart Internet Private Ltd, another US$ 412 m infused into Instakart which is the logistics end of the business and another US$ 66 m into Myntra designs and Myntra Jabong India.
Flipkart is also expanding into new markets, such as grocery and fashion, and it is also investing in new technologies, such as artificial intelligence (AI) and machine learning.
These investments are expensive, and they are contributing heavily to Flipkart's cash burn rate.
Not to forget the company's competitive landscape. The Indian e-commerce market is very competitive, and Flipkart is facing stiff competition from Amazon and other players.
To compete, Flipkart is offering deep discounts and cashbacks, which is also contributing to its cash burn rate.
At this rate, if Flipkart is unable to slow down its cash burn rate, it may be forced to raise more money or even sell itself.
This would be a major setback for the Indian e-commerce industry, and it would also be a blow to Flipkart's customers, who have come to rely on the company for their online shopping needs.
#2 Byju's
Byju's, once touted as India's most valuable startup, is going through tough times lately.
With customers and employees dragging it to social media to uncover exploitative policies and sales strategies, the image of the firm has taken a hit.
To top it, it has been burning through cash at an alarming rate. In the year ending March 2023, Byju's cash burn rate was US$4.6 bn, which is the highest for any Indian company.
We mean any... not just in the edtech industry!
The year 2022 marked a significant period of introspection for the global edtech company valued at US$ 22 bn. During this time, Byjus faced intense scrutiny due to discrepancies in its financial reporting, accusations of deceptive marketing of courses, and mass layoffs.
The company reported a loss of Rs 45.9 bn in the financial year 2020-21, a massive 19.8x jump from a loss of Rs 2.3 bn in FY20.
It means that Byjus lost Rs 120 m every day.
In October 2022, the company raised another US$ 250 m from its existing investors.
But owing to direction the business was headed in, creditors asked for a faster repayment of the part loan fearing losses.
By March 2023, Byjus offered these creditors a higher interest rate to renegotiate their debt deal. The creditors however were seeking at least a US$ 200 m pre-payment from Byjus.
In May 2023, Byjus closed a Rs 20 bn debt round with Davidson Kempner.
But in June 2023 Byjus defaulted on loan repayment damaging its image further.
All in all, the organisation is stuck in a downward spiral that does not look like will end soon.
#3 Ola
A trailblasing ride-hailing behemoth that redefined urban commuting, Ola is one of the most looked up on startups in the Indian start up space.
Ola embarked on its journey with the vision of revolutionising urban transportation through a reliable ride-hailing platform. Since its inception, the company's trajectory has been characterised by swift expansion and innovation.
From introducing novel mobility options like electric vehicles and bike taxis to venturing into global markets, Ola has consistently displayed a commitment to shaping the future of transportation.
However, beneath its stellar success lies a captivating facet - Ola's substantial cash burn rate, which has sparked curiosity among industry experts and investors alike.
After having raised billions of dollars in funding from investors such as SoftBank, Tiger Global, and Sequoia Capital, investors had a lot of hope from Ola.
However, Ola's losses accumulated to Rs 174.5 bn as revenue shrank 63% in FY21.
Ola has been burning through cash at a shocking rate.
In the year ending March 2023, Ola's cash burn rate was a whopping $1.3 bn.
Like any other startup, one of the main contributors to this cash burn was extensive marketing spends to acquire both, customers as well as drivers.
Huge discounts to customers clubbed with some big incentives for drivers did not do much in favour of Ola.
Apart from that, Ola ventured into other verticals where it infused huge sums. Like Ola Money and Ola electric.
Ola Electric alone recorded a loss of Rs 3.7 bn in FY22.
In FY22, Ola's overall operating revenue was Rs 19.7 bn while the total expenses were Rs 33.6 bn. This amounted to loss of Rs 15.2 bn.
#4 Zomato
Another start-up that changed the way India lived its daily life. It solved a long-standing problem of food delivery, even in some of the most remote areas of the country.
Zomato generates its revenue from multiple online platform services such as sale of food, advertisements, subscription, delivery facilitation et al to users, restaurant and delivery partners.
After raising over US$ 4 bn in funding, Zomato was hot property in the Indian start up space.
In FY22, Zomato's gross revenue was Rs 41.9 bn.
And in the fiscal year that ended in March 2023, Zomato's gross revenue jumped up by almost 69% to Rs 70.8 bn.
Zomato, just like most new age startups has ventured into multiple verticals.
Out of the Rs 70.8 bn, 64% of the operating revenue came from its food delivery and other platform services.
This was 32.8% higher than the last years number of Rs 341m.
On the other hand, its B2B venture HyperPure increased revenues by 2.8x to Rs 15bn.
And the revenues from its quick commerce business, known as Blinkit, was at Rs 8,060 m.
However, we must also look at the expenses to understand the whole picture.
Advertising and promotion costs went from last year's Rs 12.17bn to Rs 12.27bn
Delivery and related charges rose to Rs 25.37 bn from previous years Rs 18.14 bn
Expenditure on procuring materials went from Rs 5,25 bn to Rs 13.95 bn
Other miscellaneous expenses also grew to Rs 21.51 bn as compared to the previous year's 10.16 bn.
The only expense that saw a drop in numbers is employee benefits, which fell from Rs 16,33 bn to Rs 14.65 bn.
All numbers put in perspective, the total expenditure of Zomato spiked by over 41%.
From Rs 62.05 bn in FY22 to Rs 87.75 bn in FY23.
Zomato had made its public market debut in July 2021 with a valuation of $12 bn. However, the company's journey as a public entity has been chaotic, with its market capitalisation declining by around 45% in the past 21 months.
It's only now that the shareholders have found some respite after the company turned net profitable in the first quarter of FY24.
#5 BharatPe
The last one on our list is a name that has been in the news since the beginning of 2022.
It's founder, Ashneer Grover created a lot of ripples with his stint in the reality show Shark Tank.
BharatPe is a Tiger Global-backed company that provides aggregator services to merchants and businesses. The company offers a unified QR code that merchants can use to accept push payments through third-party UPI applications.
It also acts as a facilitator for lending partners to provide small-ticket loans to merchants for their daily working capital needs. The company collects commissions against these loans.
Speaking about BharatPe's revenues, its income from POS machines grew from Rs 441 m in FY21 to Rs 1.26bn in FY22.
Commission income more than doubled from Rs 720 m in FY 21 to Rs 1.52 bn in FY22.
Income from loyalty points and other related services which was zero in FY21 was Rs 1.08 bn in FY22.
It also earned Rs 6,960 m from advertisement, membership, and other services.
Now let's look at the expenses to get a clearer picture.
BharatPe Expenses
| Expense | FY21 | FY22 |
| --- | --- | --- |
| Financial Guarantee Expenses | 564 m | 2.66 bn |
| Transaction Processing Charges | 975 m | 2.27 bn |
| Marketing and Business Promotion | 450 m | 2.45 bn |
| Employee Benefits | 754 m | 18.48 bn |
| Outsourced Service Cost | 819 m | 16.8 bn |
| IT and communication Expenses | 409 m | 10.56 bn |
| Other Expenses | 650 m | 28.56 bn |
Data Source: entrackr/
Owing to this threefold jump in expenses, BharatPe's losses jumped from Rs 27.7 bn in FY21 to Rs 82.8 bn in FY22.
If we put all numbers together, you will see that in FY22, BharatPe spend Rs 14.83 bn to earn Rs 4.57 bn!
And to add to their woes, its co-founder Ashneer Grover and his wife Madhuri Jain were allegedly involved in financial irregularities and alleged fraud. They had to resign for this reason as the matter is subjudice.
What followed their resignation was a slew of court cases against them by the firm's board and vice-versa.
Conclusion
Now that we know how much cash these startups are burning through, it's natural to wonder why they're so extravagant.
One reason is they believe securing a large market share is essential for long-term success. In industries with fierce competition, startups often engage in a fierce battle for dominance. Being the first to scale can lead to customer loyalty, a larger market presence, and the ability to dictate industry trends.
As a result, these companies may adopt a strategy that appears extravagant in the short term but is strategically sound in the long run.
However, this strategy is met with scepticism, with critics warning against the viability of such lavish spending and the potential dangers of market saturation.
Remember, not all that glitters is gold. Investors should always consider all factors before making an investment decision.
Whether or not these startups will be listed is a question that we will have to answer in due time.
Investors should conduct the necessary due diligence to determine if these companies are truly "burning" through resources or if they are instead on a sustainable path to industry leadership.
Investment in securities market are subject to market risks. Read all the related documents carefully before investing
Want to Grow Your Wealth With Safe Stocks?
If you want a simple, safe, and hassle-free approach to long term wealth building...
Without having to worry about negative news or every little downswing in the market...
And without having to worry whether your investments will actually "deliver"...
You must read our note on Blue Chip Stocks now.
Details of our SEBI Research Analyst registration are mentioned on our website - www.equitymaster.com
Disclaimer: This article is for information purposes only. It is not a stock recommendation and should not be treated as such. Learn more about our recommendation services here...