Devyani International Shares Make a Strong Debut. Lists at 56% Premium
Aug 16, 2021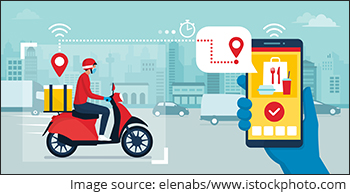 The shares of Devyani International, the largest franchisee of fast food majors Pizza Hut, KFC, and Costa Coffee in India, made a strong debut on the stock exchanges today listing 56% higher than the issue price.
The scrip listed at Rs 141 on the BSE, registering a gain of 56.7% from its offer price of Rs 90. On the NSE, it opened at Rs 140.9, up 56.6% from the issue price.
Many brokerages had given a subscribe rating to the public issue of Devyani International, the largest franchisee of Yum Brands in India.
It's also among the largest operators of quick-service restaurants (QSR) chains in India on a non-exclusive basis.
According to market observers, the company's strong portfolio of globally recognised brands, business and geographical diversification, strong presence across key consumption areas and increasing digital adoption provides a strong growth runway for the company.
Along with Devyani International, three other recently concluded initial public offering (IPOs) - Windlas Biotech, Exxaro Tiles, and Krsnaa Diagnostics made their debut on the bourses today.
Krsnaa Diagnostics and Exxaro Tiles shares listed at a 7% and 5% premium over the issue price, respectively.
On the other hand, Windlas Biotech shares made a weak debut on stock exchanges, marking a discount of 5% from issue price.
Devyani International received positive response from investors
The IPO of Devyani International got a robust response from the investors.
The company launched its Rs 18.4 bn IPO for subscription on 4 August 2021 and closed on 6 August 2021, with a stellar subscription of 116.71 times, generating bids for 13.1 bn equity shares against offer size of 112.5 m equity shares.
The portion set aside for qualified institutional investors was subscribed 95.25 times, and non-institutional investors' part was subscribed 213.06 times, while retail investors portion was booked 39.52 times and employees bought 4.7 times their reserved portion.
Utilisation of funds raised through public issue
The offer had comprised a fresh issue of Rs 4.4 bn, and an offer for sale (OFS) of Rs 14 bn by investor Dunearn Investments and promoter RJ Corp.
The company will repay its debts through fresh issue proceeds, besides use for general corporate purposes.
Financial snapshot of the company
Devyani International has reported losses for consecutive years.
The company's financial performance was significantly impacted in the financial year due to business disruptions caused by covid-19.
Its revenue, earnings before interest, tax, depreciation, and amortisation (EBITDA) and net profit recorded negative compound annual growth rate (CAGR) of 7%, 16%, and 18%, respectively over the financial years 2019-2021.
On top of losses, it has also had negative cash flows in the past.
Key Financial Parameters
| (Rs m) | FY19 | FY20 | FY21 |
| --- | --- | --- | --- |
| Revenues | 13,106 | 15,164 | 11,348 |
| Revenue Growth | - | 16% | -25% |
| Expenses | 13,948 | 16,465 | 13,382 |
| EBITDA | 2,790 | 2,555 | 2,269 |
| Net Loss | -941 | -1214 | -630 |
| Net Profit Margin (%) | -7% | -8% | -6% |
| Net Worth | -1,212 | -2,282 | 719 |
Data Source: RHP
Meanwhile, the company increased the number of stores from 469 in the year 2019 to 605 in 2021 under its core brand business.
Further, its EBITDA margin as on March 2021 stood at 15.8%, which is higher compared to key peers like Burger King and Westlife Development.
Company's core brands
The company is the largest franchisee of Yum brands in India and operates brands KFC & Pizza Hut under its banner. In addition, It's also a franchisee of Costa Coffee in India.
Core brands such as KFC, Pizza Hut, and Costa Coffee contribute 94% to its top line while the rest comes from international operations and other businesses like its own brand.
In addition to the core brands business and international business, the company operates stores of other brands such as Vaango, The Food Street, Ile Bar, AMRELI, Ckrussh Juice Bar, among others.
They are typically operated as outlets within larger food courts in malls and airports. As on 30 June, there were 51 stores of other brands under the other business.
The core brands store counts grew at a CAGR of 14% in the last two years to 605 stores by March 2021.
The store count reached 645 by June 2021 as the company continued its focus on adding core brand stores amid the pandemic.
Ahead of listing, Devyani International extended its partnership with Costa Coffee
Devyani International announced the extension of partnership with Costa Coffee. The company entered into a revised development agreement for its existing Costa business on 14 August 2021, pursuant to which Devyani International has been granted development rights for pan-India in a phased manner.
Evolving food industry
The Indian food services profit sector generated total revenues of Rs 83.7 bn in 2020, growing at a CAGR of 1.9% from Rs 76 bn in 2015, driven by transactions.
Increased deliveries and increased demand for eating out have led to growth of transactions, especially in 2020, due to the pandemic.
The number of transactions is expected to grow by an even higher rate of 6.9% in the period between 2020 and 2025.
Food delivery applications Zomato and Swiggy are expected to play an even more prominent role during the forecast period.
In 2020, the QSR channel made the largest contribution to the foodservice industry, with a sales share of 34.1%.
This was followed by pub, club, and bar, and full-service restaurants, with market shares of 27.1% and 15.5% respectively.
Growth of QSR Chains

Domino's Pizza Inc., Yum! Brands Inc., McDonald's Corporation, Doctor's Associates Inc., Restaurant Brands International are the key players in the Indian QSR industry.
About Devyani International
Devyani International is the largest franchisee of Yum Brands and among the largest quick-service restaurants (QSR) chain operators in India with 655 stores across 155 cities all over the country.
Yum Brands operates many fast food brands including Pizza Hut, KFC, and Taco Bell brands.
Incorporated in 1991, the company operates in three business verticals.
Core Brands which include KFC, Pizza Hut, and Costa Coffee stores in India.
International business which includes stores in foreign countries (Nepal and Nigeria).
Other businesses including own branded stores. (Vaango, Food Street, Masala Twist, Ile Bar, Amreli, and Ckrussh Juice Bar).
Devyani is the single largest QSR company in India to be listed on Swiggy and was among the largest QSR companies in India to be listed on the Zomato platform in 2019 and 2020.
As of March 2021, the company had an employee base of 9,356 employees, of which 8,833 employees were in India, and 523 were outside India.
To know what's moving the Indian stock markets today, check out the most recent share market updates here.
Disclaimer: This article is for information purposes only. It is not a stock recommendation and should not be treated as such. Learn more about our recommendation services here...