Shareholder Activism Triggers a 30% Rally in Zee Entertainment Shares
Sep 14, 2021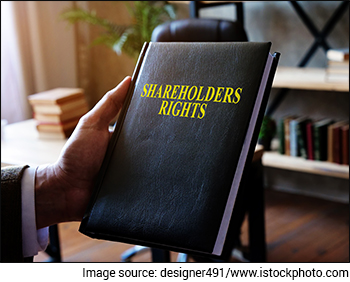 Shares of Zee Entertainment (ZEE) witnessed frenzied buying today and are in huge demand. At one point, shared rallied over 30% to touch a high of Rs 250.80.
As ZEE is in stock the futures & option (F&O) segment, it has no circuit limits.
Zee Entertainment shares had settled at Rs 186.80 yesterday.
So what sparked such a steep rally in its shares?
Well, yesterday the company announced that it will do a major rejig of its board.
Invesco, which is the largest shareholder in ZEE, called for the removal of CEO and managing director (MD) Punit Goenka amid a deepening divide between the fund and the company's founders.
Invesco Developing Markets Fund and OFI Global China Fund LLC called an extraordinary general meeting to seek removal of Goenka, Manish Chokhani, and Ashok Kurien as directors.
But shouldn't the removal of CEO and MD raise negative sentiments for a company?
Not always.
Zee Entertainment has had corporate governance issues in the past. It faced issues of inefficient allocation of capital, insider trading, and other related party transaction issues.
--- Advertisement ---
Watch this Before Investing Your Money in EV Stocks

On Monday, we revealed this massive 15x opportunity in electric vehicles.

And also shared the details of 3 EV stocks to ride this mega opportunity.

Now, these are not typical EV stocks. Instead, these are what we call the backdoor EV stocks.

As per our research, the best way to ride the 15x EV wave is through these 3 stocks only.

You can get full details by watching this video...
------------------------------
Back in 2019, two independent directors had resigned from the board citing corporate governance concerns.
In February 2020, the ministry of corporate affairs investigated the books of ZEE. This inquiry came after the independent directors resigned in 2019.
In August 2020, Bijal Shah, who was head of the financial planning and analysis, strategy and investor relations at ZEE had passed on insider information about the company's results to Gopal Ritolia, former director at UBS India and Jatin Chawla, ex-director at Credit Suisse and currently director at First Voyagers Advisors.
Due to this, the markets regulator banned 15 entities.
Just a couple of days ago, institutional investor advisory services (IiAS), a proxy advisory firm, raised corporate governance issues and asked shareholders to vote against resolutions, including the adoption of financial statements.
So, corporate governance was the biggest roadblock for ZEE. After the recent developments for removal of directors, investors are changing sentiments for the stock.
New appointments and resignations
The two funds have also demanded appointment of multiple independent directors in the company.
The proposed directors are Surendra Singh Sirohi, Naina Krishna Murthy, Rohan Dhamija, Aruna Sharma, Srinivasa Rao Addepalli, and Gaurav Mehta.
In a separate filing, ZEE also said Manish Chokhani and Ashok Kurien had resigned from the positions of non-executive non-independent directors with immediate effect.
Ashok Kurien resigned due to his pre-occupation, while Manish Chokhani resigned due to changed life circumstances and perspective post-covid, as per the filing.
--- Advertisement ---
[Alert] Sell These 3 Stocks Immediately

These 3 stocks are ticking time bombs in your portfolio.

It is very likely that you could be owning these 3 overvalued...

fundamentally weak... ready to crash stocks... in your portfolio today.

Because many stock brokers have painted rosy pictures of these stocks. But the reality is starkly different.

If the market crashes, then these stocks could wipe out your wealth.

You should get rid of these stocks as soon as possible.

Click her for full details of these 3 landmines
------------------------------
Today's AGM
The annual general meeting (AGM) of Zee Entertainment will be held today at 4.30 pm through video conferencing and other audio visual means.
The market is eagerly waiting for this meeting as it will give cues as to what might happen next.
Punit Goenka is the son of Essel group founder and chairman Subhash Chandra. The Subhash Chandra family owns 4% of the company as it had to sell their stake to pay off the debt worth Rs 130 bn taken by promoter entities after defaulting.
According to market experts, because the promoter group holds only 4% stake, it's likely that the resolution for removal will go through.
Group stocks rally
Following Zee Entertainment, shares of other Essel group companies also rallied.
Zee Learn rose more than 17%. Siti Networks gained 3%.
Shares of Dish TV and MT Educare advanced more than 9% while Zee Media Corp gained 4%.
This is quite similar to what happened at Dish TV a few days ago. Yes Bank, the largest shareholder of Dish TV had asked for removal of Dish TV's MD and the other independent directors.
In a few days later, Dish TV shares moved higher by as much as 30%.
Instant Updates: Join Our Telegram Channel and Get Instant Updates
Stock performance
Zee Entertainment share price opened 10% higher at Rs 205.45 today.
It went on to surge over 30% to Rs 250.80 as the session progressed.
Zee Entertainment shares have a 52-week high quote of Rs 261 touched on 4 February 2021 and a 52-week low quote of Rs 166.80 touched last month.
Over the past one year, shares of the company have lost 14%. If we consider today's 30% gain, the shares are up 8%.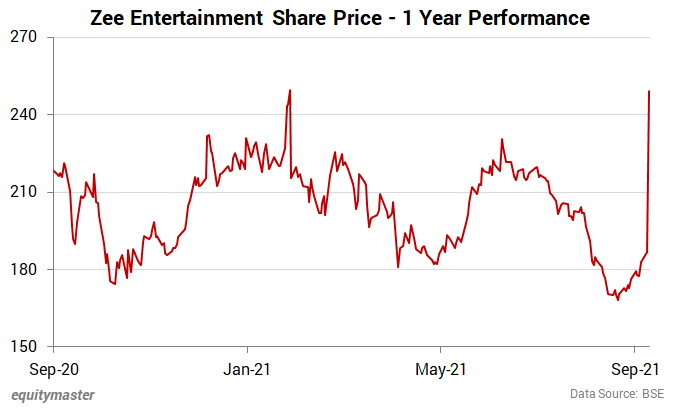 Despite all the issues, the stock has been the favourite of foreign investors.
As of June 2021, FIIs hold 57.46% stake in the company. To know more, check out Zee Entertainment's latest shareholding pattern.
About Zee Entertainment Enterprises
Zee Entertainment Enterprises (ZEE), part of the Essel group, is a worldwide media & entertainment company with presence across more than 170 countries.
The company is among the largest global content companies across genres, languages, and platforms. It is present across broadcasting, movies, music, live entertainment, and digital business both in India and overseas.
Its portfolio consists of more than 41 channels in 9 languages and has rights to more than 4,200 movie titles.
To know more about the company, check out Zee Entertainment company fact sheet and quarterly results.
For a sector overview, read our media sector report.
You can also compare ZEE with its peers.
Zee Entertainment vs Sun TV Network
To know what's moving the Indian stock markets today, check out the most recent share market updates here.
Disclaimer: This article is for information purposes only. It is not a stock recommendation and should not be treated as such. Learn more about our recommendation services here...