Like I wrote to you earlier this week, we're sitting on handsome gains on three of our Microcap Millionaires open positions.
Curiously, most of these gains have come in the form of sudden and sharp spurts in stock price after fairly long periods of dull action.
Two of these stocks now seem ripe for the picking. They're Renaissance Jewellery and Puravankara.
Here, have a look at their journey since their respective recommendations: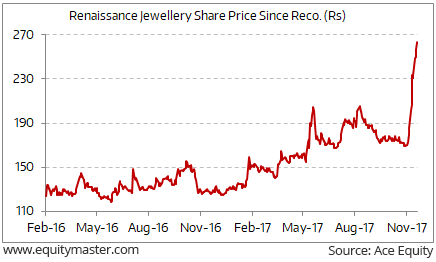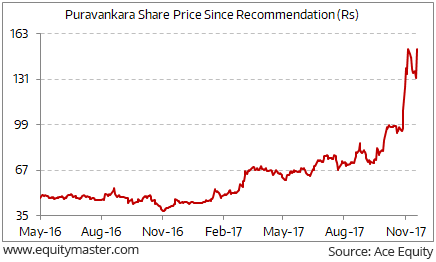 We now recommend subscribers to consider Selling these stocks and thus close our positions in them.
This takes the gains since recommendation in Renaissance Jewellery to 105% and in Puravankara to 206%.
We'd love to give fresh buy recommendations to replace these stocks, but the incessant run up in the markets to higher and higher levels has meant that the stocks we're coming across these days as potential fresh recommendations are increasingly 'problem' stocks - one's that either do not have decent enough fundamentals to back, or then have some or the other corporate governance red flag that we'd rather avoid.
This is not surprising. In fact, this is a good sign of an expensive market. At times like these, it can be much more profitable to not load up on too many stocks and rather sit on the cash. And the stocks/cash breakup in our model corpus reflects this.