Godrej Properties Continues its Shopping Spree, but Will it's New Strategy Work?
Dec 10, 2022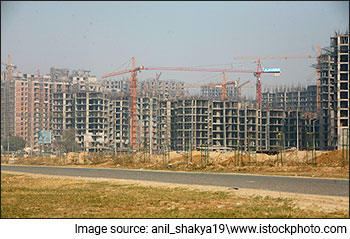 Even as the BSE Sensex flirts with its all-time highs this month, there are sectors which have not only underperformed the market but have given negative returns in 2022.
While on one hand, we have the BSE Bankex which is up 21% this year or the BSE Power Index up 33%, there are also laggards such as the BSE Realty index which is down over 3% since the beginning of the year 2022.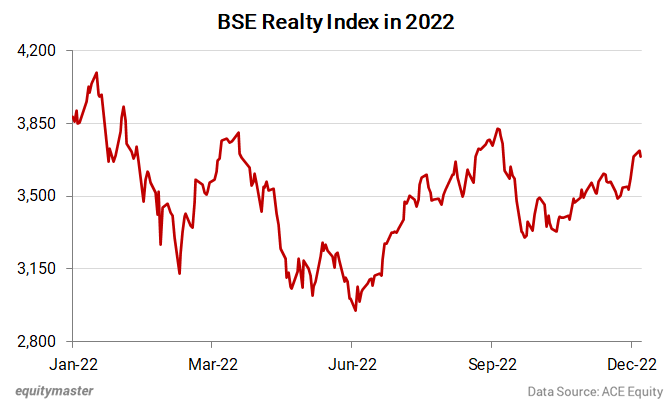 And it's not just 2022...
From demonetisation at the end of 2016 to the crisis with non-banking financial companies to the pandemic, the sector has witnessed one disruption after another.To further complicate matters the industry had to deal with the new Real Estate Regulations and Development Act (RERA), and of course, the launch of the Goods and Services Tax (GST) regime.
All of these posed serious challenges to the real estate industry.
However, the pandemic led to a paradigm shift in home buyers' attitudes and reinstated the importance of owning homes.
After that, there was no turning back. The demand for residential properties increased, and the unsold inventory decreased drastically.
This marks the beginning of another cycle for the real estate sector and it is expected to witness a strong revival. Residential sales have already surged 51% in the post-pandemic era.
Home prices are expected to increase 7.5% nationally this year, the fastest growth in five years, according to a Reuters poll of property analysts. Average house prices were forecast to rise 6.0% next year and in 2024.
While the economic indicators are in favour and have a positive tick, the government's focus is more towards making housing affordable and available for everyone.
The government's push for 'Housing for All' will fuel the demand for affordable housing and in turn generate much-needed liquidity in the sector.
Real estate is the second largest sector after agriculture in India, making a significant contribution to the GDP. In 2020, it contributed 7% to the country's GDP.
Between 2022 and 2027, the real estate segment is expected to record a compounded annual growth rate (CAGR) of 15%. By 2040, the industry might surpass Rs 650 billion (bn), from Rs 120 bn in 2019.
The industry is expected to cross US$1 trillion (Rs 82.4 tn) in 2030 by market size, up from US$200 bn in 2021, and will contribute 13% of the GDP.
However, the unorganised sector continued to largely dominate the industry. The organised real estate companies have less than 20% market share in large cities.
Within the organised players, some of the large players are Oberoi Realty, DLF Ltd, Macrotech Developers Ltd, Sobha Ltd, Sunteck Realty Ltd, and Godrej Properties Ltd.
With markets close to their highs, beaten down sectors such as realty may offer an opportunity for long term investors to participate in the exponential growth expected in the real estate sector.
With that in mind, let us look at India's largest developer** by residential sales, Godrej Properties Ltd, and why it might be prudent for investors to add this stock to their watchlist for 2023.
** India's largest developer by residential sales in the financial year ended 31-03-2021.
Godrej Properties: In search of Gold...
Godrej Properties Ltd (GPL), established in 1990 is one of India's leading realty companies. It has successfully delivered 23 million (m) sq. ft. of real estate in the past five years.
Godrej Properties is part of the 125-year-old Godrej group, one of India's most trusted business houses. Real estate is considered a key growth business for the Godrej group.
GPL has always anchored its strategy mainly towards residential developments as against other players which juggle their capital allocations between office, retail, hospitality, and residential projects.
Over the years, the company has an envious track record of seamlessly completing projects with the shortest production time from land acquisition to approvals to launches and sales.
GPL differentiation vs peers is that it focuses on land parcels, which have a quick turnaround and shorter go-to-market time, rather than pooling long-term strategic landbank inventory.
This strategy has resulted in strong market share gains over the years in the Top-4 regions of Mumbai, Pune, Bengaluru, and NCR. It continues to augur well for the company's growth and efficient capital allocation.
In order to obtain approvals, real estate is typically a highly localised type of business. Perhaps, GPL is the first company that has successfully transitioned as a pan-India real estate player.
In recent times, the company has been on a land acquisition spree across property markets such as Pune, Bengaluru, and National Capital Region (NCR), to develop a pipeline of housing projects.
The real estate firm has been steadily acquiring land parcels and expanding in in four major markets - Mumbai Metropolitan Region (MMR), Delhi-NCR, Bengaluru, and Pune where it has strong presence.
In February, this year, GPL's executive chairman Pirojsha Godrej had said the company will invest around US$1 bn over the next 18 months on development of new projects.
But the company has already exceeded its guidance within the first eight months of the financial year and has no intention of slowing down.
Buoyed by strong housing demand, GPL continues to acquire land for future development, having added eight new projects so far, this financial year with an estimated revenue potential of US$2 bn.
And GPL's executive chairman Pirojsha Godrej is hopeful the company will add many other land parcels over the next quarter as well.
Armed with Rs 47 bn of surplus cash and Rs 74 bn expected to be generated over the next four years, the company's momentum in business development looks set to continue over the coming quarters.
Further, it must be noted that the company enjoys the lowest bank funding rates vs peers in the sector. This is on the back of strong parentage, decades of the group's banking relationship and robust corporate governance practices.
Low cost of capital helps the company acquire landbanks at lower prices and the group's track record helps it get more significant and durable funding lines from banks, other financial institutions, and capital providers.
Godrej Properties Ltd: Financial Highlights
GPL reported its highest ever sales for the 1st half of any financial year with booking value at Rs 49.3 bn. Total income grew by 13% to Rs 3.2 bn and net profit grew 54% to Rs 0.5 bn in the second quarter of the current financial year.
For the first half of FY23, the company sold 5.5 m square feet of area as compared to 4.3 m sold by the company in the second half of FY22, a growth of 26%.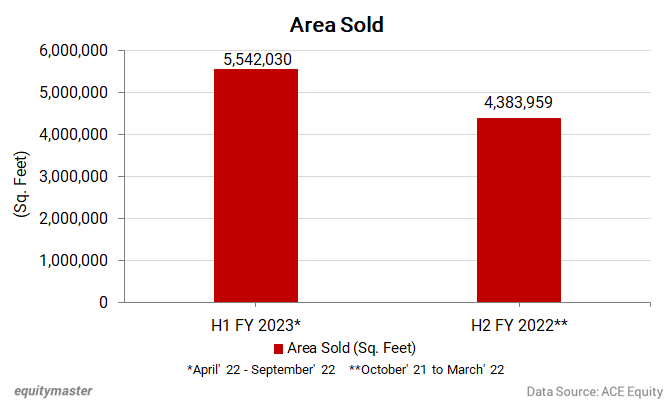 Booking value increased by 60% in the first half of FY23 to Rs 49 bn as compared to Rs 30 bn in the second half of FY22.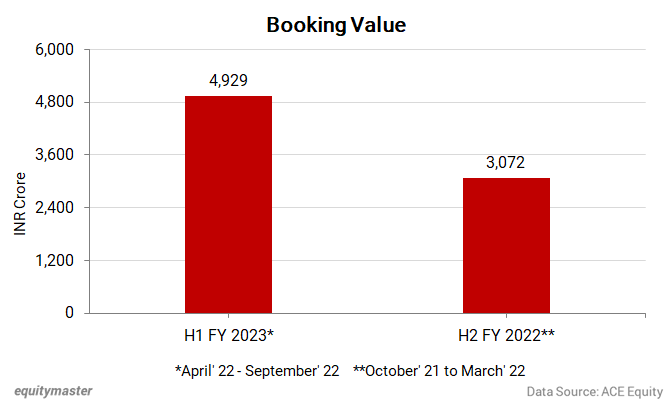 If we look at the consolidated financials, total income increased by 34% in the first six months of FY23 to Rs 7 bn as against Rs 5.2 bn in the period between October 2021 to March 2022.
Profit also jumped by 32% from Rs 0.9 bn to Rs 1.2 bn for the same period.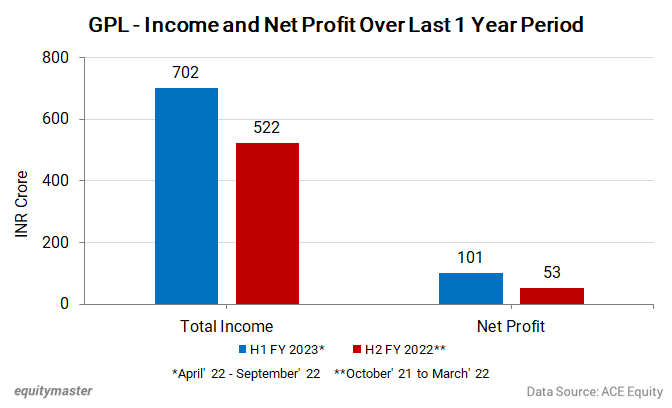 With the company aggressively pursuing acquisition of land parcels across the country, GPL's net debt has increased significantly from Rs 4.6 bn in March 2022 to Rs 13.6 bn as on 30 September 2022.
This has resulted in the net debt to equity ratio increasing to 0.16 from 0.05 for the same period. It however must be noted that even yet, the company has one of the lowest debt equity ratios among its peers in the realty sector.

The average borrowing cost has also moved up slightly from 5.95% in March 2022 to 6.04% in June 2022 to 6.25% as on 30 September 2022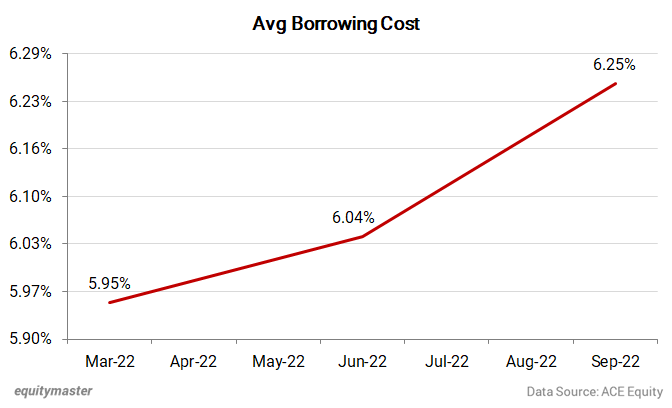 As on 30 September 2022 here are the ongoing projects of Godrej Properties Ltd:
GPL has 16 residential projects in the east west zone, including cities of Ahmedabad, Kolkata, Nagpur, and Pune with an estimated sale are of 76.3 m square feet.
In the south zone, GPL has 22 residential projects covering the cities of Bengaluru, Chennai, and Kochi with an estimated sale are of 37.1 m square feet.
In the north zone which covers the cities of Gurugram, Noida and NCR, the company has an estimated sale area of 27.5 m sq. feet covering 18 residential projects.
Finally in the Mumbai Metropolitan Region (MMR), the company has an estimated sale area of 42.3 m sq. feet covering 27 residential projects.
Additionally, the company is also developing commercial projects in Ahmedabad, Chandigarh, Pune, and Kolkata, Bengaluru, Mumbai, and Gurugram.
These commercial projects comprise of an estimated saleable area of 7 m sq. feet and 6.2 m sq. feet for building to lease.
Share Price of Godrej Properties Ltd: A Decade of Outperformance
The stock of GPL has had a stellar run since its listing in January, 2010. GPL had listed at Rs 510 on the BSE at 16% premium to its issue price of Rs 490 and ever since then has outperformed its peers.
And the outperformance is significant. An investment into GPL's initial public offering (IPO) would be worth 6x an identical investment into the BSE Realty Index over the last 12 years.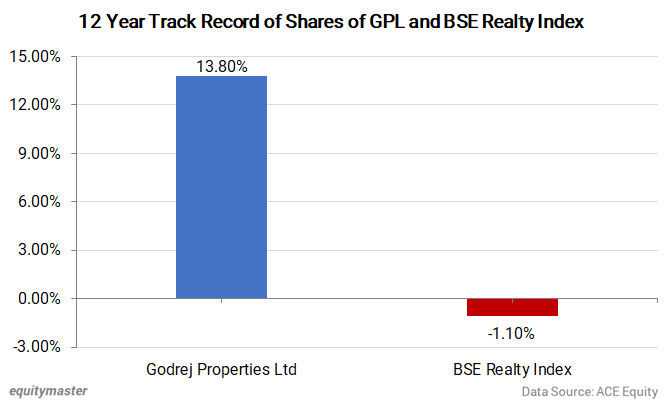 The 12-year CAGR of GPL stands at 13.8% as compared to -1.1% for the BSE Realty Index. However, the stock has underperformed the broader market this year and is down 31% since the beginning of the year.
The stock which touched a life time high of Rs 2,502.75 on 14 October 2021 fell to a 52-week low of Rs 1,130 in June this year and ever since has languished close to these levels.
Has something changed with the fortunes of Godrej Properties this year?
Analysts believe there are three primary reasons for the dismal performance.
First, in spite of bouncing back to the near pre-COVID levels in 2022, some players are worried the real estate market could be hit by the sky-rocketing inflation and repeated repo rate hikes by the central bank..
This is why the BSE Realty Index has been a non-starter this year as even the best real estate stocks didn't add any further to their gains of 2020-2021.
Secondly, delayed approvals resulted in slower launches for Godrej Properties in FY22. This was one of the factors that dampened sentiment towards the stock.
Finally, in February this year, Godrej Properties announced plans to invest Rs 4 bn to acquire around 10% in DB Realty, and set up a Rs 6 bn equal joint platform to develop slum redevelopment projects.
Immediately after the stock plunged over 10% after several analysts raised concerns over the deal. Some analysts said investing in DB Realty exposed Godrej Properties to the risk of capital misallocation. Others raised corporate governance issues.
The company eventually scrapped the deal based on market feedback but the stock has still not recovered ever since.
Is the price of GPL at current levels justified? Is it over valued or undervalued?
In truth, the intrinsic value of a realty stock is very difficult to define. Is it the current market price, the company's land bank, its earnings per share, cash flows, PE ratio or expected future earnings?
But what we do know is there's no denying that real estate stocks could potentially be in high demand. After all, in a housing-deficient country like India, the sector has to constantly grow.
And a bluechip like Godrej Properties, being the largest player pan-India in residential projects should be a good option to add to one's watchlist.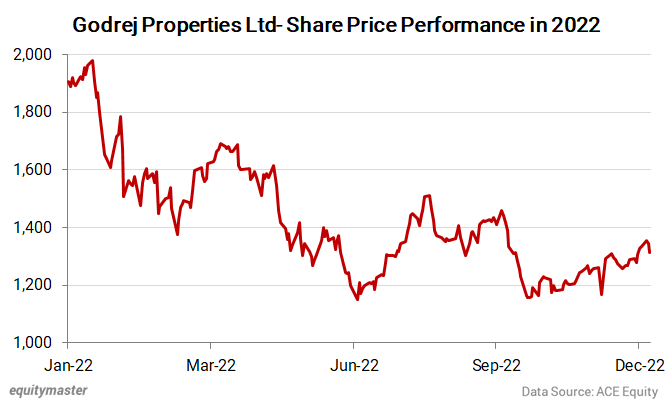 Conclusion
GPL has been aggressively buying land parcels over the last six months, which it had largely refrained from in favour of asset light development models all these years.
The company's management believes the Indian real estate sector is in early stages of a multi-year recovery cycle and the company is looking to cash in on it to enhance margins and improve returns.
Further as per the management, the company has been buying land parcels at an attractive valuation. As the sector continues to strengthen in the next two to three years, real estate prices and volumes are bound to improve.
Hence, buying land parcels aggressively may be a good shift in strategy from its earlier asset light model of business.
The management is on track to meet its' guidance to cross Rs 100 bn in booking value in FY23, a growth of 27% over the previous year.
GPL's Executive Chairman Pirojsha Godrej expects GPL to grow at a similar rate over the next three years as well.
"While the global macroeconomic environment deteriorated in the second quarter, India's economy continues to outperform and residential real estate demand continues to remain robust. At the halfway mark of the financial year, we are confident of achieving our booking value guidance of 10,000 crore for FY 23.

We are witnessing a lot of momentum in business development and hope to deliver GPL's best ever year for new project additions through strong momentum in the second half of the year. This in turn will ensure that the sharp increase in booking value this year is continued in the years ahead." -Mr. Pirojsha Godrej
The robust predictions of India's real estate market could make it one of the desirable sectors to put one's money into for long-term investment purposes.
Housing has a strong aspirational value, and it can also provide a constant income on a rental basis for property owners.
Indian investors are once again recognising the advantages of real estate investing, particularly at a time when cautious investment is still the general consensus.For investors looking at realty stocks, now might be a good time to add Godrej Properties to one's watchlist.
Investment in securities market are subject to market risks. Read all the related documents carefully before investing
Safe Stocks to Ride India's Lithium Megatrend
Lithium is the new oil. It is the key component of electric batteries.
There is a huge demand for electric batteries coming from the EV industry, large data centres, telecom companies, railways, power grid companies, and many other places.
So, in the coming years and decades, we could possibly see a sharp rally in the stocks of electric battery making companies.
If you're an investor, then you simply cannot ignore this opportunity.
Details of our SEBI Research Analyst registration are mentioned on our website - www.equitymaster.com
Disclaimer: This article is for information purposes only. It is not a stock recommendation and should not be treated as such. Learn more about our recommendation services here...
Yazad Pavri
Cool Dad, Biker Boy, Terrible Dancer, Financial writer
I am a Batman fan who also does some financial writing in that order. Traded in my first stock in my pre-teen years, got an IIM tag if that matters, spent 15 years running my own NBFC and now here I am... Writing is my passion. Also, other than writing, I'm completely unemployable!