Indian Stock Market News January 13, 2018
Global Markets Remain Buoyant
After a positive start to 2018, global stock markets sustained the momentum in the week gone by. Majority of the global indices ended in the positive territory. The US markets were the biggest gainers, rising by 2% on the back of a stable economy and prospects of a good earnings season. U.S. retail sales rose 0.4% in December, the fourth straight monthly gain. The consumer-price index rose 0.1% in December.
The euro firmed up, hitting a three-year high against the dollar after German lawmakers reached an agreement on a blueprint for a ruling coalition between Chancellor Angela Merkel's Christian Democrats and the opposing Social Democrats. A weaker greenback is expected to boost the profits of the multinational companies in the US.
Also in Europe, the British pound moved to its highest level since the U.K.'s vote to leave the European Union as reports indicated that Netherlands and Spain want to work toward a "soft" Brexit. Barring Germany, equity markets in France and UK ended on a strong footing.
In the Asian markets, barring the Japanese index, all the others ended in the green in the week gone by. The Indian markets continued to remain on a firm wicket with indices scaling fresh highs. Positive trade in global market and expectation of revival in domestic earnings propelled the markets to record levels. This was the sixth weekly gain in a row for the benchmark.
In the commodity markets, oil prices resumed their climb, trading near 3-year highs, as Trump extended temporary waivers on U.S. sanctions against Iran. In cryptocurrencies, the bitcoin spot price rose 2.7% to $13,640.
Key World Markets During the Week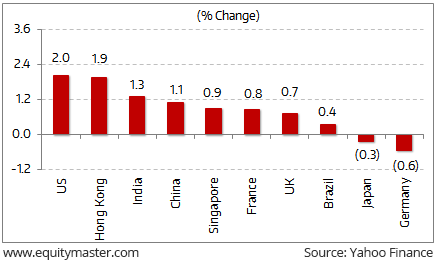 Back home, realty, IT and oil & gas led the rally for the week. Only, telecom, auto and power stocks ended in the red.
BSE Indices During the Week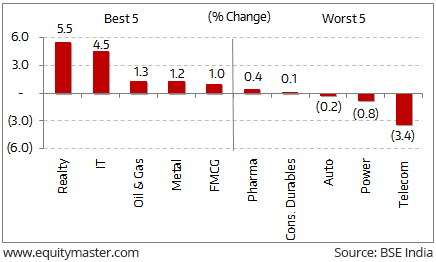 Now let us discuss some key economic and industry developments during the week gone by
India had some reason to cheer after its growth rate in 2018 is projected to hit 7.3% and 7.5% in the next two years, as per the World Bank. As per the report, the country has "enormous growth potential" compared to other emerging economies with the implementation of comprehensive reforms. India is estimated to have grown at 6.7% in 2017 despite initial setbacks from demonetisation and the Goods and Services Tax (GST).
The Indian economy is likely to grow 7.3% in 2018 and then accelerate to 7.5% in the next two years. China grew at 6.8% in 2017, 0.1% more than that of India, while in 2018, its growth rate is projected at 6.4%. And in the next two years, the country's growth rate will drop marginally to 6.3 and 6.2%, respectively.
According to the report, India's future is looking good on several fronts. Strong private consumption and services are expected to continue to support economic activity. Private investment is expected to revive as the corporate sector adjusts to the GST, which over the medium term is expected to benefit economic activity.
India is set to unveil another revamp of the goods and services tax (GST) regime next week aimed at making the compliance simpler.
The upcoming GST Council meeting on January 18 is said to take up changes in the definitions of terms such as supply and handicrafts besides replacing the three forms that need to be submitted with one.
The Council is also expected to drop the requirement for upfront invoice matching.
The above development would be the second significant overhaul of GST after a November rejig that saw the tax rate on 178 household goods being lowered.
Notably, the above developments will lead to easier compliance and also simplify processes, both of which would lead to smooth implementation of GST.
Further bank credit grew in double-digits after a long time. The bank credit was up by 10.65% to Rs 80.96 trillion as on December 22, 2017, albeit on a low base. Meanwhile, the credit-deposit ratio (CD) ratio has been steadily rising over the past one year. This ratio shows how much of the deposits mobilised is extended as credit. This ratio was below 70% in November 2016, when demonetization resulted in a flood of deposits while lending slowed down. In November 2017, the ratio has risen above 73%.
Just Released: Multibagger Stocks Guide
(2018 Edition)
In this report, we reveal four proven strategies to picking multibagger stocks.
Well over a million copies of this report have already been claimed over the years.
Go ahead, grab your copy today. It's Free.
NO-SPAM PLEDGE
- We will NEVER rent, sell, or give away your e-mail address to anyone for any reason. You can unsubscribe from The 5 Minute WrapUp with a few clicks. Please read our
Privacy Policy
&
Terms Of Use
.
However, bad loans continue to remain the Achille's heel for the country's state-run banks. The total gross non-performing assets (NPAs) of the 21 PSB in India stood at Rs 7.3 trillion as on 30 September 2017. Willful defaulters make up a chunk of the bad loans faced by public sector banks (PSBs). Loans attributed to willful defaults were around Rs 1 trillion, making up about 14% of the total NPAs.
Recovery from such accounts are difficult because in many cases the money is siphoned off from the books of the defaulting company and most of them are being fought in courts. Some of the largest cases of willful default are Kingfisher Airlines, Zoom Developers, Winsome Diamonds and Varun Industries.
Of the 9,025 cases of willful defaults in PSU banks, lenders have filed cases against 8,423 for recovery of Rs 953 billion of NPAs. They have also filed 1,968 police complaints in cases of loan amounts totaling 318 billion.
In 6,937 accounts, representing an outstanding of Rs 875 billion, banks have also initiated proceedings to attach and sell assets under the Securitisation and Reconstruction of Financial Assets and Enforcement of Security Interest Act.
If the trend of rising bad loans continues, there's a painful road ahead for the banking sector. The RBI expects the average GNPA ratio to increase to 10.2% by March 2018. It indicated that if macroeconomic conditions worsen, this number could go up.
Although RBI is showing urgency in tackling the NPA issue, a lot more needs to be done by lenders too to stop the rot.
In the telecom sector, the Telecom Commission accepted recommendations by the industry regulator to ease current spectrum holding caps, smoothening the way for consolidation triggered by Reliance Jio Infocomm Ltd's September 2016 launch.
Reportedly, the commission approved raising the overall spectrum cap per operator in a telecom circle, or zone, to 35% from the current limit of 25%. It suggested scrapping the current intra-band cap on operators that limited them to hold only up to 50% spectrum in a single band in a circle.
Further, the commission also accepted the Telecom Regulatory Authority of India's suggestion to set a cap of 50% on the combined spectrum holding in the sub-l GHz bands (700MHz, 800MHz and 900MHz bands) in a circle.
Under current provisions, an operator can hold up to 25% of the total spectrum assigned across all bands in a circle and 50% of total spectrum within a given band in a circle. The country is divided into 23 telecom circles.
As per the reports, beneficiaries of the move will include Mukesh Ambani's Reliance Jio, Anil Ambani's Reliance Communications, Vodafone and Idea Cellular.
Further, the move will let Jio buy Reliance Communications' remaining spectrum in the 850 Mhz band. R-Com has already sold a significant part of its airwaves last month to Jio but needs to sell more to settle its massive Rs 450-billion debt. The increase in overall spectrum cap will facilitate mergers and acquisitions in the sector.
While increase in spectrum caps is good news, it will also mean that telcos may stay clear of any spectrum auctions in the future, the reports noted.
India's top four telecom services providers are vying to sign up more than 150 million mobile users who may be looking to port their numbers, thanks to a rapid consolidation that has seen Reliance Communications and Tata Teleservices exiting the market, and Aircel shrinking operations.
According to data from the Telecom Regulatory Authority of India (TRAI), Tata Teleservices, which is in the midst of a merger with Bharti Airtel, had 40.2 million subscribers at the end of October 2017. Aircel, which shut shop in six circles, had 88.3 million customers and Reliance Communication, which closed its wireless services in November, had 61.2 million users.
In a move to achieve all electric vehicles target by 2030, the State-run Energy Efficiency Services (EESL) is trying to rope in more states and make a pan-India roll out of 9,500 electric vehicles this year. EESL gave out a contract in September 2017 to Tata Motors Ltd and Mahindra and Mahindra Ltd for 10,000 cars in total, kicking off India's electric vehicle procurement programme.
These vehicles will be used to replace petrol and diesel cars used by the government and its agencies, which have around half-a-million cars, of which about a third are leased. The first batch of 500 electric sedans is ready to be delivered to the Central government around January 15 and the supporting charging infrastructure is in place.
EESL is looking to approach more states for the second phase of the electric vehicles, the order for which should arrive by the second half of this year. Currently, electric vehicle sales are low in India, rising 37.5% to 22,000 units in the year ended 31 March 2016 from 16,000 in 2014-15. Only 2,000 of these were cars and other four-wheelers, according to automobile lobby group Society of Indian Automobile Manufacturers (Siam).
The government wants to see 6 million electric and hybrid vehicles on Indian roads by 2020 under the National Electric Mobility Mission Plan 2020. The government is targeting to have all cars propelled by electric engine by 2030. The target is more daunting than in many advanced countries.
According to the industry, the 2030 target would require eight to ten times the global stock of such vehicles. India would need to sell more than 10 million electric cars in 2030, compared to 5,000 electric vehicles India had on the road in 2016.
Another issue is the price of the lithium ion battery, which constitutes 30% to 40% of the cost of the car. For this plan to succeed, the price of the battery needs to come down. However, the auto industry is already facing regulatory headwinds. The shift from BS-IV emission norms to BS-VI has been two years ahead of schedule without an intermediate stage. The government, if it is serious about such ambitious targets, should offer the necessary infrastructure support and do its bit for a smooth transition.
Movers and Shakers During the Week
Source: Equitymaster
Some of the key corporate developments in the week gone by
At a time when rating agencies have flagged concerns over the rising delinquencies in the affordable housing segment, State Bank of India (SBI) on Thursday said it plans to raise Rs 200 billion through long term bonds to fund affordable housing.
Reportedly, a proposal will be submitted to executive committee of central board (ECCB) for approval for issuance of long-term bonds of Rs 200 billion for financing of infrastructure and affordable housing in domestic and overseas market instead of Rs 50 billion intimated earlier.
Earlier this week, SBI had announced plans to raise up to US$2 billion by issuing bonds in US dollar or other convertible currency to fund overseas expansion.
It said the fund-raising will take place through a public offer and/or private placement of senior unsecured notes in US dollar or any other convertible currency during 2017-18 and 2018-19.
Last month, SBI board had approved raising of Rs 80 billion through various sources, including masala bonds, to meet Basel III capital norms. Masala bonds are rupee denominated specialised debt instruments that can be floated in overseas markets only to raise capital. The bank said it has time till March 2018 to raise the funds.
One shall note that, banks in India have to comply with the global capital norms under Basel III by March 2019. Internationally agreed timeframe for the same is January 2019.
Bank of Baroda is seeking to sell unit Nainital Bank as it sheds non-core assets to bolster its balance sheet. Bank of Baroda holds 98.6% stake in the Nainital Bank, which had assets of about Rs 77 billion (US$1.2 billion) as of March end. A decision on the size of the stake to be sold will depend on approvals from the Reserve Bank of India.
A sale would help Bank of Baroda support its capital buffer and clean its balance sheet of soured debt. BoB had a capital adequacy ratio of 11.6% as of 30 September.
Lupin has received final approval from the United States Food & Drug Administration (USFDA) market a oseltamivir phosphate capsules. These tablets are indicated to treat influenza. Oseltamivir phosphate capsules are a generic version of Hoffman-La Roche Inc's Tamiflu capsules.
As per IMS MAT October 2017 data, the capsules clocked annual sales of around US$ 467.8 million in the US market.
Orchid Pharma received the Establishment Inspection Report (EIR) from US Food and Drug Administration (USFDA). Reportedly, USFDA successfully completed inspection for the Post-Marketing Adverse Drug Experience reporting inspection (PADE) conducted in Tamil Nadu, India. The facility was inspected by USFDA in the month of June 2017.
The US Food and Drug Administration is expected to begin inspection of Sun Pharma's manufacturing facility at Halol in the second week of February. The much-awaited inspection is critical as the facility produces multiple medicines from tablets to ointments and injectables.
Following an inspection in the last week of November 2016, the Halol site was issued nine observations for deviations from standard manufacturing quality and procedure norms as spelled out by the US agency.
Earlier in September 2014, the Halol site came under the lens, receiving as many as 23 observations from the US agency. The inspection culminated into a warning letter fifteen months on in December 2015.
Consequently, the long delay on finding a resolution for the Halol site has consecutively impacted Sun Pharma's financial performance, aggravated further by a sharp drop in prices of key products that are sold in the US. When fully operational, the Halol site had contributed as much as 15% of Sun Pharma's US revenues.
Tata Motors announced that despite tough conditions in some markets, Jaguar Land Rover achieved record global sales in 2017 with retails of 621,109 vehicles, up 6.5% on the prior year.
Retail sales for the month of December were 55,697, up 0.6% and for the quarter were 154,447 vehicles, up 3.5%. Further, retail sales in December were up in Overseas markets (19%) and in China (12.6%) but down in the UK (15.8%), US (9.2%) and Europe (4.6%), reflecting weaker market conditions in the UK and to a lesser extent the US.
Jaguar retail sales were 15,079 vehicles in December, down 7.8% compared to December 2016 as solid sales of the long wheel base Jaguar XFL in China and the introduction of the E-PACE were more than offset by softer sales of XE and XJ.
Land Rover retailed 40,618 vehicles in December 2017, up 4.1% compared to December 2016, led by the introduction of the Range Rover Velar and the sales ramp up of the all new Discovery. Going forward, the company expects going to get tough in UK due to weak consumer confidence and diesel tax.
Jindal Steel & Power's chairman said that the company will raise Rs 10 billion through qualified institutional placement (QIP) route in February. JSPL also plans to raise up to Rs 20 billion by listing its Oman business on foreign exchange.
As per the reports, the company has recently finished a round of capital expansion and the overall steel capacity of the group would stand at 11 MT by May 2018. Domestic capacity would reach 9 MT by March end.
India's largest IT firm, Tata Consultancy Services (TCS) bagged a US$ 2 billion deal from US insurance group Transamerica.TCS said that it bagged a multi-year agreement with Transamerica, and that the agreement will bring in more than US$ 2 billion in revenues. TCS added that the agreement is expected to be completed by the second quarter of 2018.
TCS reported a 3.6% fall its net profit to Rs 65.3 billion in the December 2017 quarter. The IT bellwether had posted a net profit of Rs 67.8 billion in the December quarter of the previous financial year.
And here's an update from our friends at Daily Profit Hunter...
The Nifty 50 Index traded on a positive note during the week. On Monday, it opened the session 58 points gap up at a new life-time high and continued to trade higher. It then traded in a narrow range for the next three sessions. Finally, on Friday, the Nifty index opened 32 points gap up and continued the positive momentum to end its weekly session 1.15% up.
Last week, we saw the index finding support from 10,500 level. The level which acted as a strong resistance on the way up will now act as a strong support for the index as per the change of polarity principle.
The index is currently trading in the uncharted territory. How long it maintains the bullish momentum will be an interesting to track in the next few weeks.. You can read the detailed market update here...
Nifty 50 Index Ends at Life-time High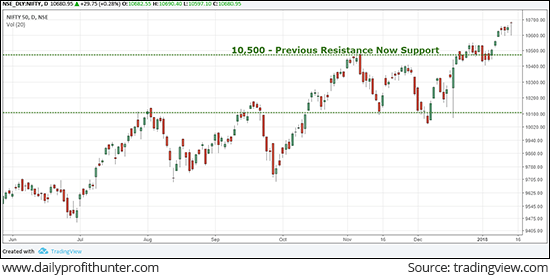 For information on how to pick stocks that have the potential to deliver big returns,
Read the latest Market Commentary
Stock Market Updates
Jan 18, 2019 Closing
The BSE Sensex ended the day up by 13 points, while the NSE Nifty stood flat.
Jan 18, 2019 12:30 pm
The BSE Sensex is trading down by 81 points, while the NSE Nifty is trading down by 26 points.
Jan 18, 2019 11:24 AM
SUN TV share price has plunged by 5% and its current market price is Rs 568. The BSE 500 is down by 0.3%. The top gainers in the BSE 500 Index are SREI INFRA FINANCE (up 3.7%) and HIND. CONSTRUCTION (up 3.6%). The top losers are SUN TV (down 5.2%) and BHARTI AIRTEL (down 5.8%).
Jan 18, 2019 11:16 AM
VODAFONE IDEA share price has plunged by 5% and its current market price is Rs 37. The BSE 500 is down by 0.2%. The top gainers in the BSE 500 Index are SREI INFRA FINANCE (up 4.2%) and HIND. CONSTRUCTION (up 4.1%). The top losers are VODAFONE IDEA (down 5.2%) and BHARTI AIRTEL (down 5.6%).
Jan 18, 2019 11:10 AM
BHARTI AIRTEL share price has plunged by 5% and its current market price is Rs 332. The BSE 500 is down by 0.2%. The top gainers in the BSE 500 Index are SREI INFRA FINANCE (up 4.2%) and HIND. CONSTRUCTION (up 4.1%). The top losers are BHARTI AIRTEL (down 5.1%) and HSIL LTD (down 5.9%).
Jan 18, 2019 10:54 AM
HIND. CONSTRUCTION share price has surged by 7% and its current market price is Rs 14. The BSE REALTY is down by 0.0%. The top gainers in the BSE REALTY Index is HIND. CONSTRUCTION (up 6.6%). The top losers are HOUSING DEV. INFRA (down 0.4%) and INDIABULLS REAL EST (down 0.5%).
View More Indian Share Market News
Most Popular
Jan 9, 2019
For the first time, we have recommended a bluechip stock in Smart Money Secrets.
Jan 11, 2019
The reasons that make these six stocks in Sumeet Nagar's portfolio so compelling
Jan 15, 2019
Unlike his habit of pouring out stock wisdom in his annual letters to shareholders, Buffett spoke of this trend only once every few decades.
Jan 10, 2019
My first trading recommendation for 2019 is a bluechip auto stock. Find out everything about it right away.
Jan 7, 2019
Following a super investor can certainly help build a portfolio that can create significant wealth in the long term.
More