Indian Stock Market News January 30, 2021
The Bulls Have to Fight Hard Going into the Budget
The bears have attacked the Nifty hard causing the January F&O series to end in the red with the loss of 1.10%.
Last week in Momentum Moves, we highlighted the level of 14,200 below which bears would take control.
And here we are at 13,600 levels.
On the derivatives front, Nifty Futures rollover was at 77.28% versus an 75.94% while market wide rollover was at 91.23% versus 91.90%.
The Week Ahead
The January month is known for its tug of wars between the bulls and bears.
On the other hand February has historically been the month of the bulls.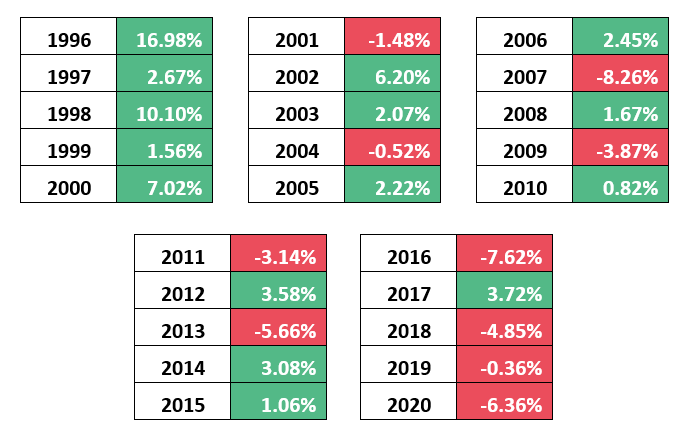 In last 25 years, bulls ruled for 15 years while bears for 10 years. The average gain for 25 years is 0.92%.
After the stellar rally from the March 2020 lows of 7,511 to the all-time high of 14,753.35, the index took a pause in its momentum and fell below 14,000 levels.
Watch Now: 3 Little-known Stocks We are Super Bullish On
For the first-time since September 2020, the index has retraced by more than 7% from its recent highs.
Bulls need to protect the support zone very hard going into Union Budget 2021.
Let's look at the Nifty chart...
Nifty Daily Chart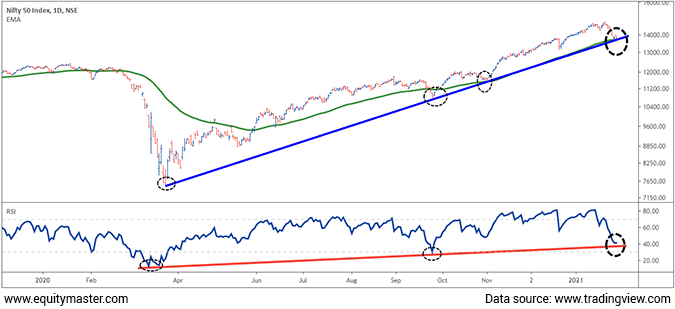 The 10 months rising trendline (blue line) on the chart above has support at 13,500. If we look at the 50 DEMA (Daily Exponential Moving Average), it's placed at 13,710.
Adding to the fuel, RSI (Relative Strength Index) in lower panel of the chart is also at a trendline support. This signals to us that the bulls may protect these levels.
If bulls failed to protect the support zone, we might head for 12,940.
Who can lead the next bullish wave?
In last 10 months of rally, we have witnessed sector rotation that has been fast and furious.
It started with Pharma and FMCG, moved to IT, Auto, and Cement but one leading sector is yet to show its true colours: Bank Nifty.
Bank Nifty to Nifty Ratio Daily Chart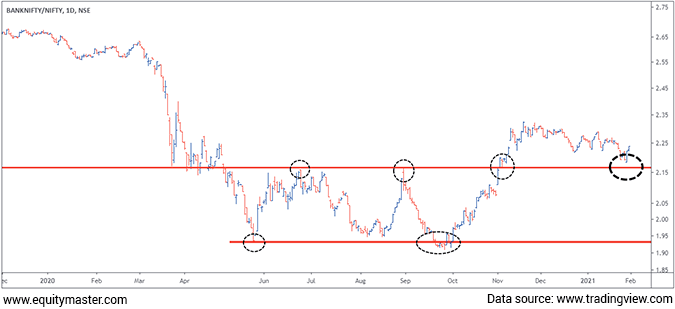 Bank Nifty Outperformed Nifty between September to November 2020 but then lost its momentum.
The recent underperformance has retested the previous breakout levels and I believe it's time for Bank Nifty to come back strongly.
The weightage of Financial Services is around 39% in Nifty which can also hold its support of 13,500.
Also, if we have a look at Bank Nifty chart, it's indicating a bullish trend.
Bank Nifty Daily Chart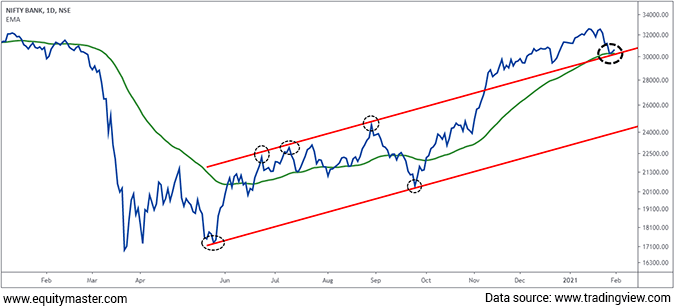 Index was trading in bullish or rising channel between June to November 2020.
The breakout at Rs 27,500 energised the bulls taking it all the way to 32,800 levels.
Bulls have an opportunity to re-enter longs in the current dip to 29,700 levels as it re-tests the breakout levels.
The breakout retest is a better price to enter as the risk-reward is favorable.
The retest is also supported by 50 DEMA at 30,306.
Conclusion:
The bulls need to protect 13,500-13,600 zone in Nifty for next bullish move.
Bank Nifty ratio chart is indicating the next leg may be led by banking stocks.
The Bank Nifty chart is on top of the world as the risk-reward is favorable for bulls.
Volatility is expected on Union Budget Day, but the bulls need to protect the levels mentioned above.
Traders should keep an eye on midcap banking stocks as midcaps are outperforming.
For information on how to pick stocks that have the potential to deliver big returns,
Read the latest Market Commentary
What else is happening in the markets today? Dig in...
Stock Market Updates
Mar 1, 2021 03:34 PM
MRPL share price has hit a 52-week high. It is presently trading at Rs 45. BSE 500 Index is up by 1.7% at 19,713. Within the BSE 500, MRPL (up 8.3%) and RCF (up 20.0%) are among the top gainers, while top losers are HIMADRI SPECIALITY CHEMICAL and BHARTI AIRTEL.
Mar 1, 2021 03:26 PM
KEC INTERNATIONAL share price is trading up by 5% and its current market price is Rs 454. The BSE CAPITAL GOODS is up by 1.6%. The top gainers in the BSE CAPITAL GOODS Index are KEC INTERNATIONAL (up 5.2%) and BHARAT ELECTRONICS (up 6.5%). The top losers are SCHAEFFLER INDIA (down 0.2%) and HINDUSTAN AERO. (down 0.3%).
Mar 1, 2021 03:24 PM
GUJARAT ALKALIES share price is trading up by 10% and its current market price is Rs 346. The BSE 500 is up by 1.6%. The top gainers in the BSE 500 Index are GUJARAT ALKALIES (up 10.2%) and DEEPAK NITRITE (up 14.5%). The top losers are COLGATE and HDFC AMC .
Mar 1, 2021 03:10 PM
DEEPAK NITRITE share price is trading up by 13% and its current market price is Rs 1,553. The BSE 500 is up by 1.4%. The top gainers in the BSE 500 Index are DEEPAK NITRITE (up 12.8%) and JUST DIAL (up 14.2%). The top losers are BAJAJ HOLDINGS & INVESTMENT and CADILA HEALTHCARE .
Mar 1, 2021 03:08 PM
HIMADRI SPECIALITY CHEMICAL share price is trading down by 11% and its current market price is Rs 55. The BSE 500 is up by 1.4%. The top gainers in the BSE 500 Index are RCF (up 20.0%) and MMTC (up 20.0%). The top losers is HIMADRI SPECIALITY CHEMICAL (down 11.3%).
Mar 1, 2021 12:30 pm
BSE Sensex is trading up by 378 points, while the NSE Nifty is trading up by 165 points.
View More Indian Share Market News
Most Popular
Feb 24, 2021
Last time the smallcap index crossed 19k a big correction followed. Here's what makes it different this time.
Feb 16, 2021
A look at what India's top equity mutual funds bought and sold in January 2021.
Feb 16, 2021
Do you enjoy reading Tesla and Bitcoin stories? Here's a not so famous small-cap stock to profit from the rise of EVs.
Feb 25, 2021
In this video, I'll show you how to get started on the path to daily trading profits.
More