Indian Stock Market News February 13, 2021
The Week Gone By
We've seen a stellar rally post budget and then a rangebound week with a slight bullish bias.
Nifty firmly held 15,000 but the bulls seem to be tiring now. The breadth of large-cap stocks is not convincing enough to hold market at higher levels.
Sectors which led in the budget week witnessed profit booking. Overall, we had mixed bag of sectors performing in the range of +3% to -2%.
In this week's video, I elaborate on these points and what you should expect in the coming week.
Nifty at Multiple Technical Resistance levels
Nifty after gaining nearly 9% in the budget week, has seen a pause in momentum above 15,000 levels.
The index has just approached the multiple resistance zone placed at 15,200-15,370 levels.
Nifty Weekly Chart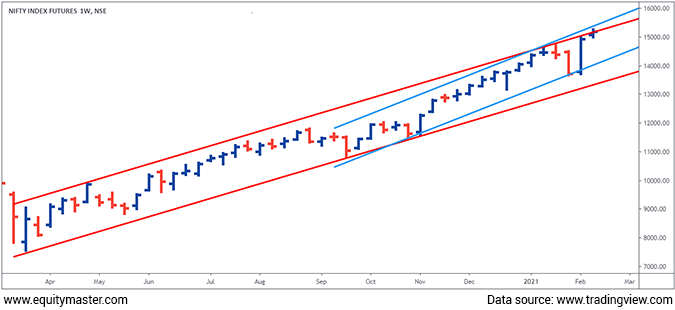 This is a weekly Nifty futures continuous chart. It highlights the point that the index is trading at resistance of multiple rising channels.
The red channel is drawn from the lows of March 2020 which is nearly 11 months old. Index is trading within that channel and currently trading at the upper band.
Similarly, the blue channel connected from the lows of September 2020 has a resistance at 15,370 levels.
Nifty futures have hit all-time high of 15,266 last week which is near the resistance level.
Bears now have an opportunity here to attack bulls as the index is trading at a crucial resistance level.
A fall below 14,938 will confirm the short term downtrend for the market. If that happens next week then a test of 14,400 can be on cards which is the lower line of blue rising channel.
IT Index to Follow the Nasdaq 100
Indian IT index was one of the best outperforming indices in 2020 gaining 55%.
The index has been consolidating since last couple of weeks after a rally of 32% from November 2020 to January 2021.
If we compare Indian IT index with US Nasdaq 100 index which comprises of 50% IT stocks, the move has been similar.
Being a follower of the US markets, I know that the Indian indices move in tandem with global indices. The chart below shows the similarity in the moves of the Nasdaq 100 and Nifty IT index.
NASDAQ 100 Versus Nifty IT Index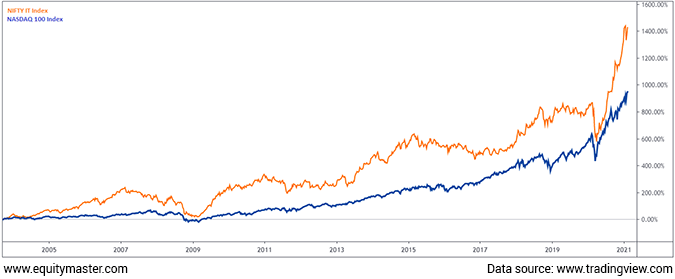 The percentage of rise may vary for IT index compared to Nasdaq, but they follow in step while rising and falling.
You might be wondering why I am discussing the Nasdaq index here which has been one of the biggest outperformers of 2020.
--- Advertisement ---
WATCH: FULL Replay of Our Urgent Broadcast

The full replay of our urgent broadcast on India's Revival is available for a limited time now.

In case you missed watching our broadcast LIVE...

You can see all the important highlights from our broadcast in this replay.

Please note that we may take this replay off the internet any minute.

So it is highly recommended you watch it immediately.

Click Here to Watch the Replay NOW
------------------------------
That is because...
The Nasdaq 100 is at a key reversal level of harmonic trading patterns.
Nasdaq 100 had a stellar run during pandemic as it was the first benchmark index to hit a new all-time high in June 2020.
Most of the global indices followed in its footsteps and caught up with the Nasdaq and are now at par with 100% gains from the lows of March 2020.
NASDAQ 100 Weekly Chart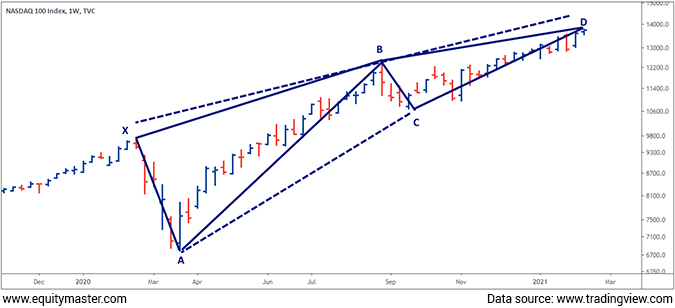 We are witnessing the bearish black swan harmonic pattern. This is reversal pattern.
Harmonic patterns are plotted using various Fibonacci retracements levels. The confluence of multiple Fibonacci levels forms various patterns. These patterns are of a reversal nature and helps traders to identify the probable top and bottom.
BREAKING: It's Good Time to Invest in Gold, but Just Don't Go Blindfolded
The above pattern is a Black Swan pattern which indicates the reversal zone of 13,750-13,967 as crucial reversal level.
The reversal from mentioned levels can take Nasdaq back to 12,200-12,600 levels which will be more than a 10% fall from highs.
Such a fall in the Nasdaq will have impact on Indian IT stocks which seem to be tiring at higher levels.
Nifty IT Chart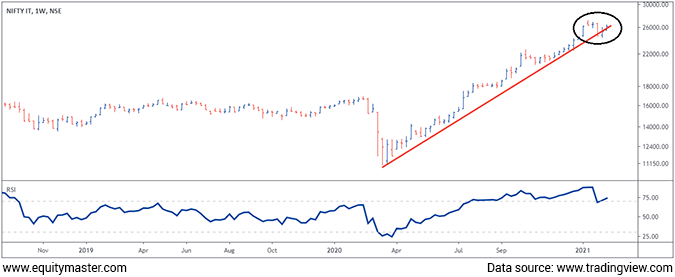 IT index has been struggling to go higher in the last 4-5 weeks.
The dumpling top candlestick pattern which marks the short term is visible on the weekly chart. This pattern will be negated on the crossing of 27,200. Till then, bears will have an upper hand on IT stocks.
The sell-on-rise strategy is good when a dumpling top structure is formed as it gives astonishing reward to traders willing to take the risk.
If in case the Nasdaq reverses in the next 1-2 weeks, IT index is likely to test 23,000-24,000 levels. It's currently trading at 26,300 levels.
Conclusion
Nifty is trading at a resistance of multiple rising channels which is placed 15,200-15,3700. The bulls seem to be tiring and if the index reverses from this resistance zone, a test of 14,000 can be on cards.
As a follower of US markets, I believe the Nifty might reverse if the Nasdaq 100 reverses from the reversal level of the harmonic pattern which is placed at 13,750-13,967.
Nasdaq and Nifty reversing will be double whammy for the IT index which has formed a bearish candlestick pattern.
For information on how to pick stocks that have the potential to deliver big returns,
Read the latest Market Commentary
What else is happening in the markets today? Dig in...
Stock Market Updates
Jun 11, 2021 12:30 pm
BSE Sensex is trading up by 187 points, while the NSE Nifty is trading up by 36 points.
Jun 11, 2021 11:20 AM
CIPLA share price has hit an all time high at Rs 982 (down 0.3%). The BSE HEALTHCARE Index is up by 0.3%. Among the top gainers in the BSE HEALTHCARE Index today are CIPLA (down 0.4%) and SANOFI INDIA (up 0.4%). The top losers include ERIS LIFESCIENCES and IPCA LABS (down 0.1%).
Jun 11, 2021 10:30 AM
MPHASIS share price is trading up by 5% and its current market price is Rs 2,069. The BSE IT is up by 0.8%. The top gainers in the BSE IT Index are MPHASIS (up 5.0%) and ECLERX SERVICES (up 20.0%). The top losers are WIPRO (down 0.4%) and FIRSTSOURCE SOLUTIONS (down 3.6%).
Jun 11, 2021 09:44 AM
WIPRO share price has hit an all time high at Rs 556 (down 0.3%). The BSE IT Index is up by 0.5%. Among the top gainers in the BSE IT Index today are WIPRO (down 1.2%) and L&T INFOTECH (up 1.2%). The top losers include HEXAWARE TECHNOLOGIES and PERSISTENT SYSTEMS (down 0.2%).
Jun 11, 2021 09:44 AM
CIPLA share price has hit an all time high at Rs 979 (up 0.3%). The BSE HEALTHCARE Index is up by 0.3%. Among the top gainers in the BSE HEALTHCARE Index today are CIPLA (up 0.3%) and ABBOTT INDIA (up 0.2%). The top losers include SUN PHARMA ADV. RES. (down 0.1%) and WOCKHARDT (down 0.1%).
Jun 11, 2021 09:30 am
Indian share markets open higher. The BSE Sensex opened up by 248 points, while the Nifty is trading higher by 75 points.
View More Indian Share Market News
Most Popular
Jun 1, 2021
To become a better intraday trader, follow these rules religiously.
Jun 8, 2021
This is why I'm bullish on the hotel and hospitality sector.
May 31, 2021
Is the Indian central bank correct in warning you about a market crash?
Jun 2, 2021
Get ready to profit from a massive stimulus that you've never seen before.
More