Indian Stock Market News February 17, 2018
Global Stock Markets Rebound After Sharp Weekly Drop
Global financial markets rallied this week and brushed aside a rise in global borrowing costs while the dollar hit its lowest level since 2014.
The S&P 500 and the Dow Jones Industrial Average have rallied for six consecutive sessions since falling last week into correction territory as investors took in their stride the possibility of more interest rate hikes from the Federal Reserve. The indices have notched their largest five-day percentage increases since December 2011, up 4.3% and 5.6%, respectively.
European stocks ended the week higher, with most major indices showing strength in a variety of sectors as concerns about rising interest rates and inflation apparently eased. Among country benchmarks, the UK's FTSE was up 1.9% and Germany's DAX added 1.7%, while France's CAC 40 outperformed, up 2.9%.
In Asia, Japan's Nikkei rose 1.6%, with investors relieved to see the government appoint Bank of Japan Governor Haruhiko Kuroda for another term, suggesting the central bank will be in no rush to dial back its massive stimulus programme. Chinese stocks advanced in a holiday-shortened week, paring some of their big declines from the previous week's global sell-off, as the country prepared for the Lunar New Year holiday. China's Shanghai Composite was up 2.2% over the week.
Back home, the BSE Sensex closed nearly 300 points lower on Friday as bank stocks dragged after more banks disclosed their exposure in the PNB fraud case. The PSU Bank index was the biggest underperformer, ending 9% lower during the week. The BSE-Sensex ended the week on a flat note. Meanwhile, the BSE MidCap was down 0.2% and Smallcap fell 0.8% this week.
Key World Markets During the Week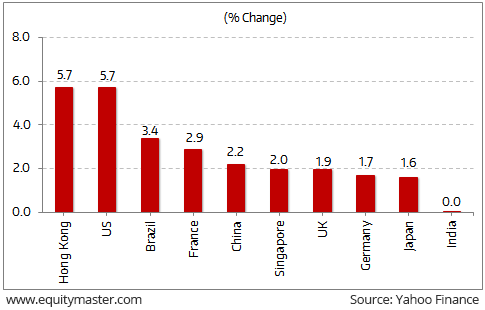 On the sectoral indices front, stocks from Consumer Durables and Banking witnessed selling pressure.
BSE Indices During the Week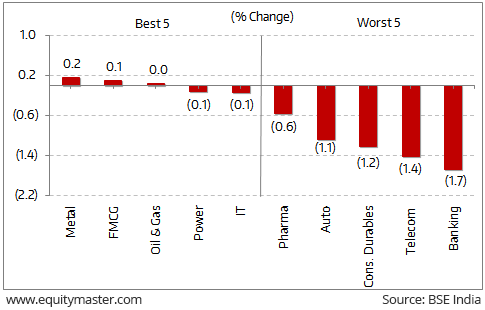 Now let us discuss some key economic and industry developments during the week gone by.
In news about the economy. In a major step, The Reserve Bank of India (RBI) has come out with new rules for dealing with bad loans. Starting February 23, banks must immediately identify the defaults and make disclosures every Friday to the RBI credit registry. The RBI, however, clarified these timelines do not apply to accounts where insolvency action has already been initiated at the insistence of the central bank.
In addition, the central bank withdrew a host of norms such as strategic debt restructuring (SDR) and scheme for sustainable structuring of stressed assets (S4A) among others and made the process time-bound. The Joint Lenders' Forum (JLF) as an institutional mechanism for resolution of stressed accounts also stands discontinued. The new rules stipulate that starting 1 March, lenders must implement a resolution plan within 180 days for accounts of at least Rs 20 billion.
In the other news, robust growth in shipments of chemicals, engineering goods and petroleum products pushed India's exports by 9% to US$24.4 billion in January. However, the gain was nullified by an even stronger growth in imports at 26%, which widened the trade deficit to a three-year high of US$16.3 billion. Imports in January stood at US$40.68 billion.
The last time trade deficit - the difference between imports and exports - was so high was in November 2014 when it touched US$16.9 billion. The deficit in January last year was US$9.9 billion. Notably, exports have been on a positive trajectory since August 2016 to January 2018 with a dip of 1.1% in the month of October 2017. The cumulative value of exports for April-January 2017-18 grew 11.8% to US$247.9 billion against US$221.8 billion in the year-ago period. Imports, on the other hand, grew 22% to US$379 billion from US$310 billion.
Just Released: Multibagger Stocks Guide
(2018 Edition)
In this report, we reveal four proven strategies to picking multibagger stocks.
Well over a million copies of this report have already been claimed over the years.
Go ahead, grab your copy today. It's Free.
NO-SPAM PLEDGE
- We will NEVER rent, sell, or give away your e-mail address to anyone for any reason. You can unsubscribe from The 5 Minute WrapUp with a few clicks. Please read our
Privacy Policy
&
Terms Of Use
.
In other news, as per an article in the Economic Times, India Inc. reported strong earnings growth in the December 2017 quarter after declines in the previous two quarters. As per the news, in the December quarter, net profit of a sample of 2,043 companies (excluding banking and finance companies) rose to a six-quarter high of 27.5% year-on-year (YoY), while net sales rose by 11.5% YoY. In the previous quarter, sales had risen by 8.7%, while net profit had fallen by 1%.
Further, the study showed that performance was driven by a good performance by consumer-focused businesses. On the other hand, sectors like cement, capital goods, IT, pharma, power, public sector banks and private banks with high corporate exposure and telecom continued to show stress.
Going forward, many believe the above momentum to continue supported by improved sales volume, better projected execution, and increasing order books.
While the above growth comes as a positive development, it is mainly amplified on the back of the lower base effect due to demonetisation in the year-ago quarter. So one needs to discount the same and also keep a tab on whether the growth remains consistent in coming quarters.
Movers and shakers during the week
Source: Equitymaster
Some of the key corporate developments in the week gone by.
Punjab National Bank was in focus this week after the bank said that it had detected "fraudulent and unauthorised" transactions worth about US$ 1.8 billion at one of its branches in Mumbai. India's third largest public-sector bank added that the transactions were effected for the benefit of a select few account holders with their apparent connivance. Based on these transactions other banks appear to have advanced money to these customers abroad.
The bank did not name the people involved, but said it had reported the deals to law enforcement agencies and would decide whether it faces any liability arising out of the transactions later. It further said in the bank, these transactions are contingent in nature and liability arising out of these on the bank shall be decided based on the law and genuineness of the underlying transactions. The fraudulent transactions are the equivalent of eight times the lender's 2017 net income of about Rs 13.2 billion.
In news from the automobile sector, as per an article in The Livemint, Mahindra & Mahindra (M&M) on Friday said it will invest up to Rs 1.76 billion in car and bicycle rental firm Zoomcar India or Zoomcar Inc., its US incorporated holding parent company. Mahindra said the company has been keen to invest in the shared mobility space as part of its strategy to participate in sustainable mobility solutions.
In November last year, Mahindra and Zoomcar announced a partnership to introduce electric vehicles in the shared mobility space. Zoomcar recently launched Mahindra e20Plus electric vehicles (EV) across Mysore, Bengaluru and Hyderabad. Going forward, it expects to add over 500 Mahindra EVs across more than 20 cities pan-India, in the first half of 2018. Zoom Car India operates a fleet of over 2,500 vehicles in 27 cities across India. For the fiscal year 2017, it had recorded a revenue of Rs 1.21 billion.
Moving on to the news from FMCG sector. Nestle India Limited on Wednesday posted a 59.6% rise in fourth-quarter net profit, boosted by higher domestic sales. Profit rose to Rs 3.1 billion (US$ 48.7 million) in the quarter ended 31 December, from Rs 1.95 billion a year earlier. Domestic sales rose 10.8% to Rs 24 billion in the quarter and grew about 11.8% on a comparable basis.
The company follows the January-December period as the fiscal year. Nestle India also said that the financial results for the quarter and the year ended 31 December 2017 are not comparable because of the introduction of Goods and Services Tax (GST) with effect from 1 July 2017. For the full year 2017, the company's net profit grew 22.3% to Rs 12.3 billion, from Rs 10 billion in 2016. The company posted total sales of Rs 101.4 billion, up 7.7% compared to the year ago period. The company said the growth of total sales and domestic sales for the full year period were adversely impacted due to lower reported sales on account of the change in the structure of indirect taxes and reduction in realisations to pass on the GST benefits.
As per an article in The Economic Times, Britannia Industries has plans to launch around 50 new products under its existing as well as new categories by the end of the next fiscal as part of efforts to be a total food company. Britannia will launch dairy products and croissants by October-November this year through its joint venture with Greek cakes and confectionery major Chipita.
Besides, the company will continue with its strategy of adding new countries in its list and scout for new markets in Africa, while foraying into Bangladesh and Myanmar. The company is also in the process of setting up a Rs 10 billion plant at Ranjangaon, Pune which would be an integrated food park. The company will also be adding two plants in Guwahati and export-oriented unit at Mundra SEZ which would be commercialised early next year.
Moving on to news from airline stocks. Jet airways reported a 45.9% drop in standalone net profit to Rs 1.65 billion in the December quarter from a year earlier, hit by a sharp jump in fuel expense. Net profit fell despite a 10.43% increase in revenue from operations to Rs 60.86 billion during the third quarter when both domestic and international traffic showed growth. As per an article in The Livemint, the airline's fuel expenses rose nearly 29% to Rs 18.4 billion as an increase in oil prices in world markets hit the aviation sector.
Moving on to the news from IPO space. The Rs 9.8 billion initial public offering (IPO) of Aster DM Healthcare Ltd witnessed an overall subscription of 1.33 times on Thursday, the last day of its share sale.
The portion of shares reserved for institutional investors in the IPO was subscribed 2.1 times, while that set aside for retail and non-institutional investors was subscribed 1.2 times and 0.6 times, respectively.
Aster DM had set a price band of Rs 180-190 per share for the IPO. The IPO comprises a fresh issue of shares of Rs 7.3 billion and an offer for sale of 13.4 million shares by promoter Union Investments Pvt. Ltd.
At the upper end of the price band, the share sale will fetch the promoters about Rs 2.6 billion. Proceeds from the fresh issue will be utilized to repay debt, purchase medical equipment and meet general corporate expenses.
Aster DM is the latest in a series of healthcare firms, including Shalby Ltd, Alkem Laboratories Ltd, Dr Lal PathLabs Ltd, Narayana Hrudayalaya Ltd, Thyrocare Ltd and Eris Lifesciences Ltd, that have tapped the capital markets. To know our view on this IPO, you can read our IPO note on Aster DM Healthcare (requires subscription).
And here's an update from our friends at Daily Profit Hunter...
The Nifty 50 Index traded on a volatile note during the week. On Monday, it opened the session 63 points gap up and continued to trade higher. It opened gap up for the next three sessions, but couldn't sustain up on any of these days and slipped lower. On Friday, the index slipped 93 points to end the weekly session flat.
As mentioned in our previous note, the 10,500 level is an important support level for the stock. This level which acted as a strong resistance on the way up is now acting as a strong support for the index as per the change of polarity principle.
Currently, the index is trading slightly below the 10,500 level. If it sustains below it, we can see the bears dominating in the sessions to come. On the flip side, if it recovers to trade above 10,500, the bulls could be back in action. You can read the detailed market update here...
Nifty 50 Index Trades on a Volatile Note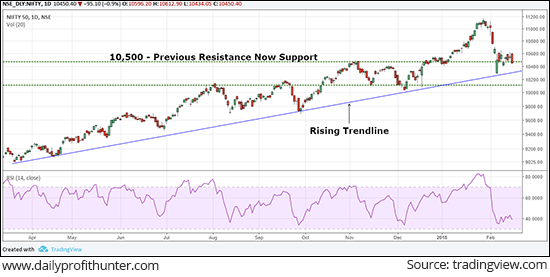 For information on how to pick stocks that have the potential to deliver big returns,