Indian Stock Market News May 29, 2020
SGX Nifty Trades Lower, Patanjali Ayurved's NCD, Sun Pharma Q4 Results, and Top Cues in Focus Today
Indian share markets ended on a strong note yesterday.
Benchmark indices edged higher tracking mixed cues from global markets, backed by buying pressure in banking and finance stocks.
At the closing bell yesterday, the BSE Sensex stood higher by 595 points (up 1.9%) and the NSE Nifty closed higher by 175 points (up 1.9%).
The BSE Mid Cap index and the BSE Small Cap index ended up by 1.3% and 1.4%, respectively.
SGX Nifty is currently trading down by 45 points, or 0.47% lower at 9,415 levels. Indian share markets are headed for a negative start today following the negative trend on SGX Nifty.
On the sectoral front, gains were largely seen in the capital goods sector, automobile sector and banking sector.
European share markets rose for the fourth straight session yesterday as businesses returning to work and a 750 billion euro EU stimulus plan outweighed rising US-China tensions.
--- Advertisement ---
Our Top Recommendation for 2020

What makes our top recommendation for 2020 an opportunity one cannot afford to  miss?

It has the potential to be extremely lucrative. And yet it's relatively safe.

And today, you have the opportunity to get in on it.

Go ahead, access full details of our top recommendation for 2020 here...
------------------------------
Note that stock markets around the world have witnessed one of the most volatile phases in 2020 so far.
One month we see a sharp decline followed by a sharp up move the next month.
One day we hear positive news of a vaccine for the virus. Another day, a WHO scientist says we might have to live with this virus for years.
Naturally, investors are confused as to what they should do? Buy, hold or sell their stocks.
In the video below, Girish Shetty, Research Analyst at Equitymaster, explains the current scenario and what are the type of stocks investors should buy, hold or sell in the current crisis.
Tune in to find out more...
Top Stocks in Focus Today
Eicher Motors share price will be in focus today.
Shares of the company witnessed buying interest for the third straight day yesterday after the company announced stock split plan to make the stock more affordable for small retail investors and increase liquidity.
In an exchange filing on Monday, the company said "the board of directors of the company is scheduled to meet on June 12, 2020, to consider and approve sub-division/split of the equity shares of the face value of Rs 10 each of the Company in such manner as may be determined by the board."
The board will also consider and approve audited standalone and consolidated financial statements for the four-quarter and financial year ended March 31, 2020.
UFlex share price will also be in focus as the company announced that it has developed a Personal Protective Equipment (PPE) Coverall 'Flex Protect' in joint collaboration with lIT-Delhi and INMAS, DRDO, Delhi. The company's management said that amid the rising cases of coronavirus and scarcity of PPE Coverall, UFlex and IIT-Delhi recognized the opportunity towards playing a vital part in battle against Covid-19.
Apart from the above, market participants will be tracking Ceat share price, Lupin share price, and TVS Motor Company share price as these companies announced their March quarter results (Q4FY20).
Patanjali Ayurved's Rs 2.5 Billion NCD Fully Subscribed
Baba Ramdev-led Patanjali Ayurved's Rs 2.5 billion debentures issue got fully subscribed within three minutes of opening yesterday.
The Haridwar-based firm will use this fund for working capital requirement and strengthening of its supply chain network.
Patanjali's non-convertible debentures (NCDs) carry a coupon rate of 10.10% with a tenure of three years. The maturity date is May 28, 2023.
The NCDs would be listed on the stock exchanges and are redeemable.
Managing Director of the company Acharya Balkrishna said it is historic that our maiden issue of Rs 2.5 billion NCD is fully subscribed within 3 minutes of opening of the issue...this shows the excitement and faith of investors.
Sun Pharma March Quarter Results
India's largest drug maker Sun Pharma reported a 17% year-on-year (YoY) decline in its consolidated profit before tax (PBT) at Rs 5.8 billion for the March quarter.
Reportedly, the fall was caused by multiple one-offs and lower other income. The one-offs pertained to an anti-trust litigation, a central excise refund, and a settlement reached by its US subsidiary Dusa Pharmaceuticals.
The company's net profit declined by 37% YoY to Rs 4 billion.
Sun Pharma's consolidated revenue increased 14.7% to Rs 80.8 billion, led by the domestic business, global specialty, and rest-of-the-world business.
The India business reported sales of Rs 23.7 billion, up 8% YoY adjusted for the distribution charge.
The company's US sales declined 15% year-on-year to US$ 375 million, but this was primarily due to a one-time benefit it had received in the corresponding period of last year.
The company's board recommended a dividend of Rs 1 per equity share for the year ended March 31, 2020.
Meanwhile, the company departed from its practice of providing sales guidance for 2020-21 as it expects near-term uncertainties due to covid-19.
In an investor conference call, the company's managing director Dilip Shanghvi said, "I wish we could give you a guidance. However, given the uncertainties in near term, we are breaking from our normal practice. We will revisit this stance in the next quarter."
To know more about the company, you can read Sun Pharma's latest result analysis on our website.
Also, speaking of pharma sector, in December 2019, co-head of Research at Equitymaster, Tanushree Banerjee had predicted that pharma could be the sector to see a big rebound in 2020.
And rightly so, most pharma companies have re-emerged as the safer bets for investors in the ongoing market turmoil. Last month, the Indian rupee touched a new record low of Rs 76.92 against the US dollar. Most pharma companies generate their revenues through exports. Hence, a depreciating rupee is a positive development for them.
As per Tanushree, in a post Covid-19 world, healthcare expenditures globally will see a big rejig.
Tanushree has her eyes on an exciting tech stock. The company in question is developing its medical division. It's focusing on telemedicine, which Tanushree believes will be a huge growth driver in a post Corona world.
Indian Economy to Contract 5% in FY21: S&P Global Ratings
S&P Global Ratings has forecasted Indian economy to contract 5% in the current fiscal as the lockdown imposed to contain Covid-19 pandemic has curtailed economic activity severely.
In a statement, S&P said, "the Covid-19 outbreak in India and two months of lockdown - longer in some areas - have led to a sudden stop in the economy. That means growth will contract sharply this fiscal year. Economic activity will face ongoing disruption over the next year as the country transitions to a post-Covid-19 world."
The rating agency said India has limited room to maneuver on policy support. The Reserve Bank of India (RBI) cut policy rates by 40 basis points in May, meaning the repo rate is 115 basis points lower since February.
It further added that despite the cuts, India banks have been unwilling to extend credit. Small and mid-size enterprises continue to face restricted access to credit markets despite some policy measures aimed at easing financing for the sector.
S&P said the government's stimulus package, with a headline amount of 10% of GDP, has about 1.2% of direct stimulus measures, which is low relative to countries with similar economic impacts from the pandemic.
The remaining 8.8% of the package includes liquidity support measures and credit guarantees that will not directly support growth.
Earlier this week, rating agencies Fitch and CRISIL too had projected a 5% contraction for the Indian economy.
Note that the Indian economy was grappling with its own issues and COVID-19 has made matters worse.
The industry was facing demand problems, due to which business houses were reluctant to undertake capex plans. Unemployment was at its peak and exports were consistently down for several months.
India's GDP growth has been on a consistent decline after peaking out at 7.9% in Q4 of FY18 to 4.7% in Q3 of FY20. This is evident in the chart below:
Declining GDP Growth for India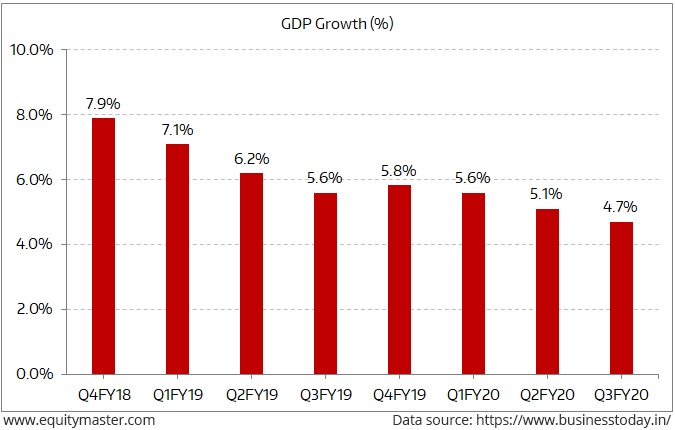 The numbers are expected to have fallen further in Q4FY20 due to Covid 19.
Interestingly, there's a silver lining in all this. India can become an outsourcing hub. The global slowdown will mean that countries like the US, will be looking out for low-cost outsourcing destinations like India.
Further, a lot of global buyers have already shifted to India to source ceramics, home appliances, fashion, and lifestyle goods.
Meanwhile, as per the reports, around a thousand foreign manufacturers want to relocate their production to India, a country they see as an alternative to China.
Here's an excerpt from one of the articles Tanushree Banerjee wrote on the Indian economic recovery:
It's also a fact that India's importance in the global supply chain has never looked better. PM Modi himself referred to that.

Therefore, utilising the stimulus package to tighten India's presence in the global supply chain will be the fastest way to move up the Swoosh index. Any delay or disregard would cost India dearly.

True that Apple, Samsung and several smartphone manufacturers are already considering an expansion of their Indian capacities.

But the land, labour, liquidity, and legal reforms cannot remain on paper if the Make in India dreams are to be realised.

I expect to gather more cues about India's prospects on the Swoosh index over coming months.
Watch this space as Tanushree tracks these Rebirth of India megatrends closely.
And to know what's moving the Indian stock markets today, check out the most recent share market updates here.
For information on how to pick stocks that have the potential to deliver big returns,
What else is happening in the markets today? Dig in...
Stock Market Updates
May 28, 2020 Closing
While the BSE Sensex closed higher by 595 points, NSE Nifty closed higher by 175 points.
May 28, 2020 03:29 PM
SUNTECK REALTY share price has surged by 5% and its current market price is Rs 159. The BSE REALTY is up by 2.2%. The top gainers in the BSE REALTY Index is SUNTECK REALTY (up 5.3%). The top losers is INDIABULLS REAL EST (down 5.0%).
May 28, 2020 03:27 PM
TCI EXPRESS LTD share price has surged by 12% and its current market price is Rs 655. The BSE 500 is up by 1.9%. The top gainers in the BSE 500 Index are TCI EXPRESS LTD (up 12.2%) and BOMBAY BURMAH (up 10.2%). The top losers are IPCA LABS and POWER GRID (down 0.1%).
May 28, 2020 03:23 PM
QUESS CORP. LTD share price has surged by 5% and its current market price is Rs 212. The BSE IT is up by 0.3%. The top gainers in the BSE IT Index is QUESS CORP. LTD (up 5.0%). The top losers are WIPRO (down 1.3%) and NIIT TECHNOLOGIES (down 1.6%).
May 28, 2020 03:11 PM
VOLTAS share price has surged by 5% and its current market price is Rs 490. The BSE CAPITAL GOODS is up by 5.3%. The top gainers in the BSE CAPITAL GOODS Index are VOLTAS (up 5.1%) and SIEMENS (up 5.1%). The top losers is GRAPHITE INDIA (down 0.4%).
May 28, 2020 02:27 PM
NESCO share price has surged by 10% and its current market price is Rs 432. The BSE CAPITAL GOODS is up by 4.6%. The top gainers in the BSE CAPITAL GOODS Index is NESCO (up 10.3%). The top losers are GRAPHITE INDIA (down 0.4%) and NBCC (INDIA) LTD (down 0.6%).
View More Indian Share Market News
Most Popular
May 25, 2020
The RBI governor has cut the repo rate to 4%. What does this mean for options traders? Find out in this video.
May 26, 2020
Six charts showing how Indian financial markets have performed in 2020 so far...
May 19, 2020
This smallcap company needs no stimulus measures to do well in the long term.
May 21, 2020
The coronavirus led uncertainty refuses to go away from the markets. Here's what retail investors should do with their stocks...
More