Indian Stock Market News September 23, 2017
Global Markets Steady Despite North Korea Threat
Global financial markets ended the week on a flat note despite North Korea once again threatening to test a hydrogen bomb in the Pacific Ocean. The US Federal reserve signaled in its meeting on Wednesday last week that it might raise interest rates again later this year. US markets ended higher by 0.4% this week.
European stocks held firm after a survey indicating that the Eurozone economy accelerated at the end of the third quarter. The Purchasing managers' index, an indicator of eurozone's business activity rose to a four month high of 56 points in September.UK and French markets were up by 1.3% this week.
Asian markets struggled after Standard & Poor's downgrade of China's credit rating from A+ to AA-. It indicated at China's rising debt levels posing a financial and economic risk. Chinese markets were down by 0.03% for the week.
Key World Markets During the Week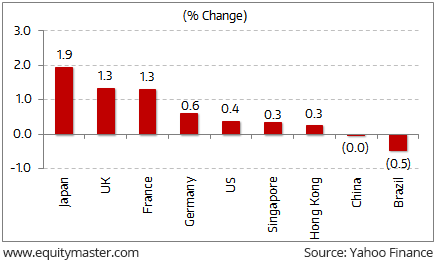 Back home, Indian share markets struggled to cope with dual headwinds of geopolitical tensions and its own economic growth problems. The recent fiscal stimulus proposal by the government threatens to widen the fiscal deficit even further. The past three years has seen a rise in markets on back of fiscal prudence exercised by the current government. But recent efforts to revive the economy struggling with low GDP growth was seen as undoing the good work of the past. Foreign portfolio investors sold stocks worth US $1.1 billion in September after a US $2 billion sell-off in August. The Indian stock market ended the week lower by 1.1%.
BSE Indices During the Week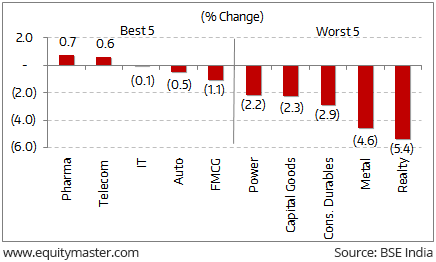 Now let us discuss some key economic and industry developments during the week gone by
In news from the economy. India's current account deficit (CAD) is expected to widen to 1.5% of GDP in 2017, from 0.6% in 2016 according to a report by Japanese financial services major, Nomura.
The report says that while the deficit is set to widen, net capital flows are expected to more than fund this deficit. It added that that the wider current account deficit in the second quarter and still- elevated trade deficit so far in July-August suggest that the current account deficit is set to widen sharply this year.
Nomura expects current account deficit likely at 1.5% of GDP in 2017 but noted that funding will not be a constraint.
The current account deficit increased to US$ 14.3 billion, or 2.4% of gross domestic product (GDP) in the April-June quarter of this year.
On a sequential basis, the CAD widened from US$ 3.4 billion or 0.6% of GDP in the January-March quarter.
According to data from the government, net foreign direct investment stood at US$ 7.2 billion in the reporting quarter almost double from its level in the same period last year.
Net portfolio investment also recorded substantial inflow of US$ 12.5 billion in April-June quarter, primarily in the debt segment, as compared to US$ 2.1 billion in same period last year.
Moving on to news from the automotive sector, the Indian car sales are likely to remain robust, global credit rating agency, Moody's Investors service in its latest report. The report stated that the sales of Indian car industry will grow at 9% in 2017 and 7% next year, aided by Goods and Services tax (GST) regime coupled with new model launches.
The rating agency further said that the new tax regime had prompted a number of automakers to lower prices of their passenger vehicles, which had encouraged dealer to restocking and led to a subsequent boost in sales. Moody's is also expecting India's auto sales to touch 3.6 million-unit mark in 2017.
The report further noted that in key markets like China, Japan and India, the steady global GDP growth will drive a bigger demand for cars, while US car sales may weaken and may hamper growth of auto sector globally.
Just Released: Multibagger Stocks Guide
(2017 Edition)
In this report, we reveal four proven strategies to picking multibagger stocks.
Well over a million copies of this report have already been claimed over the years.
Go ahead, grab your copy today. It's Free.
NO-SPAM PLEDGE
- We will NEVER rent, sell, or give away your e-mail address to anyone for any reason. You can unsubscribe from The 5 Minute WrapUp with a few clicks. Please read our
Privacy Policy
&
Terms Of Use
.
Moody's further predicted that China's auto sales will grow 3% this year and 2% in 2018, while Japanese car sales will grow by a robust 5.6% this year and 2% next year. It also said that automotive demand is poised to bounce back in Brazil, Argentina and Russia as their respective economies emerge from recession.
In news from mining sector, coal import in August declined 24% on a yearly basis as Indian buyers preferred not to buy any fresh fossil fuel and instead wait and watch ahead of an upcoming auction for the power sector. The drop-in coal import comes as the stocks at power plants have thinned due to short supply and higher power generation.
In news from IPO segment, the Rs 84 billion initial public offering (IPO) of SBI Life Insurance Co. Ltd was subscribed 1.16 times on the final day of the share sale. The IPO has a price band of Rs 685-700 per share. At the upper end of this price band, the initial share sale values the firm at Rs 700 billion.
Meanwhile, the IPO of Prataap Snacks opened for subscription yesterday with a price band of Rs 930-938. The IPO, which will see a fresh issue of Rs 2 billion, aims to raise Rs 4.82 billion through the share sale.
Matrimony share price plunged 8.6% to Rs 824. The stock listed on the exchanges on Thursday and closed 8% lower in debut trading.
The market euphoria is something similar to what was seen in 2007-08. When everyone around you is clamoring to get a piece of the IPO pie, it makes sitting tight difficult. And, why should you sit tight when stocks like Avenue Supermart lets you pocket a cool 100% gain from day 1 of the listing?
History suggests that these cases are few and far between. More than 70% of the IPOs listed in 2007 and 2008 are in the red, even today when the Sensex is at an all-time high.
Movers and Shakers During the Week
Source: Equitymaster.com
Some of the key corporate developments in the week gone by
In news from stocks in the pharma sector. Dr Reddy's Lab share price was in focus after the US Food and Drug Administration (USFDA) issued an an Establishment Inspection Report (EIR) for Unit II of the company's formulation facility at Srikakulam Plant (SEZ), Andhra Pradesh.
The company had in May informed stock exchanges that an audit of Unit II of Andhra Pradesh-based Srikakulum Plant (SEZ) by USFDA completed with zero observations so and no form 483 was issued.
As per USFDA, observations are made in Form 483 when investigators feel that conditions or practices in the facility are such that products may become adulterated or render injuries to health.
Earlier this month, the regulatory authority of Germany issued six major observations related to Good Manufacturing Practices (GMP) for Indian drug major Dr Reddy's plant in Vishakapatnam.
Laurus Labs also received an establishment inspection report (EIR) from the USFDA for the company's Finished Dosage Formulations (FDF) and Active Pharmaceuticals Ingredients (API's) manufacturing plant, Unit 2, in Vishakhapatnam, for the inspection completed in May 2017.
Cadila Healthcare Ltd (Zydus Cadila) share price also received final approval from the US drug regulator US Food and Drug Administration (USFDA) to market Modafinil tablets USP. The group now has more than 150 approvals and has so far filed over 300 ANDAs since the commencement of the filing process in FY 2003-04.
Claris Lifesciences has completed the sale of its remaining 20% stake in Otsuka Pharmaceutical India, the joint venture with Otsuka Pharmaceutical Factory, Inc. and Mitsui & Co., to Otsuka Pharmaceutical Factory, Inc. (Japan) for a consideration of US$20 million.
Moving on to news from the FMCG sector, as per an article in The Livemint, Dabur India has tied up with e-commerce major Amazon for an online ayurveda marketplace which will house all ayurvedic brands and products available in the country.
The company, which will also offer consumers an insight into various ayurvedic medicines for treating a variety of ailments, said the idea is to service all health and personal care related needs of patients. The exclusive ayurveda e-marketplace has been hosted by Amazon India and the content is developed by Dabur India.
Meanwhile, Baba Ramdev's Patanjali Ayurved has hired two investment banks to raise structured credit worth Rs 10 billion. In August, Patanjali had announced its intention to borrow to finance its expansion plans.
In recent statements, Patanjali has said that it wants to raise long-term project finance to fund its upcoming food parks. The company, which currently has 50 manufacturing units, wants to scale up production at its existing facilities.
Patanjali seems to have disrupted the FMCG pecking order. The share of Indian households that use the Patanjali brand is estimated at 38%. That's huge for a company barely a decade and a half old. Especially if you consider Patanjali's competition.
In 2016-17, the company posted revenues of more than Rs 100 billion. It has surged past behemoths such as ITC, Nestle India, Britannia Industries, and Dabur to become the second largest pure play FMCG company...second only to HUL.
In news from the automotive sector, Tata Motors is upbeat on the company's commercial vehicles business unit, where it expects to consolidate its market share up from current 43%. The company resulted in a slowdown in the CV business due to demonetisation, the transition from BS III to BS IV norms, and the GST regime, Tata Motors registered strong growth in July and August and hope to grow more than the industry performance during the current fiscal. The company also plans on investing Rs 15 billion per annum in this business.
Moving on to news from oil & gas sector. As per an article in The Economic Times, Indian oil PSU's are planning to acquire up to 20% stake in an oil field belonging to Abu Dhabi National Oil Company in UAE.
According to the Oil India's CMD, 20% stake will be a consortium of BPCL, ONGC Videsh Ltd, Oil India and others.
On OIL's outlook, Oil India said the PSU is planning to spend Rs 40 billion towards capex during the current fiscal. The capex is for developmental drilling and exploratory drilling program and for creating infrastructure.
On the production front, he said this year OIL is expected to produce about 3.35 million tonnes of oil. Last year it achieved 3.28 million tonnes.
And here's an update from our friends at Daily Profit Hunter...
The Nifty 50 index opened on Monday with a gap up and closed at a new life time high of 10,153. It traded on a flattish note for the next two days, but the last two days have been terrible for bulls.
Nifty slipped 100 points from the highs and recovered on Thursday. However, it couldn't hold back Friday when it opened with a downward gap and continued to drag lower throughout the day. It eventually ended yesterday's session with a cut of 157 points. Its largest fall in last ten months.
The index is currently placed near the rising trendline support which it has held since May 2017. The daily RSI is displaying negative divergence with price, which suggests that markets may be running out of steam. However, we will have to wait and watch for a break below the trendline. If that happens then bears will be back in the driving seat for a while.
Indian Indices End on a Weak Note
For information on how to pick stocks that have the potential to deliver big returns,
Read the latest Market Commentary
Stock Market Updates
Jul 16, 2018 10:19 AM
The BSE IT Index has hit an all-time high at 14,733 (up 2.1%). Among the top gainers in the BSE IT Index today are INFOSYS LTD and L&T TECHONOLOGY SERVICES . Meanwhile, the BSE Sensex has surged 0.05% to 36,659.
Jul 16, 2018 10:19 AM
GODREJ CONSUMER share price has hit an all time high at Rs 1,350 (up 2.40%). The BSE FMCG Index is up by 0.43%. Among the top gainers in the BSE FMCG Index today are GODREJ CONSUMER (up 2.40%) and NESTLE (up 0.44%). The top losers include COLGATE (down 0.00%) and HATSUN AGRO PROD. (down 0.03%).
Jul 16, 2018 10:17 AM
INFOSYS LTD share price has hit an all time high at Rs 1,383 (up 5.49%). The BSE IT Index is up by 2.32%. Among the top gainers in the BSE IT Index today are INFOSYS LTD (up 5.49%) and TCS (up 0.39%). The top losers include PERSISTENT SYSTEMS (down 0.09%) and 8K MILES SOFT (down 0.22%).
Jul 16, 2018 10:14 AM
RELIANCE COMMUNICATIONS share price has plunged by 5% and its Current Market Price is Rs 13. The BSE 500 is down by 0.35%. The top gainers in the BSE 500 Index are INFOSYS LTD (up 5.03%) and GODREJ CONSUMER (up 1.83%). The top losers are RELIANCE COMMUNICATIONS (down 5.38%) and DR. REDDYS LAB (down 8.75%).
Jul 16, 2018 Pre-Open
The key developments to watch out for in today's trade.
View More Indian Share Market News
Most Popular
Jul 3, 2018
Left on their own, the banks would possibly have to mark down the value of deposits by 90% to 100%.
Jul 4, 2018
The FDI numbers do not look very impressive once we adjust for repatriations as well as the overall growth in the economy.
Jul 10, 2018
If you're worried about the markets - you are on the wrong track. This is opportunity - put your wealth-building hat on, instead - Richa shows you how...
Jul 6, 2018
ICICI AMC launches an open -ended equity fund following Pharma, Healthcare, Diagnostic and allied theme.
Jul 6, 2018
Buy Companies that can fight all kinds of Pandas and Bears in the long run.
More