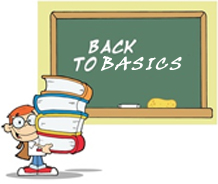 We hope our "Back To Basics" series brings about a change in investors' approach towards investing. The lost art of carefully studying a stock before making the purchase, we believe, needs to make comeback. Understanding the nuances of profit and loss accounts, balance sheets, and cash flow statements has always been pertinent, more now than ever before.

So, let's begin the journey to educate ourselves towards a fruitful investing experience. In this series articles, we will try to bring to you the basics of investing by acting as guideposts to unraveling the mystery behind the financial statements.

While soft qualitative metrics like corporate governance and management quality will continue to be clouded under subjectivity, our effort will be to arm you with a better understanding of the ways companies can be researched.
Get Your Own Copy!
To get a complete copy of our Back to Basics series - Investing ABCs, simply sign up to Equitymaster's free daily newsletter, The 5 Minute WrapUp. No payments are to be made. Happy Reading! Click here to download now...