Richa recommends the best backdoor stocks
A very special offer - Microcap Millionaires
Negative returns from real estate...
A few days ago, Richa shared this chart with me.
The BSE Small-Cap index looks flat compared to the three stocks.
Look at the date on the bottom-left corner. This ten-year chart begins from July 2007. That's before the last big bear market of 2008-09.
The Small-Cap index crashed about 60% in the carnage. Many stocks fell a lot more. But you can't see that in the chart.
Why?
Well, look at the gains that came after it. The losses of 2008 don't even compare to the long-term profits.
Here's a fun fact. The lines in the chart don't start from zero. They start from 100. Look how tiny 100 is compared to 6,000!
Anyone who had invested Rs 100,000 in Canfin Homes in July 2007, would be jumping with joy right now. The investment today would be worth more than Rs 61 lakh! This is the sort of money that can be made in 'backdoor stocks'. Imagine what you can do with Rs 61 lakh.
What are backdoor Stocks?
They are the stocks of companies that benefit indirectly from a big trend.
Think airlines.
If more people travel by air, instead of rail, then the aviation industry is the direct beneficiary. In this case, a direct play would be Jet Airways.
But Jet Airways is a well-known company. Everyone would think about buying the stock. It's like investing through the 'front door'.
This is not a good way to make money in the stock market.
You can't buy what is popular and do well. - Warren Buffett
Did you know that Jet airways stock is down 26% in the last ten years? Rs 100,000 invested in July 2007, is worth only Rs 74,000 today.
This is why Richa doesn't prefer direct plays. She would rather recommend an indirect play like Accelya Kale. It's a software company that provides IT services to the aviation industry.
Accelya is up 1,187% in the last ten years! Rs 100,000 would be worth almost Rs 13 lakh today.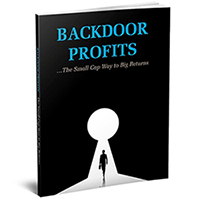 In a special report released just five days ago, Richa recommends three 'backdoor' stocks. The first is an infra stock, the second is from the packaging industry, and the third is from the hotel industry.
None are 'direct plays'.
All three have huge long-term potential, like the chart above.
One Year of Microcap Millionaires... FREE!
We launched Microcap Millionaires in February 2014.
Since then, almost 9 out of 10 recommendations are up. At last count, the total corpus including the fixed income component, was up a 152.4%. The Sensex was up 51.2% during the same time.
Subscribers have already got a chance at gains of 150%, 170%, and even 545%!
This is one of Equitymaster's most expensive services. A one-year subscription would usually cost Rs 100,000.
But there's good news for Research Digest readers. You can claim one year of Microcap Millionaires FREE!
This is a limited period offer. Naturally, we want as many of our readers as possible to benefit.
If you act on this today, you will get a Rs 50,500 discount on the membership fee! That's more than HALF OFF.
But if you act today you will also get a second year of Microcap Millionaires absolutely FREE!
So when you act today, you will enjoy 24-months of uninterrupted access to Microcap Millionaires...
Do not miss out on this rare opportunity.
Negative returns from real estate?
Yes, it's possible.
Not only is it possible, it has already happened!
I found it hard to believe but it's true.
Property prices in Navi Mumbai, Coimbatore, Gandhinagar, Chandigarh, Ranchi and others have gone down over the last one year.
And this is just the tip of the iceberg.
The government's new data on the sector is revealing. But don't expect to read about it in the main stream press.
I didn't. If not for Vivek Kaul, I may not have known that prices have started falling in earnest.
Vivek loves to bust myths with cold hard facts. In the case of real estate, the facts are clear... prices have started to fall.
Read Vivek's excellent analysis here.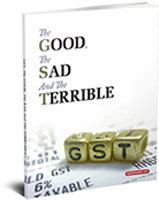 GST: The Good, the Sad and the Terrible
Speaking of Vivek, have you downloaded your free copy of his report on the Goods and Services Tax? If not, I highly recommend that you do.
Vivek's inquiry into the GST shatters the myths that the mainstream media is floating. It's a must read.