Here's Why You Should Allocate Some Portion To Gold ETFs In 2019
Here's Why You Should Allocate Some Portion To Gold ETFs In 2019
Jan 15, 2019
It seems global investors are bearish on gold, except for the Europeans of course.
Is everybody else focusing too much on other asset classes such as the U.S. Dollar, equities, and emerging market junk bonds?
Possibly, yes, but only to be misled by their performance over the last 4-5 years.
According to the World Gold Council, Gold-backed Exchange Traded Funds (ETFs) witnessed a meager 3% growth in their Assets Under Management (AUM) globally in 2018.
Out of major gold markets, North America and Asia witnessed outflows of 1.3% and 2.1% respectively. On the other hand, Europe registered a growth of 10%. Other markets combined together witnessed an outflow of massive 29%.
Sharp drops in many emerging market currencies helped investors generate double-digit returns in their domestic currencies which seem to have triggered profit booking later.
Why is love for gold ebbing?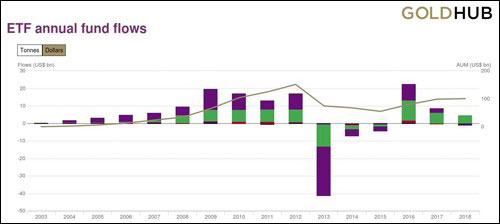 (Source: World Gold Council)
According to the monthly data published by the Association of Mutual Funds in India (AMFI), Indians pulled out Rs 305 crore from gold ETFs. As compared to those in December 2017, gold ETFs collectively lost about 6% of their AUM which stood at Rs 4,571 crore as on December 31, 2018.
Indian investors have been bearish on gold for almost five years now.
Between December 2013 and December 2018 gold, in local currency terms, has generated only 3.1% returns.
--- Advertisement ---


Crucial: These 4 Stocks Could Potentially Shoot Up Soon

Richa Agarwal, the editor of Hidden Treasure has recently released a special report on 4 high-potential small cap stocks that could shoot up in price soon.

With good small cap stocks, all it takes is just one sharp move in the market, and you could be set for years to come. So don't delay.

These 4 stocks may not offer you a second chance…

Get these stocks right now before their prices shoot up.

Click here to learn more before this special opportunity is gone…
------------------------------
Ever since the U.S. Federal Reserve (Fed) started to hike rates, gold turned less lucrative for global investors. Hence by 2018, the Dollar-denominated gold prices dropped nearly 41% from their 2011 peak. Thankfully for Indian investors, the gold has generated 3.1% compounded annualised returns over the last 5 years and 10.3% compounded annualised returns over last 20 years-which isn't bad.
Gold ETFs in India are seeing outflows at a time when Systematic Investment Plans (SIPs) in equity mutual funds are showing incessant inflows, which crossed the Rs 8,000 crore-mark on a monthly basis in December 2018.
This goes to show that investors believe in the prospects of equities, but not in the prospects of gold.
But this is an absurd assumption. Not investing in an asset class just because it has generated lacklustre returns over the last 2-3 years is as bad as investing in an asset class that has generated stupendous returns over the short term.
You tend to make such mistakes only when you ignore your personalised asset allocation plan.
Did that sound cliche and repetitive?
But how can our response be any different if you aren't learning, not only from others' mistakes and from your own?
We believe good investments are essentially dull and boring.
Since many of you are upset about how your investment in gold has fared in the recent past. Perhaps, you have forgotten what it has done for you in the last 20 years.
In 2011, when the chorus for gold was growing louder, everybody was fixated on the horrendous memories of the 2008-global financial crisis. Have you ever thought why you couldn't benefit from the dream-run in gold that started in 2008 and ended in 2013?
Is it possible that's because you entered at a wrong time and then struggled to find a suitable exit?
You must be an omniscient to time every bull and bear phase flawlessly.
[Read: Why Dumping Gold ETFs Now Is Stupid! ]
But how about having some exposure to gold and some to equity always, irrespective whether their outlook is bullish or bearish?
As you might know, these two asset classes move in the opposite direction investing in them simultaneously should pay off.
Some exposure might sound like a loose term to you.
You can replace some with any number (in per cent) depending on your risk appetite.
You could allocate more funds toward equities if these conditions permit you to take risk:
your risk appetite is very high;
the state of your present financial circumstances;
status of your distant financial goals.
For example, if you are young and have a huge risk appetite, your equity exposure can be as high as 75%-80% and your exposure to gold can be as low as 5%.
On the contrary, if you are in your late 40s, you might want to increase your investments in gold up to 15% of your portfolio and cap your equity exposure to 50%.
You can work out any combination that's aligned with your financial goals.
Do you still have apprehensions of investing in gold?
Noteworthy factors that might drive gold in the foreseeable future:
Federal Reserve may stop raising interest rates in the U.S. and end quantitative tightening.
Brexit might create turbulence in the Europe and its contagion may spread fast to capital markets, triggering a mad rush to safe haven asset - gold.
Tariff wars could exacerbate in 2019 and the U.S. and China may be unable to find common ground.

Needless to say these are just possibilities, not necessarily predictions. However if any of these factors emerge, gold would perform better.

Should all three come forth concurrently? Well, safe haven bugs might suddenly taste like manna from heaven.

Want to correct your mistake of ignoring gold? Learn about how to invest in gold the smart way.

[Read: 4 Smart Ways To Invest in Gold ]




PS: PersonalFN offers you a great opportunity if you're looking for "high investment gains at relatively moderate risk". PersonalFN's premium report: The Strategic Funds Portfolio For 2025 (2019 Edition). In this report, PersonalFN will provide you with a ready-made portfolio of its top equity mutual funds schemes for 2025 that have the ability to generate lucrative returns over the long term. Subscribe now!

Author: PersonalFN Content & Research Team

This article first appeared on PersonalFN here.

PersonalFN is a Mumbai based personal finance firm offering Financial Planning and Mutual Fund Research services.

Disclaimer:

The views mentioned above are of the author only. Data and charts, if used, in the article have been sourced from available information and have not been authenticated by any statutory authority. The author and Equitymaster do not claim it to be accurate nor accept any responsibility for the same. The views constitute only the opinions and do not constitute any guidelines or recommendation on any course of action to be followed by the reader. Please read the detailed Terms of Use of the web site.

More Views on News

Apr 13, 2021

PersonalFN explains the outlook for Banking & PSU Debt funds and the best Banking & PSU Debt funds that can be considered for investment in 2021.

Apr 13, 2021

Ajit Dayal on how India's vaccine strategy will impact the markets.

Apr 13, 2021

In this video, I'll you what I think is the real reason behind yesterday's market crash.

Apr 13, 2021

Price is the only due diligence one might require to buy this business.

Apr 12, 2021

PersonalFN explains whether the second wave of COVID-19 infections impact your mutual fund investments.

More Views on News

Most Popular

Mar 31, 2021

A tiny chemical company, started in the Licence Raj era, is a great example of a new wealth creating opportunity.

Mar 31, 2021

In this video I'll show you exactly how I go about picking stocks for trading.

Apr 6, 2021

Rather than predicting the market, successful investing is more about preparing well and placing your bets accordingly.

Apr 1, 2021

What should you do if the market falls? In this video, I'll tell you what I will do.

Apr 13, 2021

Ajit Dayal on how India's vaccine strategy will impact the markets.

More