Mirae Asset Emerging Bluechip Fund: Maintaining Growth through Diversification
Mirae Asset Emerging Bluechip Fund: Maintaining Growth through Diversification
Jan 15, 2021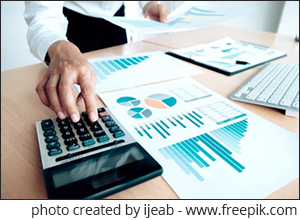 The year 2021 has begun on a high note on the news of COVID-19 vaccine rollout. The event holds great importance as it is expected to bring the sagging economy back on the growth track. As a result, the equity market has soared to all-time highs.
However, with looming challenges of COVID-19 and the economic uncertainty, correction from the current levels cannot be ruled out, because valuation-wise markets have run much ahead of fundamentals.
If you are planning to invest in equity mutual funds buoyed by the recent rally, ensure that you set realistic post-tax return expectations from your investment portfolio. More importantly, stick to your personalized asset allocation plan.
Large and Mid Cap Funds can help you maintain portfolio stability with significant exposure to largecaps, while keeping a focus on wealth creation with a sizable exposure to midcaps, as well as small allocation to small caps.
Mirae Asset Emerging Bluechip Fund (MAEBF) is one such large and mid cap fund, that has been clearly distinct from its peers and has rewarded investors well, without taking unnecessary risk.
Watch Now: 3 Little-known Stocks We are Super Bullish On
Graph 1: Growth of Rs 10,000 if invested in Mirae Asset Emerging Bluechip Fund 5 years ago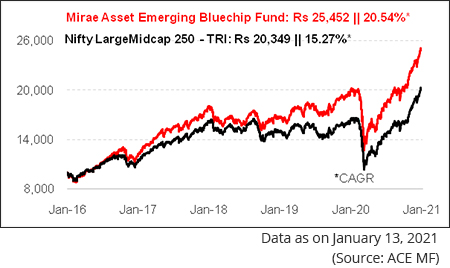 MAEBF is a top performing fund in the large and midcap space that has witnessed a massive growth in its asset size. In order to put a check on capacity, the fund house suspended lump sum investments in the scheme and restricted fresh investments via SIP. The fund has built a superior track record in a short span of time and has been successful in delivering superior returns across market cycles. The superior investment process and stock picking ability has driven the performance of the fund. An investment of Rs 10,000 in the fund five years ago would now have appreciated to Rs 25,452, thus generating an alpha of around 5 percentage point compound annual growth rate (CAGR) over the benchmark. In the recent corrective phase, it has been among the top performers. The well-constructed portfolio has ensured that risk is kept well within limits, without compromising on long-term wealth creation.
Table: Mirae Asset Emerging Bluechip Fund's performance vis-a-vis category peers
Returns are point to point and in %, calculated using Direct Plan - Growth option. Those depicted over 1-Yr are compounded annualized
Data as on January 13, 2021
(Source: ACE MF)
*Please note, this table only represents the best performing funds based solely on past returns and is NOT a recommendation. Mutual Fund investments are subject to market risks. Read all scheme related documents carefully. Past performance is not an indicator for future returns. The percentage returns shown are only for indicative purposes.
MAEBF has constantly made it to the list of top quartile performers. Its outperformance and the ability to generate alpha is clearly visible across time periods considered. The fund has managed to outperform the benchmark as well as most of its peers by a significant margin of around 5-7 percentage points CAGR. MAEBF has not only managed to deliver massive returns in the bull phases, but has considerably restricted losses in the bear phases.
In terms of MAEBF's volatility (standard deviation) is competitive to its peers and the benchmark, but it more than compensates its investors in the form of superior risk-adjusted returns. The Sharpe ratio of the fund is commendable, and is the highest in the category.
Investment strategy of Mirae Asset Emerging Bluechip Fund
In the past, MAEBF was a mid-cap biased fund which held significant allocation to large cap stocks. It is now mandated to minimum invest 35% to 65% of its assets each in stocks of midcap companies largecap companies. While under the new mandate MAEBF started with 50:50 allocations to largecaps and midcap stocks, its allocation has gradually inclined more towards large caps (about 55%). The funds flexibility to invest in larger midcap stocks and large caps provides additional stability to the fund, during extreme market conditions.
While picking stocks for the portfolio, MAEBF aims to hold a well-diversified portfolio without having any bias towards any particular theme, sector or style. Following a mix of the top-down and bottom-up approach to investing, the fund management broadly analyses the macro economy and invest in stocks of high-growth companies likely to benefit from macroeconomic, sectoral and industry trends.
The fund manager looks for long-term investment opportunities in stocks of high quality businesses that are available at reasonable prices and follows buy and hold investment strategy until its full potential is derived. Notably, the turnover ratio of the fund has ranged between 65% and 100%.
Graph 2: Top portfolio holdings in Mirae Asset Emerging Bluechip Fund

As on December 31, 2020, MAEBF held a well-diversified portfolio of around 60 stocks spread across market capitalization, with some largecap names like HDFC Bank, ICICI Bank, Infosys, Axis Bank, and Bharti Airtel etc. appearing among its top holdings. Some of these stocks have been in the portfolio for well over 2 years now. The top 10 stocks in the portfolio together accounted for around 40.6% of the total assets. The fund's portfolio is not skewed to a set of stocks.
Largecap names like Infosys, Tata Consumer Products, Ipca Laboratories, Reliance Industries, HDFC Bank, TCS contributed majorly to the fund's gain in the last one year, while it also benefitted from midcap names like Mindtree, Balkrishna Industries, Ajanta Pharma, Dr Lal Pathlabs, SRF, Natco Pharma, Voltas, etc.
While MAEBF's portfolio is majorly allocated towards cyclicals, it is fairly spread across defensive and sensitive sectors as well. Banks dominate MAEBF's portfolio with an allocation of 21.5% along with Finance stocks that account for another 11.1% in the portfolio. Consumption, Infotech, Pharma, Petroleum, Auto, Engineering, and Consumer Durables are the other major sectors in the fund's portfolio with an allocation in the range of 4-10%.
Suitability
MAEBF is a process driven fund that has been agile enough to take advantage of various investment opportunities present in the midcap as well as large cap segment. The fund has a stable fund manager who has been at the helm since the inception of the fund.
MAEBF aims to invest in growth-oriented stocks but at right valuations. The fund adopts well-balanced approach to investing and avoids resorting to aggressive calls. It holds well-balanced allocation across market caps i.e. large-caps and mid-caps along with some allocation to small caps. The flexibility to shift allocation across market caps helps the fund tide over volatile market conditions, and even benefit during broader market rallies.
The aggressive investment mandate along with higher allocation to midcaps makes MAEBF suitable for investors having higher risk appetite and a long term investment horizon.
PS: PersonalFN has completed 20 years of unbiased research service and we want to celebrate it with our loyal readers and subscribers like yourself. Get PersonalFN's premium mutual fund research service 'FundSelect Plus' in this exclusive anniversary offer. As a FundSelect Plus subscriber, you will get access to 7 ready-to-invest premium mutual fund solutions with high performance potential. Subscribe now!
Note: This write up is for information purpose and does not constitute any kind of investment advice or a recommendation to Buy / Hold / Sell a fund. Returns mentioned herein are in no way a guarantee or promise of future returns. As an investor, you need to pick the right fund to meet your financial goals. If you are not sure about your risk appetite, do consult your investment consultant/advisor. Mutual Fund Investments are subject to market risks, read all scheme related documents carefully.
Author: Divya Grover
This article first appeared on PersonalFN here.
Join Now: PersonalFN is now on Telegram. Join FREE Today to get 'Daily Wealth Letter' and Exclusive Updates on Mutual Funds
PersonalFN is a Mumbai based personal finance firm offering Financial Planning and Mutual Fund Research services.
Disclaimer:
The views mentioned above are of the author only. Data and charts, if used, in the article have been sourced from available information and have not been authenticated by any statutory authority. The author and Equitymaster do not claim it to be accurate nor accept any responsibility for the same. The views constitute only the opinions and do not constitute any guidelines or recommendation on any course of action to be followed by the reader. Please read the detailed Terms of Use of the web site.
More Views on News
Mar 1, 2021
The month of March is usually difficult for traders. This time it will be even more so. Find out why in this video.
Mar 1, 2021
PersonalFN analyses the features of UTI Nifty200 Momentum 30 Index Fund and explains the potential this fund has to offer to its investors.
Mar 1, 2021
How can someone witness a 2,000 point decline on the Sensex and still stay perfectly calm.
Feb 26, 2021
PersonalFN analyses the features of ITI Mid-Cap Fund and explains the potential this fund has to offer to its investors.
Feb 26, 2021
In today's video, I'll discuss why thew stock market went up on Wednesday, 24 February 2021, when the NSE had to shut trading due to a technical glitch.
More Views on News
Most Popular
Feb 24, 2021
Last time the smallcap index crossed 19k a big correction followed. Here's what makes it different this time.
Feb 25, 2021
In this video, I'll show you how to get started on the path to daily trading profits.
Feb 19, 2021
In this episode, ace trader Brijesh Bhatia talks to us about the best investments of 2021, his profitable trading system, and much more.
Feb 23, 2021
An Indian company founded three decades ago in a garage caught my attention...
More