Can 'Tata Balanced Advantage Fund' Bring Strategic Advantage To Your Portfolio?
Can 'Tata Balanced Advantage Fund' Bring Strategic Advantage To Your Portfolio?
Jan 21, 2019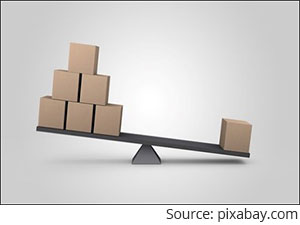 Since the re-categorisation of mutual funds, several fund houses are vying to fill in their vacant categories and lure investors for fresh investment. One such newly formed category is Balanced Advantage Fund, which was originally a subset of balanced funds.
While both equity and debt markets have been going through extreme turbulence, many fund houses have sought balanced advantage funds as a resolute to combat this volatility and capitalise on the gains.
Tata Mutual fund is no different. It is out with a Tata Balanced Advantage Fund (TBAF) an open-ended balanced advantage / dynamic asset allocation fund that is a sub-category of hybrid funds.
The balanced advantage / dynamic asset allocation fund mitigates the risk by dynamically managing the allocation between equity and debt as per the prevailing market valuation and sentiment in each asset class. It aims to make optimum use of equity and debt to give the best of both worlds.
[Read: Why Comparing Returns to Risk Is More Meaningful!]
TBAF has the flexibility to vary its equity exposure between 0%-100%. But under normal circumstances it aims to allocate its assets between 65% to 100% in equities, equity related instruments and equity derivatives across market cap (including unhedged and hedged equity). Plus, it will have exposure to debt instruments to counter the downside risk in equity markets.
--- Advertisement ---


WARNING: Not Reading This Message Could Be the BIGGEST Mistake of Your Life!

As a father of two daughters, the ONE thing I want the most for them is to live the rest of their lives without ever worrying about money. This is something I want for you too.

And the once-in-2000 years phenomenon – which we call "Rebirth of India" – holds the potential to make financial security a reality for you and me…and for every Indian.

That's why I'm hosting our first-ever MEGA "REBIRTH OF INDIA" SUMMIT at 5pm on 31st January to tell you all about this rare phenomenon.

And access to this summit is FREE for EVERY INDIAN CITIZEN.

So hurry! All you need to do is register right away.

Be a part of this MEGA summit that could transform many lives INCLUDING YOURS…
------------------------------
In terms of risk-return matrix, this scheme is placed at moderate-risk, moderate-return investment proposition.
Graph 1: Risk-Return Matrix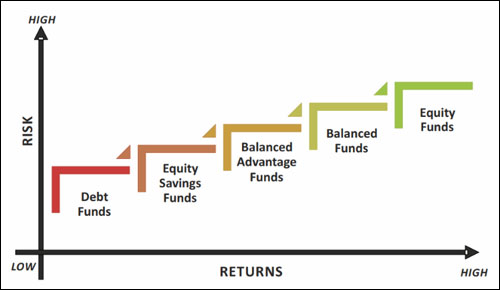 (Source: Tata Balanced Advantage Fund Brochure)
Table 1: NFO Details
Type
An open-ended dynamic equity scheme.
Category
Balanced Advantage
Investment Objective
To provide capital appreciation and income distribution to the investors by using equity derivatives strategies, arbitrage opportunities and pure equity investments.

However, there is no assurance or guarantee that the investment objective of the Scheme will be achieved. The scheme does not assure or guarantee any returns.
Min Investment
Rs 5,000 and in multiples of Re 1 thereafter
Face Value
Rs 10 per unit
Plans
Options

Growth (default option)
Dividend

Payout
Re-investment (default)

Entry Load
Nil
Exit Load
1% of the applicable NAV, if redeemed on or before the expiry of 365 days from the date of allotment.
Fund Manager
Mr Rahul Singh and Mr Sonam Udasi (Unhedged Equity), Mr Sailesh Jain (Hedged Equity) and Mr Akhil Mittal (Fixed Income)
Benchmark Index
CRISIL Hybrid 35+65 - Aggressive Index
Issue Opens
9 January, 2019
Issue Closes
23 January, 2019
(Source: Scheme Information Document)
How will the scheme allocate its assets?
Under normal circumstances, it is anticipated that the asset allocation of TBAF will be as follows:
Table 2: TBAF's Asset Allocation
Instruments
Indicative Allocation (% of Total Assets)
Risk Profile
Minimum
Maximum
(Low/ Medium/ High)
Equity and Equity related instruments and Equity Derivatives #
65
100
High
Debt (including money market instruments, securitized debt & units of debt and liquid category schemes) & Cash
0
35
Low to Medium
# Unhedged equity exposure shall be limited to up to 80% of the portfolio value. Unhedged equity exposure means exposure to equity shares alone without a corresponding equity derivative exposure. The margin money requirement for the purposes of derivative exposure may be held in the form of Term Deposit.
Not more than 25% of the net assets of the scheme shall be deployed in securities lending. The Scheme would limit its exposure, with regards to securities lending, for a single intermediary, to the extent of 5% of the total net assets of the scheme at the time of lending. The Scheme does not seek to participate in repo/reverse repo in corporate debt securities. The Scheme does not seek to participate in credit default swaps.
(Source: Scheme Information Document)
What will be the Investment Strategy?
Tata Balanced Advantage Fund aims to generate medium to long term capital growth by investing in a diversified portfolio consisting of equity and equity related instruments across market capitalization. To achieve the investment objective of the Scheme the fund manager will invest into opportunities available across the market capitalization and would bank upon on the gains with active fund management.
As per the offer document, TBAF aims to invest in companies based on various criteria including sound professional management, track record, industry scenario, growth prospectus, the liquidity of the securities, etc. The Scheme will emphasize on well managed, good quality companies with above-average growth prospects. It will use derivatives to hedge the downside risk of the portfolio.
The derivatives may also be used for generating returns through arbitrage opportunities. The Scheme may take a call on the hedge ratio after weighing various factors including but not limited to, the following:
The earnings growth of the stock
The quantitative valuation parameters in the historical as well global context:



a. P/E Ratio
b. P/BV Ratio
c. Price / Earnings Growth Ratio
d. Price / Free Cash Flow
e. Price / Cash EPS

Expected Fund Flow
Market Sentiment and outlook
TBAF will seek to reduce the volatility of returns by actively using derivatives as a hedge. The derivatives may also be used for generating returns through arbitrage opportunities. This may make the scheme forgo some upside but shall protect the downside.
In short, TBAF implements a smart proprietary asset allocation model for allocating assets between equity and debt dynamically.
Figure 1: Asset Allocation Approach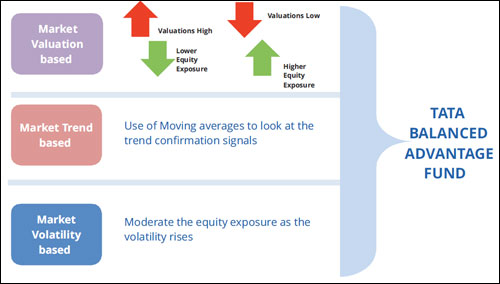 (Source: Tata Balanced Advantage Fund Presentation)
The model permits 10% variation to the basic PE based equity allocation; driven by:
Correlation to select global markets related to the Indian equities
Implied volumes (to identify extremes - fear vs. complacency)
Momentum indicators (price-based indicators to avoid early entry/exits in a directional market)
Who will manage the Tata Balanced Advantage Fund?
Tata Balanced Advantage fund will be managed by Mr Rahul Singh, Mr Sonam Udasi, Mr Shailesh Jain and Mr Akhil Mittal.
Mr Rahul Singh is the lead fund manager to oversee the unhedged equity portfolio of the scheme at the fund house along with Mr Sonam Udasi. He holds a Bachelor's degree in Engineering (B.E.) and has a PGDM to his credit. He is Chief Investment Officer - Equities at Tata Asset Management Ltd. Prior to it, he has worked with Ampersand Capital Investment Advisors LLP as Managing Partner for 3 years. Besides that, for 5 years he worked as a Managing Director at Standard Chartered Securities Ltd and with Citigroup Global Markets for nearly 5 years as Senior Research Analyst reporting to Head of Research.
Mr Sonam Udasi will also be managing the unhedged equity portfolio of the scheme. He holds a bachelor's degree in commerce (B. Com) and has a PGDM. From April 2014 he has been associated with Tata Asset Management Ltd. He joined in as the Head of PMS to get promoted as the Head of Research and currently is a Fund Manager of schemes. Prior to that Mr, Sonam was a Head of Research at IDBI Capital Market Services Ltd. He has also served at BRICS Securities, Prime Securities and JM Financial AMC.
Currently at the Tata Mutual Fund , he manages Tata Equity P/E Fund, Tata Index Fund Sensex & Tata Index Fund-Nifty, Tata Banking & Financial Services Fund, Tata India Consumer Fund, Tata Retirement Savings Fund -Equity Portfolio of Progressive, Moderate & Conservative Plan, Tata Young Citizen Fund, Tata Multicap Fund, Tata Value Fund Series 1 & 2.
Mr Shailesh Jain will manage the hedged equity portfolio of the scheme. He has done his MBA in Finance and has been a part of Tata Asset Management Ltd since November 2018 as a fund manager. Preceding to it he has been with IDFC Securities Ltd., Quant Broking Pvt. Ltd. and IIFL (India Infoline).
Currently, at the fund house, he manages Tata Digital India Fund, Tata Equity Savings Fund (Equity Portfolio), Tata India Pharma and Healthcare Fund, Tata Resources and Energy Fund, Tata Arbitrage Fund, Tata Nifty Exchange Traded Fund.
Mr Akhil Mittal is a Senior Fund Manager manging the fixed income of the portfolio and is with the fund house since June 2014. Mr Mittal reports to Head-Fixed Income at Tata Asset Management Ltd. Prior to joining Tata Mutual Fund, he has worked as a Senior Fund Manager - Fixed Income at Canara Robeco Asset Management Ltd. Prior to that he was with Principal PNB Asset Management Co Ltd. and has also worked at Edelweiss Securities Ltd.
Currently at the Tata Mutual Fund , he manages Tata Treasury Advantage Fund, Tata Dynamic Bond Fund, Tata Income Fund, Tata Young Citizen Fund (Debt Portfolio) and various series of FMPs at Tata Mutual Fund.
Outlook for Tata Balanced Advantage Fund
Tata Balanced Advantage Fund aims to achieve the schemes' objective of capitalizing gains with reduced risk by following the asset allocation approach with its proprietary model. The fund managers would make use of hedged and unhedged equity and arbitrage to avoid any downside risks in the volatile markets. Hence the performance of the scheme weighs on portfolio and risk management strategies employed by the fund managers.
With dynamic allocation across asset class, TBAF is expected to be moderately volatile, while its returns too would be moderate. The effectiveness of the model the fund house plans to follow to dynamically allocate assets will be tested over complete market cycle. The fund deserves time to build a track record and prove its efficiency, for one to consider it as a strategic pick in the investment portfolio.
[Read: Skip NFOs, Instead Consider Building A Strategic Mutual Fund Portfolio]
PS: If you wish to take a calculated risk and invest in equity funds, PersonalFN can help you pick hidden gems or lesser-known funds that are capable of generating big gains for you.
PersonalFN has released a report 5 Undiscovered Equity Funds especially for investors like you.
These undiscovered funds can help you counter inflation by a substantial margin. Subscribe today!

Author: Aditi Murkute
This article first appeared on PersonalFN here.
PersonalFN is a Mumbai based personal finance firm offering Financial Planning and Mutual Fund Research services.
Disclaimer:
The views mentioned above are of the author only. Data and charts, if used, in the article have been sourced from available information and have not been authenticated by any statutory authority. The author and Equitymaster do not claim it to be accurate nor accept any responsibility for the same. The views constitute only the opinions and do not constitute any guidelines or recommendation on any course of action to be followed by the reader. Please read the detailed Terms of Use of the web site.
More Views on News
Mar 22, 2018
Certain blue chips hold the potential of delivering returns comparable to small-cap stocks. With these stocks, you can get the best of both worlds.
Feb 15, 2019
Personalfn analysis about the newly launched IDBI Healthcare Fund based on its investment objective, asset allocation, investment strategy and the outlook.
Feb 15, 2019
These are the winning bets from which super investors have raked in the moolah.
Feb 15, 2019
Why its great news that prices for small caps over the last few days have been falling like there's no tomorrow.
Feb 14, 2019
Personalfn explains whether currently investors should invest in bank FDs post the Interim Budget 2019 or not.
More Views on News
Most Popular
Feb 7, 2019
Managements of companies can create or ruin their fortunes. Why is management quality such an important factor in valuing businesses? Read on to find out...
Feb 13, 2019
The real estate sector is ready to make a comeback. This is the stock to consider buying.
Feb 5, 2019
A roundtable on the 18th of January 2019 had investors with billions of dollars of investment kitty.
Feb 8, 2019
This is the trick to following super investors and not losing money.
Feb 14, 2019
Don't let the dark clouds hovering over small caps scare you into hiding; it will rain gold as sentiments recover. Indeed, there is a blood bath. And if you are a first time investor, the correction is deep enough to scare you out of markets.
More