Are You Middle Class?
Feb 3, 2017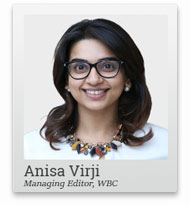 I've been recently caught going around randomly asking people this question...
Would you say you are middle class?
And I am surprised - and still unclear - about some of the answers.
Some people vigorously nod their heads. Yes, yes that's me.
Others shrug. Yeah, I guess.
Still others glared at me as though I said a bad word.
Some say, 'Hmmm, maybe upper-middle class. Can I say that?' (Yes, you can say whatever you like.)
A few - very few surprisingly - simply said, 'I'm definitely not.'
All these answers are expected of course. Nothing new there.
The odd thing, though, were the people answering these questions.
It seemed that whether people said yes or no or none of the above had nothing to do with their salaries. Or net worths.
Some of those who said they were middle class, I know for a fact were making much more or had significantly greater net worths than others who said they weren't middle class or 'shall we say upper middle'.
It made me wonder: How much money do you actually need to make to 'break out of the middle-class mindset'?
And the fact is, it is a mindset.
Often the 'no' came from people who had been raised a certain way. Went to certain types of schools...or lived in certain neighbourhoods.
If you're from South Mumbai or South Delhi, for example, even if you are barely making ends meet for yourself, you're definitely not going to say, 'Yes, okay, middle class. It is what it is.'
Many act like it's a privilege to add the 'upper' to the middle class. It's like a club you're born into. Or one that you feel you need an invitation to enter.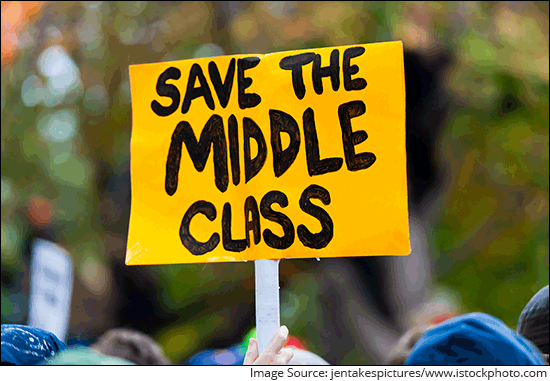 And once you do enter that club - maybe you have crossed a certain net worth, whatever that breaking point in your mind is, or you've moved to a certain prestigious neighbourhood or apartment complex, or send your child to an international school...whatever be your criteria (because there certainly is no real number) - then you definitely don't want to go back, even if your bank account is empty.
Others wear 'middle class' like a badge of honour. It doesn't matter how much I make; I am a simple man, an ordinary Indian, and I identify with the vast majority of my brothers and sisters.
So, of course, I started researching to see what others were saying. And I discovered a survey by the Lok Foundation (and others) that asked more than 69,000 people across the country whether they considered their family to be a 'middle class' family.
And the survey categorised respondents into five income categories, and found that not only did half the respondents in the lowest income bracket consider themselves middle class (45%), but almost half in the highest income bracket also self-identified as middle class (48%).
It makes sense - that is the nature of the middle class of course. But what's striking, the survey noted, is this...
Self-identification of class status is important because it suggests the possibility that Indians may behave in ways that are actually at odds with material realities.
Some of the sales staff at my family business used to tell stories about the simply dressed people who came into our stores. This was especially true in our shops in south India - Chennai, Coimbatore, etc...
They'd come in wearing simple white dhoti-kurtas. And they'd leave with bags of our most exclusive merchandise. They had taste. They had money. But you just couldn't tell. Then they'd go into the jewelry store next door and buy bags of gold jewelry.
I wonder what the people in white dhoti-kurtas would have said if I'd asked them, 'Would you say you're middle class?'
Perhaps a coin toss would provide a better answer.
So, today, I ask you, dear reader...
Are you middle class?
And if yes, how do you define middle class? And if no, I still want to know how you define middle class.
Regardless of how you identify, please tell me how you see this great behemoth that is the 'middle class'. Either way, leave a note below.
Anisa Virji is the Managing Editor for Common Sense Living, and the Wealth Builders Club India, a Club where you will find all you need to generate a fortune outside of the traditional financial markets.
Disclaimer:
The views mentioned above are of the author only. Data and charts, if used, in the article have been sourced from available information and have not been authenticated by any statutory authority. The author and Equitymaster do not claim it to be accurate nor accept any responsibility for the same. The views constitute only the opinions and do not constitute any guidelines or recommendation on any course of action to be followed by the reader. Please read the detailed Terms of Use of the web site.
More Views on News
Nov 29, 2017
Stocks that could beat Sensex returns in the long term.
Jun 10, 2017
Forty Indian investing gurus, as worthy of imitation as the legendary Peter Lynch, can help you get rich in the stock market.
Feb 21, 2018
The South American nation of Venezuela just launched its own cryptocurrency. Is this the beginning of a revolution? Read on to find out more...
Feb 21, 2018
The 5 Minute WrapUp will now come to you every weekday.
Feb 21, 2018
Corporate bad loans constituted nearly 70% of the total bad loans of public sector banks in India, in 2016-2017.
More Views on News
Most Popular
Feb 8, 2018
Has the sell-off in the markets left India's super investors unduly worried?
Feb 9, 2018
The easy money policy of the Federal Reserve of the United States, which drove up stock markets all over the world, is ending, with the Federal Reserve looking to shrink its balance sheet.
Feb 9, 2018
MFs are having a gala time taking money from over-eager investors and funneling it into equities. Smart investors, though, know better than to do that.
Feb 15, 2018
Once you accept the fact that elections are round the corner and that this budget is geared to reach a 40% target, everything makes sense.
Feb 8, 2018
Domestic money flow into Indian equities surpassed foreign fund flows in the recent years. But will it continue in volatile market?
More