HDFC Mid-cap Opportunities Fund: Focusing on Growth through Quality
HDFC Mid-cap Opportunities Fund: Focusing on Growth through Quality
May 5, 2020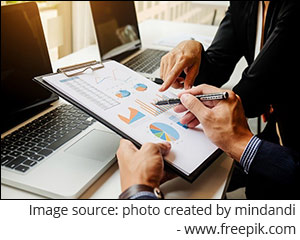 Despite the rally we recently witnessed, the market mood continues to be sombre due to the pandemic crisis. FPI outflows from the Indian market persisted in the current month as well, while the recent fiasco at a popular fund house also dented investor sentiments.
It is difficult to predict how this situation will unravel eventually. Though the pandemic has impacted both large and smaller sized companies, small and mid sized companies could be the most affected.
However, quality names even in these segments could perform well over the long run. Therefore, you should stick to only quality names across different market capitalisation and invest via a well managed mutual fund that focuses on growth through diversification.
HDFC Mid-cap Opportunities Fund (HMOF) is one such mid cap fund that looks to invest in mid cap stocks with sound financial strength and reasonable growth prospects.
--- Advertisement ---
No crash, correction, or pandemic can STOP This..

At last, it's happening...

Right here in India...three hidden mega-trends are converging for the first time ever to trigger an economic boom of unparalleled proportions.

A boom so powerful - no crash, no correction, and no pandemic can STOP India from becoming the next economic superpower...

And those who take advantage of this mega shift could potentially generate massive wealth for themselves and their families in the long run.

We are talking about  potential 1,000% gains...and perhaps even more over the long term.

But trust me, people who pass this opportunity will regret their decision in the years and decades to come...

So, if you want to save yourself from potential downsides of this mega shift...

...and instead, leverage on it for potential windfall gains...

Join us on 15th April at my special event...

We'll reveal the full details there.

Here's Your Free Pass to Our Special Event
------------------------------
Graph 1: Growth of Rs 10,000 if invested in HDFC Mid-cap Opportunities Fund 5 years ago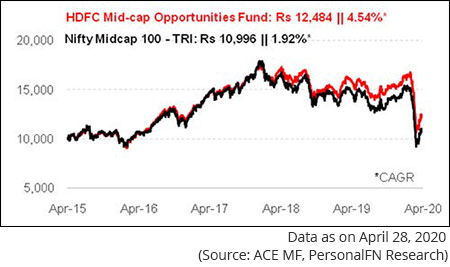 One of the most popular funds in the midcap category, HMOF's asset size is the largest as compared to its peers. However, HMOF has shown no constrain when it comes to delivering superior performance. The fund has a track record of generating above-average returns across market conditions. Over the last 5 years, HMOF has generated returns at 4.5% CAGR as compared to 1.9% CAGR generated by its benchmark Nifty Midcap 100 - TRI, thus generating an alpha of around 2.5 percentage points CAGR. The fund has made well use of diversification to mitigate downside risk and generate decent lead over the benchmark index.
Table: HDFC Mid-cap Opportunities Fund's performance vis-a-vis category peers
Returns are point to point and in %, calculated using Direct Plan - Growth option. Those depicted over 1-Yr are compounded annualised.
Data as on April 28, 2020
(Source: ACE MF, PersonalFN Research)
*Please note, this table only represents the best performing funds based solely on past returns and is NOT a recommendation. Mutual Fund investments are subject to market risks. Read all scheme related documents carefully. Past performance is not an indicator for future returns. The percentage returns shown are only for indicative purposes.
Though HMOF has trailed some of the other popular peers in the mid cap category, it stands strong in the list of mid cap funds. The fund has constantly outperformed the benchmark by a noticeable margin across time periods.
Some of the other top performers in the category are Axis Midcap Fund, Invesco India Midcap Fund, and DSP Midcap Fund.
The fund has not only demonstrated its ability to generate superior returns for its long term investors, but has been reasonable when it comes to managing volatility and curtailing down-side risks. In terms of risk-adjusted returns, HMOF has outperformed its benchmark by a significant margin and also stays ahead of most of its peers.
Revealed: 3 Stocks for Potentially Massive Gains
Investment strategy of HDFC Mid-cap Opportunities Fund
Categorized as midcap fund, HMOF is mandated to invest minimum 65% of its assets in equity and equity related instruments of mid cap companies. Accordingly, HMOF invests in stocks of predominantly mid-sized companies, which have reasonable growth prospects at acceptable valuations. The fund also holds significant exposure in smallcaps along with moderate exposure in large caps as well as cash and debt.
It follows the bottom-up approach to identify high quality businesses for the long term. The stocks are bought primarily for the strengths of company fundamentals rather than the strength of the macro-economic indicators.
The fund manager resists from following market momentum and holds each of his high conviction stock for the long term.
Graph 2: Top portfolio holdings in HDFC Mid-cap Opportunities Fund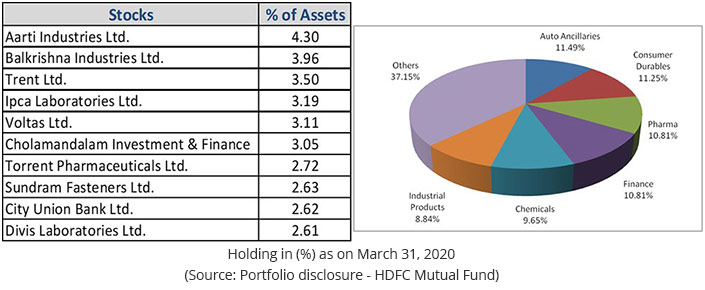 As on March 31, 2020,HMOF held 75 stocks in its portfolio, with no individual stock having exposure of more than 5%.Popular mid cap names like Aarti Industries, Balkrishna Industries, Trent, Ipca Laboratories, and Voltas, etc. appeared in its top portfolio holdings. The top 10 stocks constitute close to 32% of its assets.
The fund's portfolio is primarily skewed towards Banking and Finance sectors which together constitute around 17% of the portfolio. Auto ancillaries, Pharma, Chemicals, and Industrial Products are the other prominent sectors with allocation of around 9-11% each.
Suitability
HMOF's performance over longer time periods has been commendable, where it has generated decent long-term returns for its investors as compared to the benchmark, though it has lagged behind some of its peers. Its focus on timely realization of growth potential of stocks at fair valuation can help it generate strong returns while also minimize the downside risk. However, its aggressive mandate makes it prone to high volatility. This makes HMOF suitable for investors with high risk appetite and a long term investment horizon.
Editor's note: The last few years have not been among the best for equity mutual funds. While most funds have underperformed or are struggling to match the returns of the benchmark, there are few funds that have the potential to constantly generate alpha for its investors. And we have identified five such high alpha generating funds, in our latest report 'The Alpha Funds Report 2020'. Do not miss our latest research finding. Get your access to this exclusive report, right here!
Note: This write up is for information purpose and does not constitute any kind of investment advice or a recommendation to Buy / Hold / Sell a fund. Returns mentioned herein are in no way a guarantee or promise of future returns. As an investor, you need to pick the right fund to meet your financial goals. If you are not sure about your risk appetite, do consult your investment consultant/advisor. Mutual Fund Investments are subject to market risks, read all scheme related documents carefully.
Author: Divya Grover
This article first appeared on PersonalFN here.
Join Now: PersonalFN is now on Telegram. Join FREE Today to get 'Daily Wealth Letter' and Exclusive Updates on Mutual Funds
PersonalFN is a Mumbai based personal finance firm offering Financial Planning and Mutual Fund Research services.
Disclaimer:
The views mentioned above are of the author only. Data and charts, if used, in the article have been sourced from available information and have not been authenticated by any statutory authority. The author and Equitymaster do not claim it to be accurate nor accept any responsibility for the same. The views constitute only the opinions and do not constitute any guidelines or recommendation on any course of action to be followed by the reader. Please read the detailed Terms of Use of the web site.
More Views on News
Apr 14, 2021
In this video, I'll tell you how the RBI's new quantitative easing program could affect the stock market.
Apr 14, 2021
Will apps like Netflix deal a death blow to theatres? Find out here...
Apr 13, 2021
PersonalFN explains the outlook for Banking & PSU Debt funds and the best Banking & PSU Debt funds that can be considered for investment in 2021.
Apr 13, 2021
Ajit Dayal on how India's vaccine strategy will impact the markets.
Apr 13, 2021
In this video, I'll you what I think is the real reason behind yesterday's market crash.
More Views on News
Most Popular
Apr 6, 2021
Rather than predicting the market, successful investing is more about preparing well and placing your bets accordingly.
Apr 1, 2021
What should you do if the market falls? In this video, I'll tell you what I will do.
Apr 1, 2021
A favourable demand supply scenario makes a strong case for real estate prices.
Apr 13, 2021
Ajit Dayal on how India's vaccine strategy will impact the markets.
Apr 1, 2021
Rahul Shah on whether Bharti Airtel will emerge as the next big thing in the Indian stock market
More