Should You Go Gung-Ho And Buy Equity Mutual Funds Now?
Should You Go Gung-Ho And Buy Equity Mutual Funds Now?
Jun 12, 2019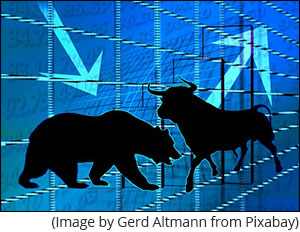 Last month, markets were in a frenzy with investors waiting and speculating the election outcome.
The big question was, will Modi 2.0 happen or not?
On 23 May 2019, the results saw Modi-led-NDA register a whopping victory to blow out the oppositions.
Expectedly, the equity markets went berserk and were up for a rally, but effervescently the election fever subsided. Defaulting/delay of payments by eminent companies made the news headlines almost immediately, which dampened market activity.
Besides, the trade-war geopolitical tensions and crude-oil pricing have further had a cascading effect on the markets.
Graph 1: Market Movement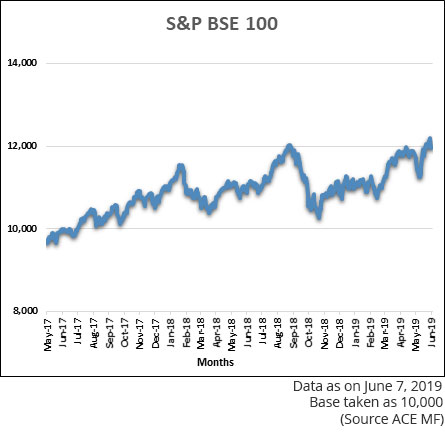 This correction does offer an opportunity to do some value buying, however the valuations aren't cheap. Currently, P/E multiple of S&P Sensex is trailing at 28x and this should justify the earnings that failed to do so in the past.
---

Advertisement

---
The Most Important Book One Could Read After Modi's Re-Election
What you see to your right is in our view the most important book one could read after Modi's Re-Election.

This limited-edition hardbound book costs Rs 1,950 to buy on Amazon. But you could get a copy of it virtually FREE today!

However, here's the catch…

Nearly 1,000 copies of this book have been claimed already. And only a few more copies remain. So don't delay.

Click here to claim your virtually FREE copy now!
------------------------------
The market is moving in an overvalued zone and is being bullish because it believes that Modi 2.0 and his warriors will boost the country's development and economic growth.
If you are wondering about going gung-ho and investing in equity to cash on this development-beware!
As the past experiences about policy paralysis suggest that if the government's performance misfires, there could be a deluge of economic downsides.
What you should do is invest in well-diversified equity mutual funds via SIP route instead of lump sum investment. It's been observed that investing in equity for a longer period does offer better returns, but it has an extremely high risk.
If you choose Equity mutual funds, you get to invest in multiple stocks of companies across market cap in a well-diversified manner, is professionally managed, provides liquidity, and one that will incur lower trading costs.
Most importantly, it can help in achieving long-term financial goals, garner inflation-adjusted returns, and help in accumulating wealth vide the power of compounding.
So, if you think investing a lump sum in Equity mutual funds can also provide better returns, continue reading...
Investing a large sum of money at one go involves extreme high-risk of loss if the market heads lower.
Hence, it's better to invest a smaller amount of money regularly and systematically in mutual fund units for the next few years, whereby you can accomplish your financial goals.
[Read: Can SIP Be Regarded As A Safe Investment Plan?]
However, note that a SIP may not always work in every market condition and works best in times of volatility
Table 1: When markets are on a dream run lumpsum investment benefits!
Month
NAV (Rs)
Units Purchased Via SIP
Units Purchased Via lump sum investment
Jan-17
97
20.6
247.4
Feb-17
99
20.2
Mar-17
103
19.4
Apr-17
105
19.0
May-17
107
18.7
Jun-17
111
18.0
Jul-17
109
18.3
Aug-17
113
17.7
Sep-17
112
17.9
Oct-17
115
17.4
Nov-17
119
16.8
Dec-17
118
16.9
Total Units
221.0
247.4
Final Value
26,084
29,196
For illustration purpose only
(SIPs amount: Rs 2,000 per month. Lump sum investment amount: Rs 24,000)
If you remember, markets were on a dream run in 2017. Hence, lump sum investments made at the start of the year in 2017 would have grown significantly as seen in the table above.
Remember although the markets are showing signs of moving upwards, but there are challenges up ahead in 2019 for Modi 2.0 governance. Due to which there uncertainty looming in the market that could drive it in either direction, so it makes sense to opt for SIP investments.
Here's why...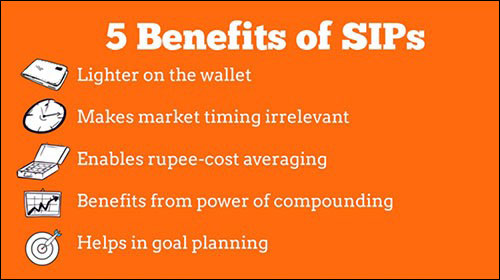 But, the growth of your investment is directly linked to how prudently you select the best mutual funds to SIP and follow the investment discipline diligently. Before you invest in the right mutual fund schemes, do not forget to build an optimum asset allocation strategy in-sync with your risk profile, investment objectives, financial goals, and the time horizon before goals befall.
Watch this video to know how to select best equity mutual funds:
Although the overall market valuations may still look expensive, there has been a fall in many mid and small-cap stocks. Large-cap funds and the value funds would also benefit from the present market conditions. the subsequent fall in the financial stocks might have to offer some lucrative buying opportunities to fund managers of process-driven fund houses.
Managers of worthy mutual fund schemes take advantage of such attractive buying opportunities. Process driven mutual fund houses and experienced fund managers, in fact, await market corrections like the prevailing ones.
Conclusion
Going gung-ho and investing all your money in the market could prove to be an imprudent decision. Nevertheless, if your risk appetite permits and if your asset allocation calls for you to invest in equities, staggering your investment would be a wise thing to do while taking exposure to equity via mutual funds for the long term.
You should tread cautiously and buy selectively. Thoughtlessly investing or speculating can be hazardous to your wealth and health. Following momentum and falling for bullish index targets is something that you should completely avoid. Instead focus on your long-term financial goals and aim to consistently invest in funds that optimise returns for the level of risk they expose you to.
Consider the following asset allocation in current times if you are ready to take some risks depending on the type of investor you are.
Table 2: Indicative asset allocation for various investor type in current times.
| Portfolio Type | (Aggressive) | (Moderately Aggressive) | (Moderate) | (Moderately Conservative) | (Conservative) |
| --- | --- | --- | --- | --- | --- |
| Large Cap | 0% to 10% | 10% to 20% | 20% to 30% | 20% to 30% | 30% to 40% |
| Large & Midcap | 10% to 20% | 10% to 20% | 10% to 20% | 0% to 10% | |
| Midcap | 30% to 40% | 20% to 30% | 10% to 20% | | |
| Multi Cap | 20% to 30% | 20% to 30% | 20% to 30% | 20% to 30% | 10% to 20% |
| Value Style | | 0% to 10% | 10% to 20% | 20% to 30% | 20% to 30% |
| Small Cap | 10% to 20% | 0% to 10% | | | |
| Aggressive Hybrid | | | 10% to 20% | 20% to 30% | 20% to 30% |
For illustration purpose only
Editor's Note: Looking to add winning and the best mutual fund schemes to your investment portfolio?
Subscribe to PersonalFN's unbiased premium research service, FundSelect.
Our fund recommendations tend to beat the market by a significant margin over long time-horizons.
FundSelect has beaten the market by over 70% in the last decade.
Each fund recommended under FundSelect goes through our stringent process, where they are assessed and selected on both quantitative as well as qualitative parameters.
With FundSelect, you get access to high quality and reliable funds picked by our research team using their comprehensive S.M.A.R.T. score fund selection matrix.
S - Systems and Processes
M - Market Cycle Performance
A - Asset Management Style
R - Risk-Reward Ratios
T - Performance Track Record
Every month, PersonalFN's FundSelect service will provide you with insightful and practical guidance on equity mutual funds and debt schemes - the ones to Buy, Hold, or Sell.
Our aim is to assist you in creating the ultimate portfolio that has the potential to top the market.
If you are serious about investing in rewarding mutual fund schemes, subscribe to PersonalFN's flagship mutual fund research service FundSelect today!
Happy Investing!
Author: Aditi Murkute
This article first appeared on PersonalFN here.
PersonalFN is a Mumbai based personal finance firm offering Financial Planning and Mutual Fund Research services.
Disclaimer:
The views mentioned above are of the author only. Data and charts, if used, in the article have been sourced from available information and have not been authenticated by any statutory authority. The author and Equitymaster do not claim it to be accurate nor accept any responsibility for the same. The views constitute only the opinions and do not constitute any guidelines or recommendation on any course of action to be followed by the reader. Please read the detailed Terms of Use of the web site.
More Views on News
Apr 20, 2021
Here's the rundown on the company's latest quarterly results.
May 10, 2021
Investments through online platforms have enabled many investors to have a control over their investment portfolio and financial decisions.
May 10, 2021
What do the charts say about the Nifty scaling a new life high?
May 10, 2021
If there is a big crash in the market, what will you do with your stocks?
May 7, 2021
PersonalFN analyses the features of Tata Dividend Yield Fund and explains the potential this fund has to offer to its investors.
More Views on News
Most Popular
Apr 30, 2021
In this video, I'll show you why I favour smallcaps over the Nifty.
Apr 30, 2021
Price is the only due diligence one might require to buy this business.
Apr 28, 2021
Does the concept of selling stocks in the month of May, work in the Indian market?
May 6, 2021
Why are markets discounting the economic impact of Covid?
More