HDFC Top 100: Making Its Way To The Top
HDFC Top 100: Making Its Way To The Top
Jul 12, 2019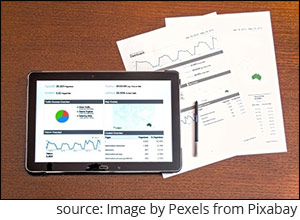 HDFC Top 100 Fund (erstwhile HDFC Top 200) is one of the most popular schemes that need no introduction. Classified under large-cap funds, it has a track record of over two decades.
The fund always maintained a large-cap bias and originally invested in the top 200 stocks in terms of market capitalisation. However, its focus has now shifted to top 100 stocks in line with SEBI's new categorisation norms which defines large-cap stocks as the top 100 companies by full market capitalisation.
Categorisation of the scheme as a large-cap fund even led to rebranding it as HDFC Top 100 Fund in May 2018, for it to give a proper picture of the underlying investment objective.
Large cap funds can be considered as great investment avenue for long-term investors who aim to grow their wealth but with some element of stability. They have the potential to generate steady returns for those looking for decent returns but want to assume relatively lesser risk.
HDFC Top 100 is managed by the ace fund manager Mr Prashant Jain who has spent over two decades with the fund and understands the fund inside out.
In this brief analysis, we take a close look at the features and performance of HDFC Top 100 Fund.
---

Advertisement

---

The Secret Behind the Mind Numbing Success of Wipro, MRF and Titan

Wipro, MRF, and Titan are all well-known Indian companies from very different sectors.

But there is something about these companies that makes them very similar as well…

And we are not talking about the fact that they made their investors very rich.

We are going one step back…

You see, these companies share THREE UNIQUE TRAITS that are the true reason behind their massive success.

The reason why they converted ordinary investors into Crorepatis.

And we believe that looking for these same three unique traits in companies could help identify the next Wipro or MRF or Titan.

We know even the thought of finding such a company is extremely exciting.

Now, what if we told you, that you could find details of one such company right now?

Yes, after years of research, we are ready to reveal details of a company that shares the same unique traits as Wipro, MRF and Titan…

Now we know you are very interested…

Just click here to read all about these unique traits and the stock…
------------------------------
Investment objective of HDFC Top 100 Fund
The investment objective of the scheme is to provide long-term capital appreciation/income by investing predominantly in large-cap companies.
Table:1 - Fund Facts HDFC Top 100 Fund
| | | | |
| --- | --- | --- | --- |
| Category | Large Cap Fund | Style | Blend |
| Type | Open ended scheme | Market Cap Bias | Large Cap Fund |
| Launch Date | 03-Sep-1996 | SI Return (CAGR) | 19.74% |
| Corpus (Cr) | Rs 17,912 | Min./Add. Inv. | Rs 5,000 / Rs 1,000 |
| Expense Ratio (Dir/Reg) | 1.38% / 2.02% | Exit Load | 1% |
Portfolio Data as on June 30, 2019.
SI Return as on July 08, 2019.
(Source: ACE MF)
Graph:1 - Growth of Rs 10,000 invested in HDFC Top 100 Fund 5 years ago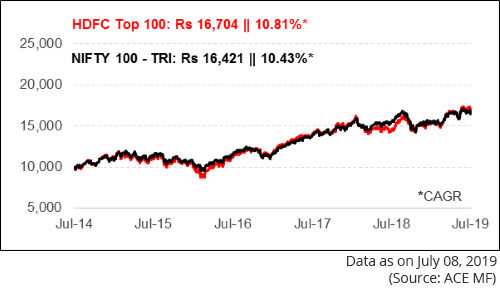 Had you invested Rs 10,000 in HDFC Top 100 Fund 5 years back on July 08, 2014, it would have grown to Rs 16,704 as on July 08, 2014. This translates in to a compounded annualised growth rate of 10.8%. In comparison, a simultaneous investment of Rs 10,000 in its current benchmark - Nifty 100 - TRI index would now be worth Rs 16,421 (a CAGR of 10.4%). As can be seen in the chart above, the large cap fund struggled to generate sustainable alpha over the benchmark. However, it has managed to pick up in the recent years to match its performance in line with the benchmark. Investors may still be concerned about the sustainability of its performance.
Graph: 2 - HDFC Top 100 Fund: Year-on-Year Performance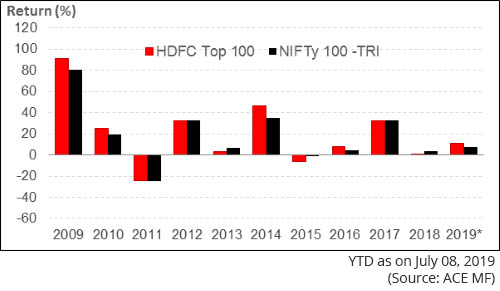 The year-on-year performance of the fund vis-a-vis its benchmark NIFTY 100 - TRI index shows that the fund outperformed its benchmark in 6 out of the last 10 calendar years. The fund generated alpha mainly in the years 2009, 2010 and 2014 where it outperformed the benchmark by 6-11 percentage points. In the last 5 calendar years, the scheme was found struggling with its performance and underperformed the benchmark in CY 2015, 2017 and 2018. In the current year the fund has shown significant improvement in performance. But it remains to be seen if the fund can continue with its growth.
Table:2 - HDFC Top 100 Fund: Performance vis-a-vis category peers
Returns are on a rolling basis and those depicted over 1-Yr are compounded annualised.
Data as on July 08, 2019
(Source: ACE MF)
*Please note, this table only represents the best performing funds based solely on past returns and is NOT a recommendation. Mutual Fund investments are subject to market risks. Read all scheme related documents carefully. Past performance is not an indicator for future returns. The percentage returns shown are only for indicative purposes.
On a rolling return basis, HDFC Top 100 trailed the benchmark on a 1-year and 2-year periods, while it was able to outperform on a 3-year and 5-year rolling periods. The fund managed to beat the category average across rolling periods. It stood among the top 5 funds on a 3-year rolling period performance which includes peers like Mirae Asset Large Cap Fund, Reliance Large Cap Fund, ICICI Pru Bluechip Fund and Axis Bluechip Fund.
Notably in terms of 1-year absolute returns, HDFC Top 100 has found place among top performers in the large cap funds category, and has beaten the category average returns by a noticeable margin.
In terms of risk profile, the fund's volatility is still amongst the highest in the peer group as well as the benchmark. However, the fund was able to generate decent risk-adjusted returns when compared to its top performing peers.
Investment strategy of HDFC Top 100 Fund
HDFC Top 100 is mandated to hold a minimum exposure of 80% in large-cap stocks. It may also invest up to 20% of its assets in debt and money market securities. The fund aims to diversify its assets across key sectors and economic variables which would aid in managing concentration risk and sector specific risks. It seeks to invest in higher quality, competitive, sustainable businesses by primarily restricting the equity portfolio to large caps; this is intended to reduce risks while maintaining steady growth.
The fund manager strongly believes in his conviction, even if it results in short term underperformance. He takes focused bets on secular growth companies compared to cyclicals to improve chances of positive returns over the long term. There are primarily two sources of returns for the fund - Index returns and returns from active management. Over periods of time, index returns are expected to form a large portion of total returns. The fund manager targets to capture a large part of index returns by maintaining around 60% of the portfolio in matched positions with the index.
Graph:3 - HDFC Top 100 Fund - Portfolio Allocation and Market Capitalisation Trends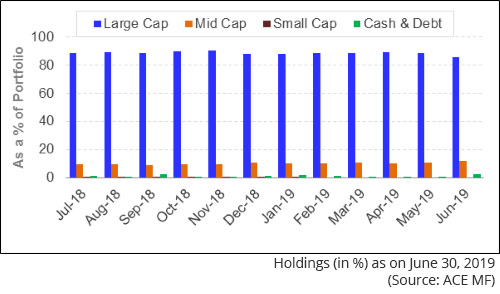 HDFC Top 100 has predominantly invested over 90% of its portfolio to large-cap stocks. Over the past one year, the large-cap exposure has been in the range of 85-90%, while its exposure to mid-caps ranged 9-12%. The allocation to cash & debt has been kept under or slightly over 1%. Though the allocation has always been minimal, the fund has completely avoided investing in small caps.
Graph:4 - HDFC Top 100 Fund - Top Portfolio Holdings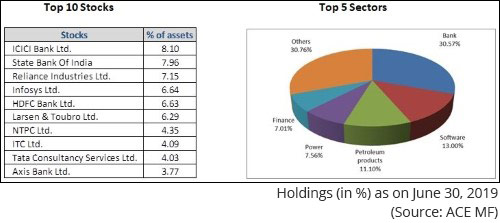 ICICI Bank and State Bank of India lead the list of stocks in the portfolio, with an exposure of around 8% each. This is followed by Reliance Industries, Infosys, HDFC Bank and Larsen & Toubro with exposure in the range of 6% to 7%. The fund has 50 stocks in its portfolio, though the major allocation is concentrated towards the top 10 holdings. The top 10 stocks account for over 60% of its assets, which means that the portfolio is highly concentrated towards few selective stocks.
Over the past year and half the fund has benefited from high concentration to some of the index heavyweights like ICICI Bank, Reliance Industries, SBI, HDFC Bank, L&T, Axis Bank, etc., that have contributed significantly to its returns.
Bank stocks form a major part of the portfolio with an allocation of 30.6%. The next top bet is in the Software or Infotech sector with an allocation of 13%. Petroleum, Power and Finance are the other major sectors forming the part of top 5 sector-wise allocations.
Suitability of HDFC Top 100 Fund
Large-cap oriented funds are better poised to handle market volatility vis-a-vis mid-and-small caps. Stable businesses, greater market share, quality of management and the sustainability prospects are factors that seem convincing to take exposure to large-caps with a long term view.
Large blue-chip companies with strong balance sheets and proven track-records could help ride the wave of short-term volatility to a certain extent. Therefore, diversified equity funds with a predominant large-cap allocation can offer stability to one's investment portfolio.
HDFC Top 100's performance was under pressure for a long time, where it disappointed investors with low returns. However, it has managed to show a turnaround performance in the large rally over the last 18 months and reward investors who kept their patience with the fund. It will be interesting to see if the fund can sustain this performance and generate reasonable alpha in the future as well.
Given the funds exposure is heavily skewed towards index heavyweights, the returns will be broadly in line with the benchmark. However, the active management of the portfolio can lead to better stock selection and potential outperformance over the index. Moreover, its disciplined buy-and-hold investment strategy makes it suitable for investors who won't be distracted with short term underperformance if its bets don't pay off immediately and are willing to give a long time to the fund. However, one should weigh all the options and make a prudent choice while investing in mutual funds.
Note: This write up is for information purpose and not a recommendation to buy or sell the mutual fund scheme. As an investor, you need to pick the center fund to meet your financial goals. If you are not sure about your risk appetite, do consult your investment consultant/advisor.
Editor's note:
If you are looking for top fund analysis and wish to select high quality mutual funds that have superior wealth-building potential, subscribe to PersonalFN's premium research service FundSelect.
Each fund selected under FundSelect goes through our stringent process, where they are tested on both quantitative as well as qualitative parameters. Subscribe to FundSelect today!
Author: Divya Grover
This article first appeared on PersonalFN here.
PersonalFN is a Mumbai based personal finance firm offering Financial Planning and Mutual Fund Research services.
Disclaimer:
The views mentioned above are of the author only. Data and charts, if used, in the article have been sourced from available information and have not been authenticated by any statutory authority. The author and Equitymaster do not claim it to be accurate nor accept any responsibility for the same. The views constitute only the opinions and do not constitute any guidelines or recommendation on any course of action to be followed by the reader. Please read the detailed Terms of Use of the web site.
More Views on News
Apr 12, 2021
PersonalFN explains whether the second wave of COVID-19 infections impact your mutual fund investments.
Apr 12, 2021
This ignored sector could deliver big short-term profits.
Apr 12, 2021
A tiny chemical company, started in the Licence Raj era, is a great example of a new wealth creating opportunity.
Apr 9, 2021
PersonalFN's analysis on the features and performance of Mirae Asset Tax Saver Fund.
Apr 9, 2021
The Indian government recently announced cut backs on crude oil imports from Saudi Arabia. Does this change our crude oil trading blueprint. Find out...
More Views on News
Most Popular
Mar 30, 2021
In this video, I'll tell you why I am recommending caution in the market at this time.
Mar 31, 2021
A tiny chemical company, started in the Licence Raj era, is a great example of a new wealth creating opportunity.
Mar 31, 2021
In this video I'll show you exactly how I go about picking stocks for trading.
Mar 30, 2021
100 baggers of the last decade share this common trait. Here's how to use it to nail future multibaggers.
More