Why Relying On Mutual Fund Dividends For Your Retirement Needs Is A Foolish Idea
Why Relying On Mutual Fund Dividends For Your Retirement Needs Is A Foolish Idea
Jul 25, 2019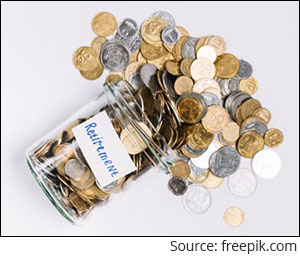 Most people on the verge of retirement are advised to choose a dividend income option of mutual fund by several agents/ distributors to continue receiving a regular income.
To know if this is worth considering is a secondary thing because primarily you need to understand what a dividend income option is.
[Read: Should Senior Citizens Switch To A Dividend Option From Growth Option In Mutual Funds?]
A dividend income basically refers to a part of company's earnings in form of extra profits or surplus income a corporate or mutual fund house shares with the investors in proportion to the number of stocks or units held.
--- Advertisement ---
3 Stocks for Potentially Massive Gains

COVID-19 has triggered a fundamental shift in the global economic and geopolitical map.

This reshuffling of the geopolitical map is just ONE of the forces fuelling the great Indian revival.

A revival that will restore the power, wealth, and influence we once enjoyed.

And, those who invest in the companies at the heart of this revival could turn a small stake into generational wealth.

Our co-head of research, Tanushree Banerjee, has narrowed down on 3 specific stocks.

She strongly believes, these 3 "revival stocks" could potentially offer massive gains.

Click here to learn more about this mega opportunity
------------------------------
Consider that you have chosen the dividend pay-out option of a popular fund from a reputed fund house on Dec 2015 with an investment amount of Rs 5 lakhs. Every year after Jan 2016, you would get paid dividends declared by the fund house.
The following table shows the impact of dividends declared on NAV and the changes in investment amount over the past four years.
Table 1: Impact of yearly dividends paid out
| Date | Nav (Rs) | Investment Amount (Rs) | No of Units Held | Investment value before dividend (Rs) | Dividend Per Unit (Rs) | Drop in NAV Post Dividend (Rs) | Final Investment Value Post Dividend (Rs) |
| --- | --- | --- | --- | --- | --- | --- | --- |
| 15-Dec-15 | 20.89 | 500,000 | 23934.9 | 500,000 | 0 | 20.89 | 500,000 |
| 15-Jan-16 | 20.15 | 500,000 | 23934.9 | 482,288 | 1.6 | 18.55 | 443,992 |
| 20-Jan-17 | 21.87 | 500,000 | 23934.9 | 523,456 | 2 | 19.87 | 475,586 |
| 19-Jan-18 | 26.22 | 500,000 | 23934.9 | 627,573 | 3.15 | 23.07 | 552,178 |
| 21-Jan-19 | 20.24 | 500,000 | 23934.9 | 484,442 | 1.7 | 18.54 | 443,753 |
(Note: The above table is for illustration purpose only)
(Source: PersonalFN Research)
One can observe the drop in NAV and the investment amount after the dividends have been paid. Besides on a yearly basis, the dividend paid is inconsistent and is not at a fixed rate.
Revealed: 3 "Revival Stocks" for Potentially Massive Gains
Some points to note from the illustration:
Mutual fund houses and their schemes do not guarantee regular dividends.
Declaring dividends is at the discretion of the fund house and based on the performance of a respective scheme.
Frequent dividend declaration by a mutual fund scheme is in no way an indicator of the scheme's performance.
The dividend-adjusted return is nowhere close to the returns clocked under the Growth Option.
Plus, dividends are often touted to be a benefit because it is tax-free income in the hands of investors; however, a dividend distribution tax is applicable. In case of an equity-oriented mutual fund scheme, the dividend declared is subject to a 10% Dividend Distribution Tax (DDT) as per the current tax laws. This, therefore, brings the Dividend Option and Growth Option almost on par with each other.
And for debt mutual funds DDT is at the rate of 25 per cent (29.12 per cent including surcharge and cess).
However, dividend pay-outs will get in the way of compounding that can help in wealth accumulation under the growth option. But since you are looking to invest when you are about to retire, a Systematic Withdrawal Plan (SWP) is better.
[Read: Systematic Withdrawal Plan - The Ideal Option For Your Retirement Needs?]
Through a systematic withdrawal plan, you can make regular withdrawals (say monthly, quarterly, half-yearly and annually) of a fixed amount and continue to stay invested over a period to clock returns on your remaining amount. The returns from such funds may help you cope with the inflation during your retirement years so that the value of your retirement corpus does not diminish in value.
It not only provides you with a fixed source of income, it inculcates a disciplined approach to spending too. Rupee-cost averaging would work in your favour when you withdraw systematically.
For example, if you get a gratuity of Rs 5 lakhs, you invest in a popular fund under SWP, and monthly you withdraw Rs 10,000 for your expenses.
Table 2: Rupee-cost averaging
| Month | Cashflows (Rs) | NAV(Rs) | Fund Units | Value (Rs) |
| --- | --- | --- | --- | --- |
| Jul | 5,00,000 | 100 | 5,000 | 5,00,000 |
| Aug | -10,000 | 103 | 4,903 | 5,05,000 |
| Sept | -10,000 | 102 | 4,805 | 4,90,097 |
| Oct | -10,000 | 105 | 4,710 | 4,94,511 |
| Nov | -10,000 | 108 | 4,617 | 4,98,641 |
| Dec | -10,000 | 106 | 4,523 | 4,79,407 |
Note: The above table is for illustration purpose only
(Source: PersonalFN Research)
In the first month when you withdraw Rs 10,000 under SWP, your holdings will decline to 4900 units (i.e. Rs10000 / Rs100 NAV = 100 units are reduced from initial holdings). Now the NAV of the fund has appreciated to Rs 101 due to market dynamics. The number of units equivalent to Rs 10,000 i.e. only 99 units would be sold (i.e. Rs 10000/ Rs 101 NAV = 99 units).
In the next five months, if you withdraw a total of Rs 50,000, your effective portfolio value would be Rs 4,50,000 lakh. However, if you notice the total value is Rs 4,79,407 lakh under SWP, effectively proving it is a better-earning instrument vis-a-vis traditional fixed deposits due to market dynamics.
[Read: 3 Reasons Why A Smart Investor Should Opt For SWP]
Conclusion:
So, keep in mind that there isn't a set schedule for the payment of dividends, nor are the dividend rates predictable. If a mutual fund scheme falters as a result of the negative undercurrents, dividends may be hindered consequently.
Thus, SWP takes care of two things; one it gives you a steady flow of income; second, it does not burden you with a lump sum amount at your disposal. Hence to address your cash-flow needs during retirement, consider the Systematic Withdrawal Plan.
But before you opt for SWP, ensure that for your golden years of rich retirement you have invested wisely with a financial plan during your youth.
Editor's note: If you want an easy and ready-made solution for your retirement. Choose Retire rich service, a comprehensive guide to plan for your retirement and potentially build a substantial corpus. It is a service that will guide you with almost ALL the necessary essentials of retirement planning.

In short, this is a new and exclusive service with the sole intent of securing your retirement. Subscribe now!
Author: Aditi Murkute?
This article first appeared on PersonalFN here.
PersonalFN is a Mumbai based personal finance firm offering Financial Planning and Mutual Fund Research services.
Disclaimer:
The views mentioned above are of the author only. Data and charts, if used, in the article have been sourced from available information and have not been authenticated by any statutory authority. The author and Equitymaster do not claim it to be accurate nor accept any responsibility for the same. The views constitute only the opinions and do not constitute any guidelines or recommendation on any course of action to be followed by the reader. Please read the detailed Terms of Use of the web site.
More Views on News
Apr 9, 2021
PersonalFN's analysis on the features and performance of Mirae Asset Tax Saver Fund.
Apr 9, 2021
The Indian government recently announced cut backs on crude oil imports from Saudi Arabia. Does this change our crude oil trading blueprint. Find out...
Apr 9, 2021
This could take India to the position of 3rd largest economy.
Apr 8, 2021
Domestic mutual funds have turned net buyers worth Rs 2,476 crore in the Indian equity markets in March 2021 for the first time in the last 10 months.
Apr 8, 2021
In this video, I'll tell you why the Indian consumer has started to take the price of gold and silver higher.
More Views on News
Most Popular
Mar 30, 2021
In this video, I'll tell you why I am recommending caution in the market at this time.
Mar 31, 2021
A tiny chemical company, started in the Licence Raj era, is a great example of a new wealth creating opportunity.
Mar 31, 2021
In this video I'll show you exactly how I go about picking stocks for trading.
Mar 30, 2021
100 baggers of the last decade share this common trait. Here's how to use it to nail future multibaggers.
More