Will RBI Reduce Policy Rates Soon? Know Here...
Will RBI Reduce Policy Rates Soon? Know Here...
Jul 31, 2017
Retail inflation (measured by the Consumer Price Index (CPI)) for June came in at 1.54%, lower from 2.10% in May. This historic low, attributed to a persistent dip in prices of food items like vegetables, pluses, eggs, and milk products, pushed food inflation (which has a weightage of around 45.86% in the CPI basket) down to the negative terrain of -2.1%.
After the CPI inflation data release, Chief Economic Advisor, Mr Arvind Subramanian said, "1.54% is historically low and reflects the firm and on-going consolidation of macro-economic stability...this low heartening number has been consistent with our analysis for some time now."
And perhaps paying cognisance to the fact that industrial activity has been anaemic, wobbly and economic growth has dwindled, expectations of a policy rate cut from the Reserve Bank of India (RBI) resurfaced again.
Will RBI budge in a hurry?
Well, it appears unlikely that the central bank will reduce policy rates any time before the 3rd bi-monthly monetary policy statement for 2017-18 (scheduled for August 2, 2017). RBI will carefully monitor the progress of the southwest monsoon and its impact on headline inflation. "Risks are evenly balanced, although the spatial and temporal distribution of the monsoon and the Government staying the course in effective food management will play a critical role in the evolution of risks", the RBI's last monetary policy press release states.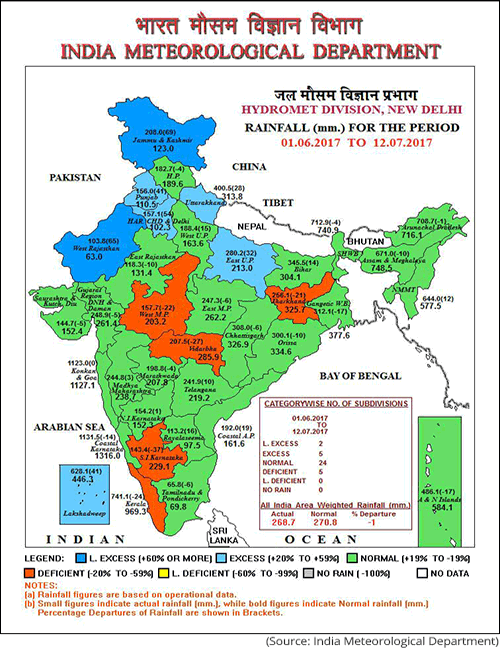 The southwest monsoon, after a spectacular start, was rather erratic in early July. Nonetheless, it has picked up now and as depicted by the map, many parts of the country have witnessed normal rainfall while some even seeing excess during the period June 1, 2017 to July 12, 2017. For the country as a whole, the deficiency is just 1% (All India Actual: 268.7 mm, Normal: 270.8 mm) as on July 12, 2017 as per the IMD. Further, out of 36 meteorological sub-divisions, rainfall has been large excess/excess in 7, normal in 24 and deficient/large deficient in 5, according to IMD.
For the complete withdrawal of southwest monsoon, we have another 21/2 months to go. If the El-Nino conditions materialize during the latter part of the four-month season, as what the Skymet Weather Service (a private weather forecaster) expects, it could have an impact on acreage/yields and in turn agriculture growth.
Besides, RBI in its last i.e. 2nd bi-monthly stated that at the current juncture, global political and financial risks materialising into the imported inflation and disbursement of allowances under the 7th Central Pay Commission's (CPC's) award are upside risks to the inflation trajectory. The central bank has even warned of fiscal slippages owing to farm loan waivers and said that it can by and large entail inflationary spillovers.
What could nudge the RBI to be accommodative and address growth concerns is that core inflation, which appeared sticky earlier, has relaxed. The Goods & Services Tax (GST) is not a reason for the RBI's anxiety, as the prices of some basic commodities (viz. fresh meat, fish, chicken, eggs, vegetables, fresh fruits, milk, butter milk, paneer, curd, natural honey, flour, maize, rice, besan, bread, prasad, salt, seeds, cereal grain hulled, palm jaggery, water (other than aerated and mineral water), neera, aquatic feed, poultry feed, organic manure, and so on) are expected to reduce as these are placed in the exempt list.
Services, though, may have some bearing on the headline inflation owing to the 18% GST (as against 15% service tax earlier).
Also, CPI inflation is unlikely to be subdued for as long as the seasonal factors wane. Once demand revives in the festive months and supply disruptions are sorted out, there could be some upside pressure on CPI inflation.
Path to interest rates...
Currently, liquidity has been comfortable and RBI has been actively managing it through Open Market Operations (OMOs). The overnight call rates have consistently remained below the repo rate.
Forecasting the inflation trajectory in its 2nd bi-monthly monetary policy, RBI stated: "If configurations evident in April are sustained, then absent policy interventions, headline inflation is projected in the range of 2.0-3.5% in the first half of the year and 3.5-4.5% in the second half. Therefore the MPC's focus remains on keeping headline inflation close to 4% on a durable basis keeping in mind the output gap."
Further, it has cited that the future course of the RBI monetary policy action will be hinged on the incoming macroeconomic data.
Given that retail inflation has mellowed to historic low now, we believe RBI would reduce the policy report rate by 25 bps (to 6.00% from 6.25% at present) in its 3rd bi-monthly monetary policy statement for 2017-18 (scheduled on August 2, 2017) and make a conscious effort to reinvigorate economic growth.
The investment strategy for debt mutual fund investors to follow...
It would be imprudent to take dominant exposure at the longer end of the yield curve. To put it simply, investing dominantly in long-term debt funds (holding longer maturity debt papers) can be perilous, since most of the rally has already been captured at the longer end of the yield curve and there isn't much steam left. Hence, it is critical to select debt funds carefully. Preferably, investing vide dynamically managed bond funds (with an investment time horizon of 2-3 year) in such a case would be a prudent approach.
You'll also be better-off if your hard-earned money is deployed in short-term debt funds; but ensure to give due importance to your investment time horizon and asset allocation along with diversification in your portfolio.
Consider investing in short-term debt funds for an investment horizon of upto 2 years..
If you have an investment horizon of 3 to 6 months, ultra-short term funds (also known as liquid plus funds) would be the most suitable. And for an extreme short-term time horizon (of less than 3 months), you would be better-off investing in liquid funds.
Don't forget that investing in debt funds is not risk-free.
Happy investing!
PersonalFN is a Mumbai based personal finance firm offering Financial Planning and Mutual Fund Research services.
Disclaimer:
The views mentioned above are of the author only. Data and charts, if used, in the article have been sourced from available information and have not been authenticated by any statutory authority. The author and Equitymaster do not claim it to be accurate nor accept any responsibility for the same. The views constitute only the opinions and do not constitute any guidelines or recommendation on any course of action to be followed by the reader. Please read the detailed Terms of Use of the web site.
More Views on News
Jul 18, 2018 | Updated on Jul 18, 2018
Markets all time high analysis : The bse sensex at all time high; ONGC among top gainers. Find the latest update, special reports and news on all time high gainers of BSE Sensex at equitymaster.com.
Jul 18, 2018 | Updated on Jul 18, 2018
The BSE Sensex has hit an all-time high at 36,748 (up 0.5%) with ONGC among the top gainers.
Mar 22, 2018
Certain blue chips hold the potential of delivering returns comparable to small-cap stocks. With these stocks, you can get the best of both worlds.
Jul 18, 2018
...
Jul 18, 2018
You are missing out big gains if you don't own these 8 stocks.
More Views on News
Most Popular
Jul 12, 2018
Blindly following super investors is a dangerous game to play. Here's how you can avoid such mistakes.
Jul 10, 2018
If you're worried about the markets - you are on the wrong track. This is opportunity - put your wealth-building hat on, instead - Richa shows you how...
Jul 11, 2018
The price signals that MSP sends out, creates its own set of problems.
Jul 6, 2018
ICICI AMC launches an open -ended equity fund following Pharma, Healthcare, Diagnostic and allied theme.
Jul 6, 2018
Buy Companies that can fight all kinds of Pandas and Bears in the long run.
More